Sky At Fern, Nashville, TN Homes for Sale
Sky At Fern, Nashville, TN Property Listings
December 1, 2023
Rather speak with a local Sky At Fern, Nashville real estate agent on the phone instead? Give us a call at
(615) 257-8317
for a free consultation. We look forward to helping you find the perfect home!
Sky At Fern Homes
Sky At Fern homes in Nashville, TN are emblematic of architectural finesse and modern comfort, representing the epitome of tasteful design. Each residence is a masterpiece of contemporary aesthetics, characterized by open-concept layouts that offer optimal flow between spaces, favoring a connection with the surroundings. Homes feature top-of-the-line fixtures, fittings, and appliances, seamlessly merging function with sophistication. Expansive windows draw in an abundance of natural light, creating a soothing ambiance while simultaneously offering panoramic views of the Nashville skyline. Furthermore, the houses come with state-of-the-art energy-efficient systems, creating a more sustainable living environment while lowering utility costs.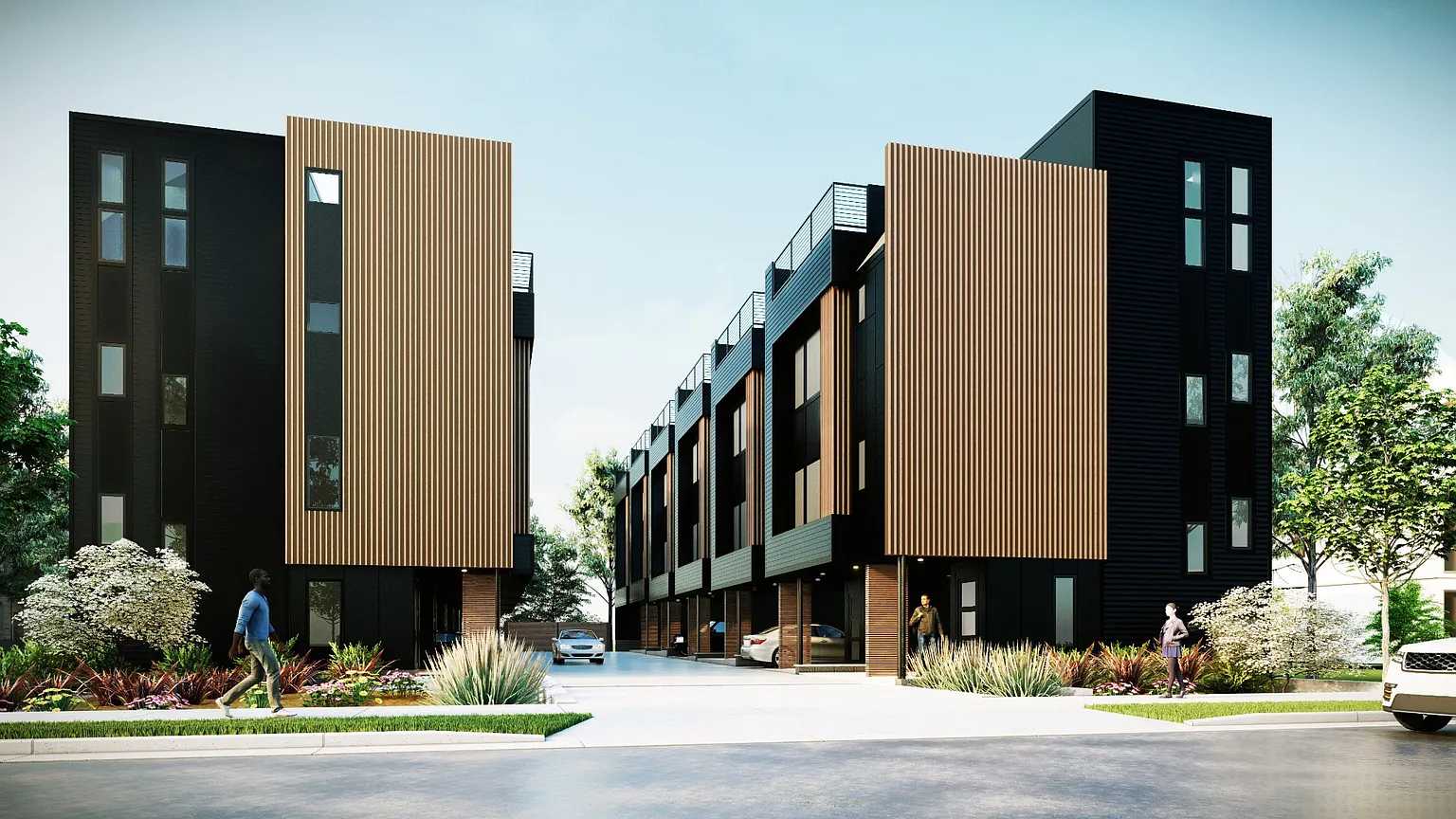 The outdoor spaces associated with Sky At Fern homes deserve equal praise. Most properties boast meticulously landscaped yards, blending the boundary between man-made beauty and natural splendor. Patio spaces and outdoor kitchens are common, fostering a culture of outdoor living and socialization. Additionally, several homes come with private swimming pools and rooftop terraces, perfect for relaxation or entertainment. The streets are tree-lined and well-lit, providing not just aesthetic appeal but also an additional layer of security.
Inside Sky At Fern, a strong sense of community prevails. The neighborhood is known for its friendly, diverse and active residents who often participate in local events and activities. Regularly organized block parties, farmer's markets, and community-wide garage sales provide an opportunity to engage with neighbors and create a tight-knit community. The Homeowner's Association plays a significant role in preserving the harmonious living environment by maintaining common areas and enforcing guidelines that uphold the neighborhood's visual appeal and serene atmosphere.
Proximity to essential amenities enhances the quality of life in Sky At Fern. There's convenient access to top-rated schools, health care facilities, shopping centers, and gourmet restaurants, reducing the need for long commutes. For outdoor enthusiasts, there are several parks and trails nearby, facilitating activities like hiking, biking, and picnicking. Its location in Nashville also places residents in the heart of a vibrant cultural and entertainment scene, where they can enjoy live music performances, art galleries, and local festivals. Public transportation options are readily available, making it easier to explore the city and beyond.
Despite being part of the bustling city of Nashville, Sky At Fern provides a quiet and peaceful living environment. The community is thoughtfully planned to minimize traffic noise, and the homes are constructed using sound-absorbent materials. Additionally, security measures such as surveillance cameras and regular neighborhood watch patrols contribute to a safe and tranquil atmosphere. Hence, Sky At Fern offers a unique blend of urban convenience and suburban tranquility, encapsulating the best of both worlds in one idyllic setting.
Similar Communities
The Sylvan Park neighborhood is another area offering a similar lifestyle and property values to those found in Sky At Fern. This historic Nashville neighborhood boasts a unique blend of charming renovated houses and new, high-end constructions. The homes here showcase a fusion of old-world charm and modern comforts, with hardwood floors, chef's kitchens, spa-like bathrooms, and beautifully landscaped yards. The neighborhood is pedestrian-friendly, with wide sidewalks and tree-lined streets creating a welcoming atmosphere. An array of local businesses, restaurants, and shops gives Sylvan Park a unique vibe, while parks and green spaces allow residents to enjoy outdoor activities.
Belle Meade, located to the west of downtown Nashville, offers another comparable lifestyle and property type to Sky At Fern. The neighborhood is one of the wealthiest in Nashville, and the homes reflect this status. Residences are large, with many having expansive lawns, swimming pools, and luxurious interiors. The architectural style is diverse, with a mix of modern, traditional, and colonial designs. The neighborhood is renowned for its excellent public and private schools, making it a popular choice for families. Residents enjoy easy access to a range of high-end restaurants and shops, as well as proximity to the Warner Parks, a large urban park system perfect for outdoor enthusiasts.
Another neighborhood worth mentioning is The Gulch, a dynamic area in the heart of downtown Nashville. Here, you will find luxury high-rise condos and lofts that rival the modernity and style of Sky At Fern homes. This neighborhood is known for its vibrant energy and urban lifestyle, with numerous restaurants, art galleries, and music venues just steps away from the residences. Despite its urban location, The Gulch is committed to sustainable living and has been recognized as a LEED-certified neighborhood. Residents can enjoy the convenience of city living while still maintaining a commitment to green, eco-friendly practices. The Gulch offers a different, more urban lifestyle, but its price point and construction are akin to Sky At Fern.
Food Scene
Residents of Sky At Fern are spoilt for choice when it comes to dining options in Nashville. Just around the corner is The Catbird Seat, a unique dining experience that's known far and wide. This U-shaped kitchen lets you watch the chefs prepare your meal right in front of you, providing not just delicious food but an immersive culinary experience. The menu changes frequently and features an array of innovative dishes that elevate locally sourced ingredients.
For those who are fans of Italian cuisine, Rolf and Daughters is an absolute must-visit. Housed in a 100-year-old factory, this restaurant serves rustic Italian dishes with a twist. The handcrafted pasta is the star of the show, with each dish showcasing fresh, vibrant flavors. The cozy atmosphere and the exquisite wine list are perfect accompaniments to the incredible food.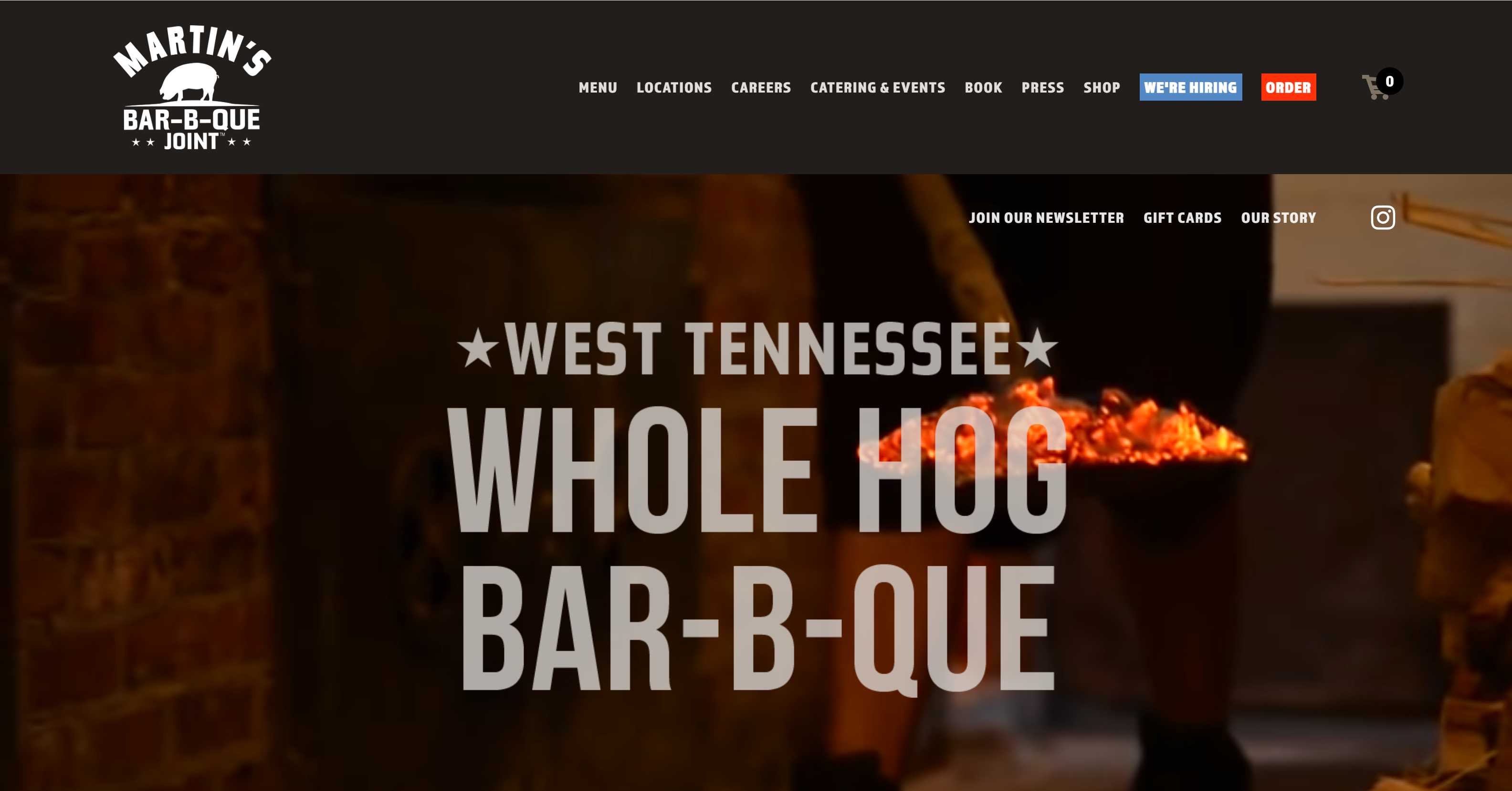 Barbecue enthusiasts will be thrilled to discover Martin's Bar-B-Que Joint, a staple in the Nashville food scene. Known for their mouth-watering, slow-smoked meats, this establishment truly encapsulates the spirit of Southern BBQ. Their pulled pork, ribs, and brisket have won numerous awards and are considered some of the best in the city.
Vegetarian and vegan residents will feel at home at The Wild Cow, a popular plant-based restaurant. From generous grain bowls to creative salads, this spot ensures that health-conscious eating never compromises on flavor. Plus, they have a different charity they donate to every month, so you're giving back while enjoying your meal.
On the weekends, you might want to check out Biscuit Love, a beloved brunch spot that started as a food truck. The restaurant's namesake, biscuits, are flaky and buttery perfection, and are the basis for many of their dishes. Their "East Nasty" biscuit sandwich, loaded with fried chicken, cheddar, and gravy, has been named the best sandwich in America by Bon Appétit.
For a casual and lively night out, Pinewood Social is a versatile choice. Part restaurant, part bar, part bowling alley, this place has something for everyone. Their diverse menu has an array of dishes, from inventive appetizers to gourmet burgers, and their cocktail program is one of the best in the city.
As you can see, no matter your cravings, Sky At Fern's proximity to Nashville's rich and diverse dining scene means you're never far from your next culinary adventure.
Entertainment
For sports lovers living in Sky At Fern, the energy of the game is always nearby. The Nissan Stadium, home to the NFL's Tennessee Titans, is just a short drive away. Whether you're an avid football fan or just enjoy the thrill of a live game, the excitement of cheering in the stands is an experience not to be missed. The Bridgestone Arena, which hosts the NHL's Nashville Predators, also stages an array of major concerts and other big events throughout the year, so there's always something happening.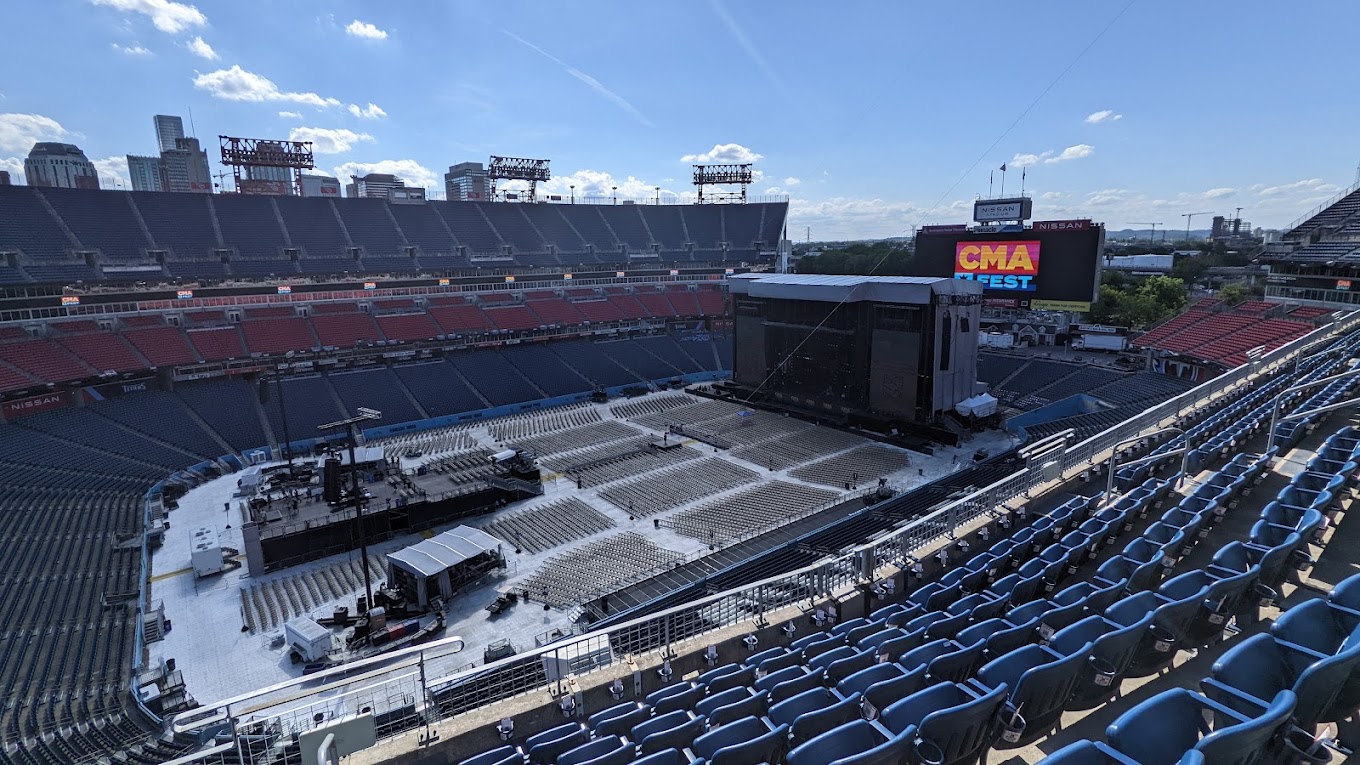 Speaking of music, one can't overlook the fact that Nashville is fondly known as "Music City". The Ryman Auditorium, often referred to as the "Mother Church of Country Music," regularly hosts performances from world-renowned musicians. The iconic Grand Ole Opry, another landmark music venue, features the biggest stars of country music and has been a staple of Nashville's music scene for almost a century. For more contemporary sounds, Ascend Amphitheater offers stunning views of the city skyline and has hosted artists from various genres, making it a favorite spot for concert-goers.
Beyond music and sports, there's a wealth of entertainment options around Sky At Fern. The Nashville Ballet, the Tennessee Performing Arts Center, and the Nashville Symphony provide cultural enrichments with their array of performances from classical to modern. The Belcourt Theatre is a gem for film enthusiasts, showcasing an eclectic mix of independent films, documentaries, and classics.
Those interested in the local arts scene should explore the monthly Art Crawl in downtown Nashville. It's an event where galleries open their doors for free, allowing locals and visitors alike to appreciate the incredible art the city has to offer.
Additionally, Nashville is host to a variety of festivals throughout the year that cater to all sorts of interests. From the food-centric Nashville Restaurant Week and the Nashville Wine and Food Festival, to music celebrations like the CMA Music Festival and the Americana Music Festival, there's always something unique and exciting to experience.
Sky At Fern's advantageous location makes it incredibly easy for residents to immerse themselves in the vibrant, diverse entertainment offerings that Nashville is famous for.
Health and Wellness
Living in Sky At Fern, you'll have access to numerous health and wellness options that cater to a balanced lifestyle. From top-notch fitness facilities to serene outdoor spaces, there's something to suit everyone's preferences.
Start the day with a refreshing yoga class at Shakti Power Yoga. This vibrant studio offers a range of classes for all skill levels, from gentle yoga for beginners to powerful vinyasa flows for advanced practitioners. Their experienced instructors create a welcoming environment, encouraging mindfulness and relaxation.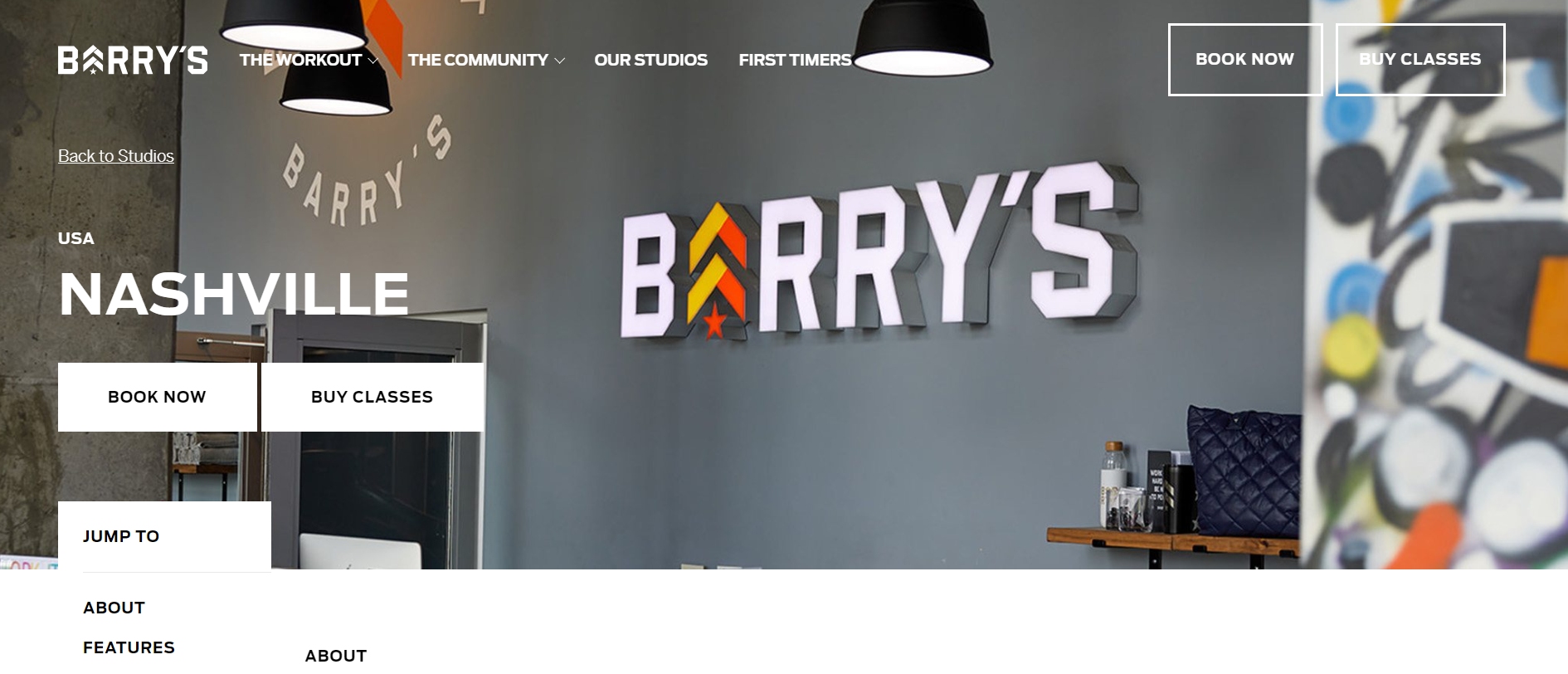 For those who prefer a more high-intensity workout, Barry's Bootcamp in the Gulch is an excellent choice. Known for their signature high-energy workouts, this fitness studio combines strength and cardio training for a comprehensive exercise regimen. Or, if you're more of a gym enthusiast, the local YMCA offers a state-of-the-art fitness center equipped with all the essential workout machines and free weights.
If you love being active outdoors, the Centennial Park, home to Nashville's Parthenon replica, is an excellent destination. Covering over 132 acres, the park offers trails for walking and jogging, and open spaces perfect for yoga or other exercises. It also hosts various outdoor fitness classes and events throughout the year.
Just a few miles from Sky At Fern is the Richland Creek Greenway, a trail system that winds along the creek and through several parks, offering stunning natural scenery to enjoy while you run, walk or cycle.
To support your dietary needs, Sky At Fern is conveniently located near several health-focused grocery stores, such as Trader Joe's and Whole Foods Market. You'll find a wide range of organic, gluten-free, and plant-based options, making it easier to maintain a balanced diet.
For holistic healthcare services, you'll find chiropractic clinics, acupuncture, and wellness centers within easy reach. One noteworthy spot is the Vanderbilt Integrative Health Center, which combines traditional medicine with alternative therapies for a comprehensive approach to wellness.
Lastly, don't forget to schedule some relaxation time at one of the local spas. Escape Day Spa and Salon, for instance, offers a full range of services, from massages and facials to wellness therapies, to help you unwind and rejuvenate.
Whether you're looking to maintain an active routine, find mental balance, or eat healthier, the variety of health and wellness options near Sky At Fern make it a breeze to lead a vibrant, balanced lifestyle.
Outdoor Lifestyle
Living at Sky At Fern, you're perfectly positioned to enjoy all the outdoor opportunities that Nashville has to offer. The area is surrounded by parks and green spaces, providing residents with ample options to relax, recreate, or reconnect with nature.
Just a few minutes away is Centennial Park, Nashville's premier urban park. The iconic Parthenon replica is the centerpiece, but the park also boasts a beautiful lake, walking trails, and open spaces for picnics or outdoor sports. There's also a charming sunken garden and an arts activity center, making it a favorite spot for families and outdoor enthusiasts alike.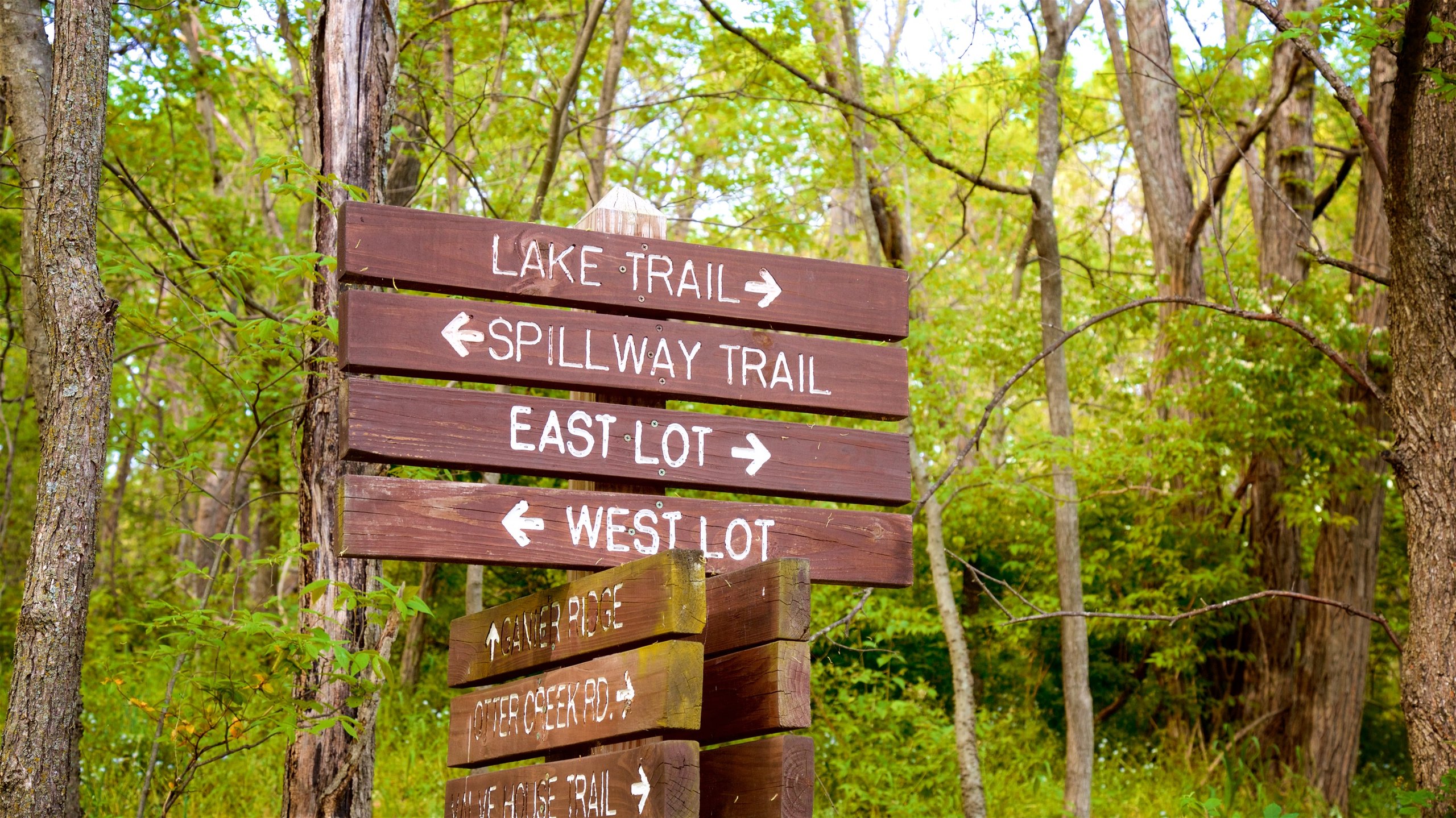 A little further out, but absolutely worth the drive, is Radnor Lake State Park. A true haven for wildlife lovers, the park is home to deer, otters, and a variety of bird species. Its well-maintained trails, ranging from leisurely walks to more strenuous hikes, make it a paradise for hikers and nature lovers.
Cumberland River Greenway is another gem, offering a scenic trail for walking, jogging, or cycling along the Cumberland River. It's not uncommon to see rowers gliding across the water or locals fishing along the riverbank. With stunning views of the Nashville skyline, it's a great spot for an early morning run or a sunset stroll.
For a different kind of outdoor experience, check out the Adventure Science Center. While it's not a park, the center's Sudekum Planetarium offers incredible star gazing experiences and educational shows about the cosmos.
For those who love water sports, Nashville SUP & Yoga offers stand-up paddleboarding classes on the calm waters of Percy Priest Lake. It's a great way to stay active and cool down on a hot summer day.
And let's not forget about the numerous community gardens and farmers' markets in the area. These spots not only provide access to fresh, local produce but also offer a chance to learn more about sustainable farming and gardening practices.
With its wealth of green spaces and its proximity to nature trails and parks, Sky At Fern is an ideal location for those who love the outdoors. Whether you're seeking a peaceful spot to meditate, a scenic path for your daily jog, or a lake for paddleboarding, there's something for every nature enthusiast in and around this Nashville neighborhood.
Education
When it comes to education, families residing at Sky At Fern are well served by both public and private schools that offer excellent learning opportunities for students of all ages.
The public schools in the area are part of the Metropolitan Nashville Public Schools district, which is known for its diversity and commitment to academic excellence. Among these, Eakin Elementary School stands out for its dedicated staff and inclusive environment. The school is well regarded for its International Baccalaureate (IB) Primary Years Programme, which fosters an understanding of different cultures and perspectives.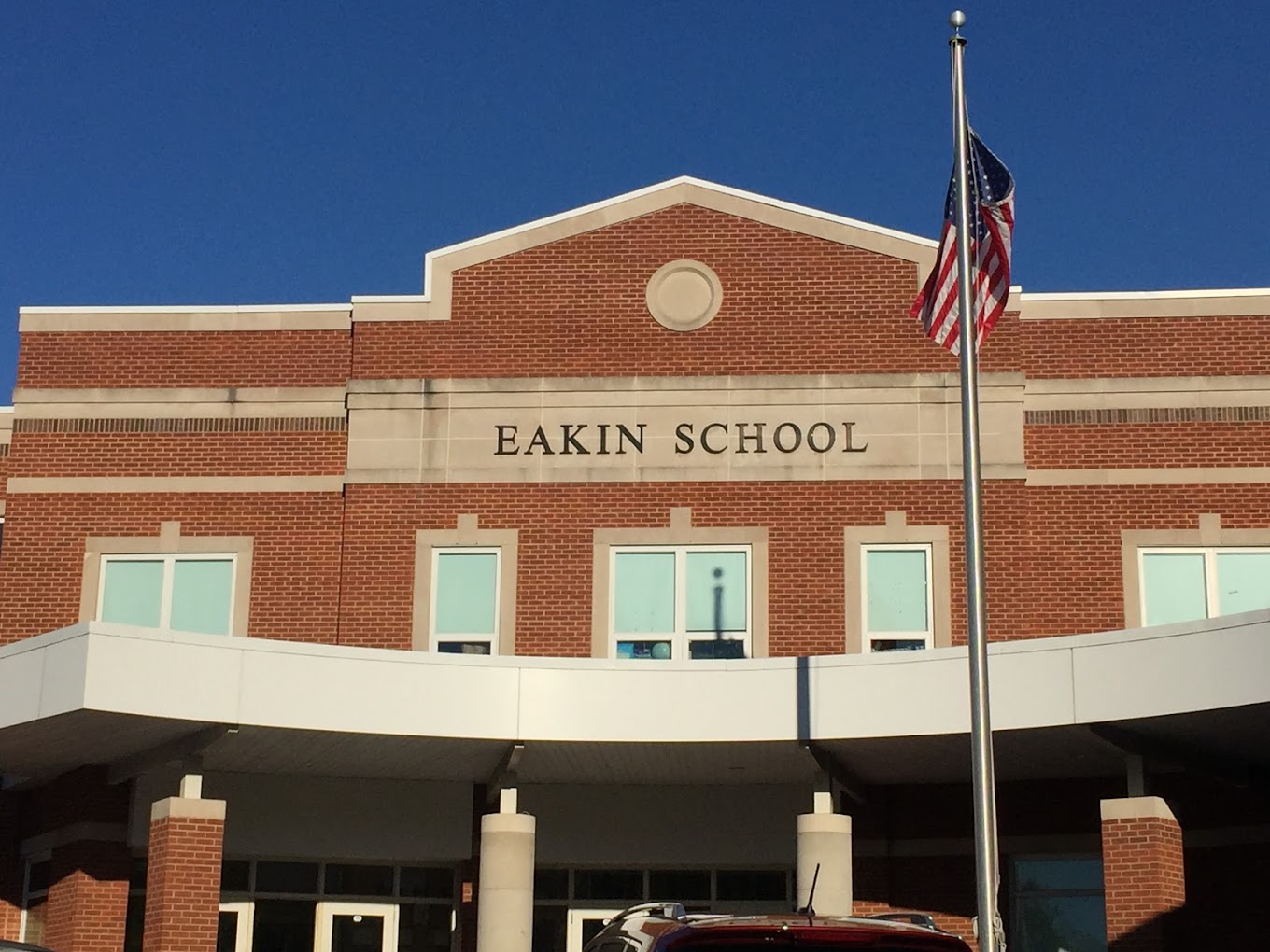 For middle school education, there's the West End Middle School, which boasts a robust curriculum and a variety of extracurricular activities. High school students have the opportunity to attend Hillsboro High School, an IB World School that also offers an Academy of International Business and Communications, providing students with an innovative and globally focused education.
In terms of private schools, residents of Sky At Fern are spoilt for choice. University School of Nashville is an esteemed K-12 independent day school known for its challenging curriculum and dynamic teaching methods. For those seeking a religiously-affiliated education, Saint Bernard Academy, a Catholic coeducational school serving grades Pre-K through 8, offers a comprehensive curriculum that combines rigorous academics with moral and spiritual development.
Vanderbilt University, one of the nation's top institutions for higher education, is just a short drive away. Offering a wide range of undergraduate and graduate programs, Vanderbilt is recognized for its commitment to research, innovation, and the advancement of knowledge.
For families with young children, there are also several well-regarded preschools and early education centers in the area, including Vanderbilt's Acorn School, which is known for its play-based learning approach.
In short, whether it's public or private education you're after, the Sky At Fern area is positioned within easy reach of a host of high-quality educational institutions that cater to the diverse needs and interests of its students.
Shopping and Retail
Living at Sky At Fern, you're perfectly placed to enjoy a variety of shopping experiences. Nashville is home to an eclectic mix of stores and shopping districts, ranging from upscale boutiques to vintage thrift shops and modern shopping malls, ensuring every retail enthusiast will find something to suit their taste.
If you're in the mood for a day of high-end shopping, you'll want to head over to The Mall at Green Hills. This upscale shopping mall boasts a collection of over 100 stores, featuring brands like Louis Vuitton, Apple, and Nordstrom. You'll also find a range of restaurants, making it easy to grab a bite between browsing your favorite stores.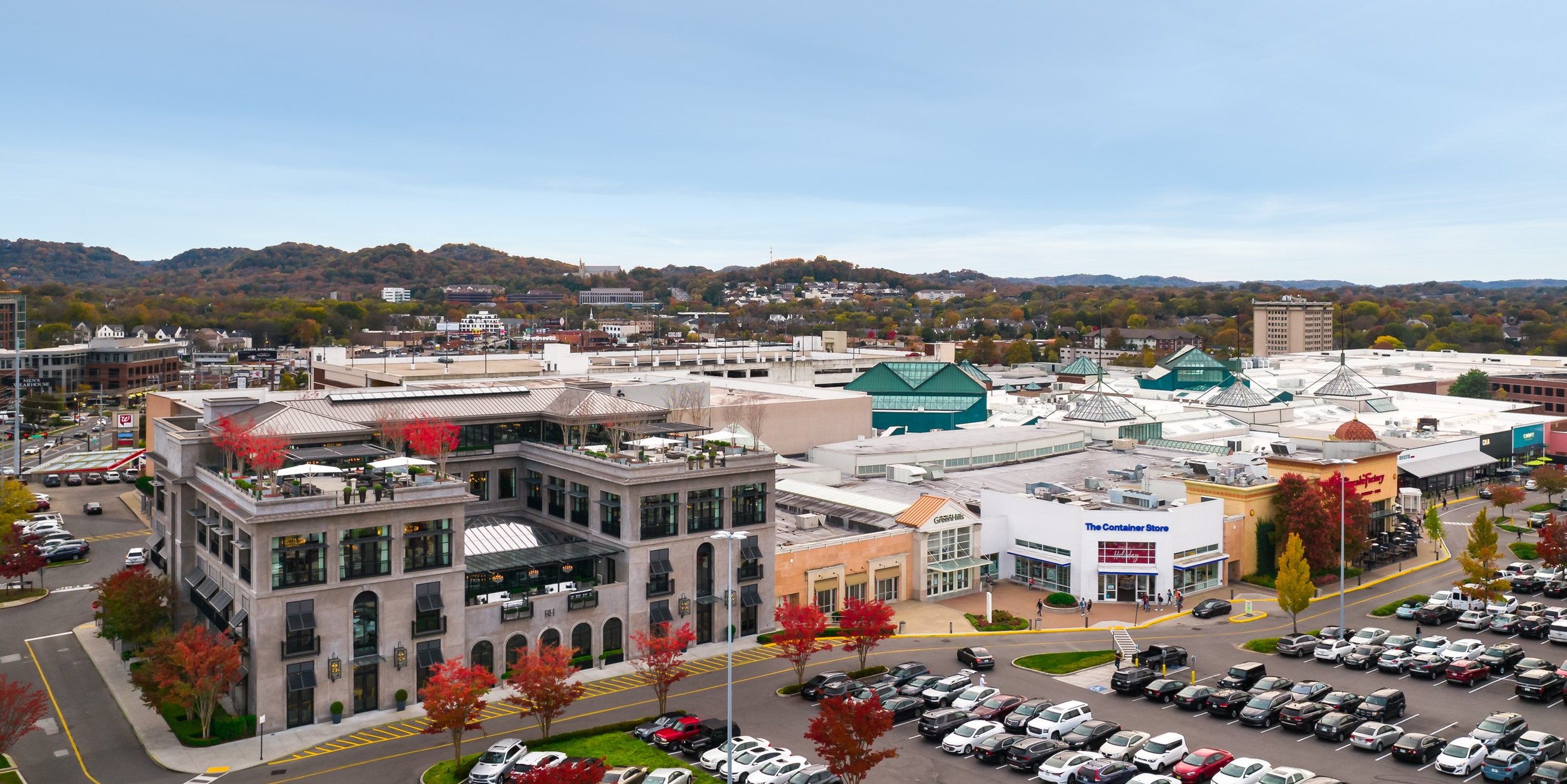 For a more local shopping experience, the nearby 12 South neighborhood is a must-visit. This vibrant area is lined with trendy boutiques offering everything from unique fashion finds to handcrafted jewelry. Stores like Emerson Grace and White's Mercantile are favorites among locals for their curated selections of clothing, home goods, and accessories. The 12 South Farmers Market, held every Tuesday, is a wonderful place to pick up fresh, locally sourced produce and artisanal products.
A short drive away, you'll find the Gulch, another popular shopping district. Known for its blend of urban sophistication and industrial simplicity, this area is home to boutiques such as Two Old Hippies, which offers an eclectic mix of clothing, accessories, and music-related products. The Gulch Night Market, which occurs on select evenings, is an energetic event showcasing local artisans, food trucks, and live music.
For everyday needs, you won't need to go far. Several grocery stores, including Publix and Trader Joe's, are conveniently located close to Sky At Fern. Additionally, home goods stores like Home Depot and Best Buy are just around the corner for any tech or home improvement needs.
Regardless of what you're shopping for, the array of retail options near Sky At Fern makes it easy to find just what you need without venturing far from home.
Business and Economy
Sky At Fern residents live at the heart of a bustling economic hub, where various businesses and industries thrive and contribute to Nashville's vibrant economy.
Undeniably, one of the biggest economic drivers in Nashville is the music industry. The city is known as the "Country Music Capital of the World," housing major record labels, recording studios, and music publishing houses. It's home to music powerhouses like Universal Music Group, Sony Music Nashville, and Warner Music Nashville. This industry not only provides a wealth of jobs but also boosts tourism and gives the city its distinctive cultural flavor.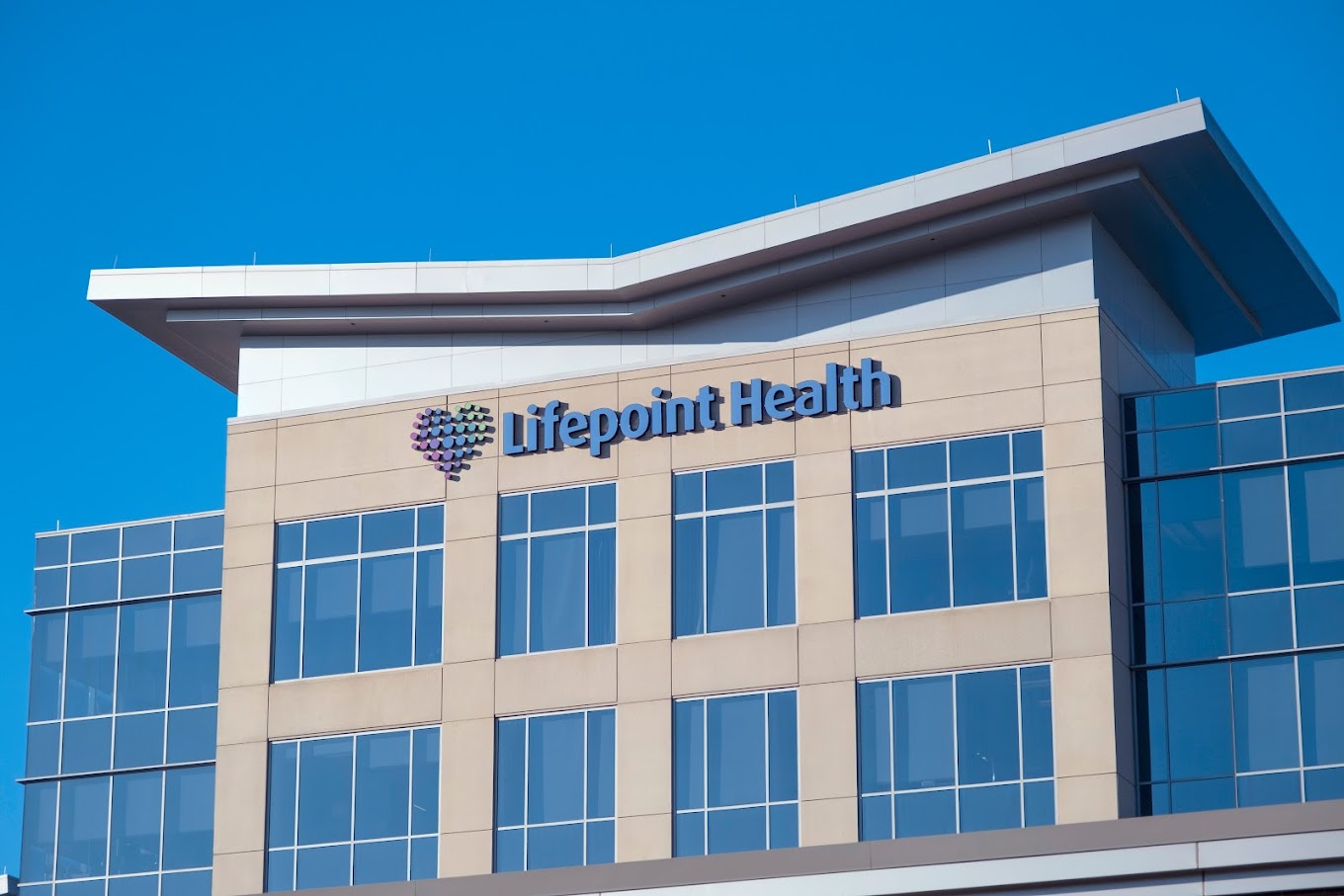 Healthcare is another significant sector in Nashville. The city is a healthcare management capital, with over 500 healthcare companies having operations here. HCA Healthcare, one of the largest private health systems in the U.S., is headquartered in Nashville. Other notable companies include Community Health Systems and LifePoint Health. These organizations contribute significantly to the city's economy and offer various employment opportunities in diverse healthcare roles.
In the last few years, Nashville has also seen a rise in its tech industry, with a focus on health tech, martech, and fintech. Companies like Change Healthcare, Built Technologies, and Digital Reasoning have found a home in the city, while tech giants like Amazon and Oracle have established tech hubs, creating thousands of new jobs.
The city is also known for its vibrant entrepreneurial ecosystem, supported by numerous accelerators, coworking spaces, and startup events. Organizations like the Nashville Entrepreneur Center provide resources and mentorship to help startups and small businesses thrive.
Nashville's booming tourism industry also plays a key role in the local economy. From the Grand Ole Opry and Ryman Auditorium to the numerous music festivals throughout the year, the city attracts millions of tourists annually. This influx of visitors supports local businesses, from hotels and restaurants to retail stores and tour services.
Lastly, Nashville has a strong educational sector with top-ranking institutions like Vanderbilt University, Belmont University, and Tennessee State University. These institutions not only provide jobs but also contribute to Nashville's robust economy through research and development initiatives.
Living in Sky At Fern means being in close proximity to these diverse industries, making it an ideal location for professionals in a variety of fields.
Hotels and Lodging
Staying near Sky At Fern, whether you're a visitor or a resident hosting out-of-town guests, provides an array of lodging options to suit any style or budget. From luxury hotels to charming bed and breakfasts, there's something for everyone in and around this area of Nashville.
For those seeking an upscale experience, the Thompson Nashville in the Gulch offers sophisticated comfort. This boutique hotel boasts elegantly designed rooms, a rooftop bar with stunning city views, and a fantastic onsite restaurant, Marsh House, known for its Southern seafood cuisine.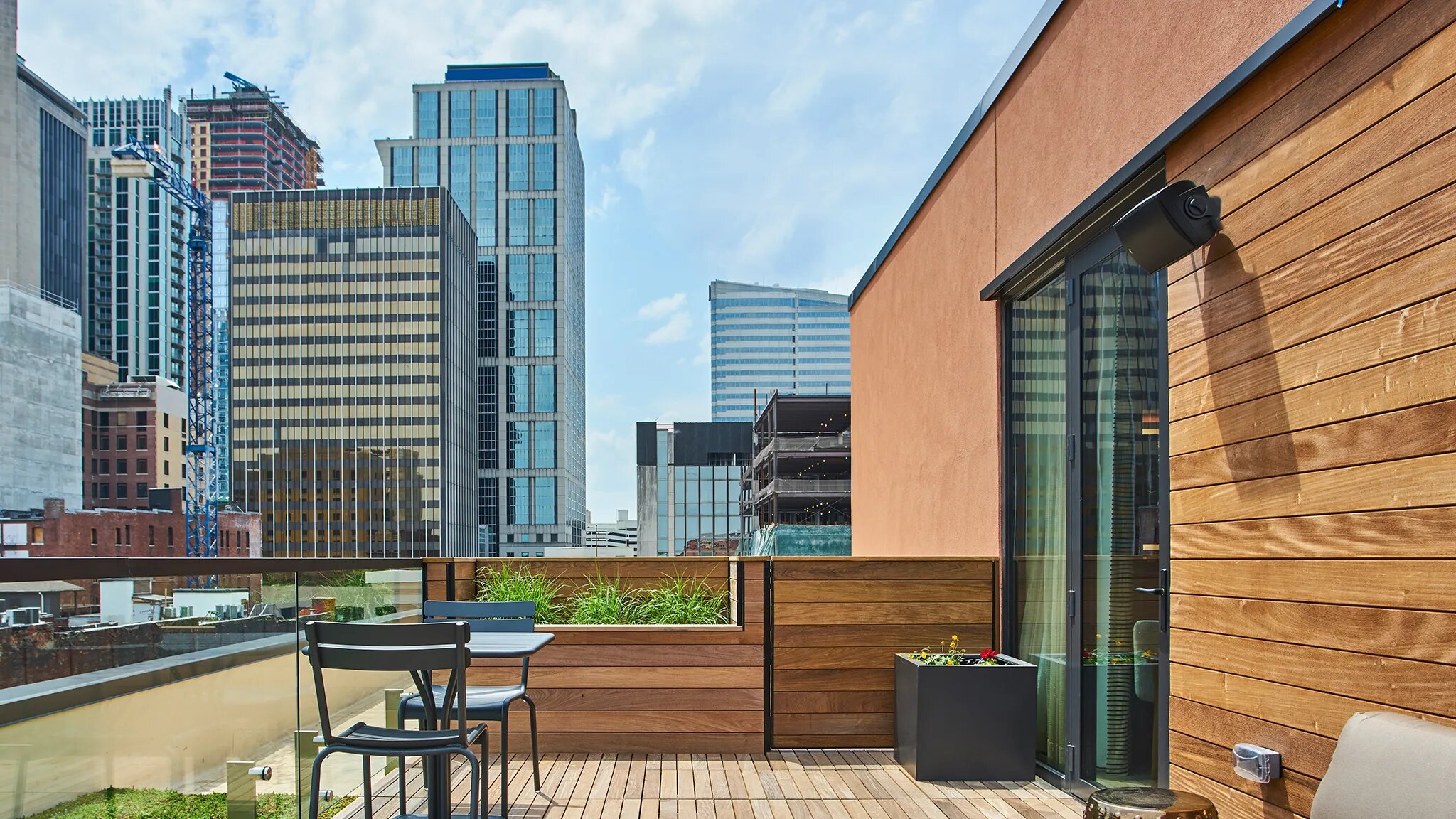 Also in the Gulch, you'll find the 21c Museum Hotel, which stands out for its unique blend of boutique hotel, contemporary art museum, and locally-sourced restaurant. It's the perfect choice for visitors who appreciate modern art and design.
A little closer to downtown, the Hermitage Hotel offers a taste of historic luxury. Built in 1910, this hotel is a landmark in Nashville, offering classic rooms and suites, a grand ballroom, and even a historic men's restroom that's a tourist attraction in its own right.
If a homey bed and breakfast is more your speed, the 1501 Linden Manor Bed and Breakfast in nearby Belmont Blvd is a delightful option. Housed in a charming historic property, it offers comfortable rooms, a delicious breakfast, and personalized service that makes guests feel like they're at home.
For something a little more unique, the Urban Cowboy B&B in East Nashville offers a distinctly "Nashville" experience. With its western-style decor and community-centered ethos, it's more than just a place to stay — it's a place to connect with fellow travelers and locals.
Visitors looking for a more standard hotel experience will appreciate the nearby Hilton Garden Inn or the Marriott at Vanderbilt University, both offering comfortable rooms, excellent service, and convenient locations.
In short, whether you're looking for a luxury hotel, a cozy bed and breakfast, or a standard hotel room, you'll find plenty of lodging options within a stone's throw of Sky At Fern.
Travel and Transportation
When it comes to transport and accessibility, residents of Sky At Fern in Nashville, TN are well-connected. Conveniently located, Sky At Fern is just a short drive away from Nashville International Airport and boasts easy access to several public transportation options, making commuting a breeze.
Nashville International Airport, the closest airport, is about 9 miles away and typically a 15-20 minute drive depending on traffic. Offering both domestic and international flights, the airport is served by over a dozen airlines and has non-stop flights to more than 50 destinations across the United States, as well as a growing number of international locations. Its amenities include car rentals, ride shares, shuttles, and public transit access, ensuring that your journey to or from Sky At Fern is as smooth as possible.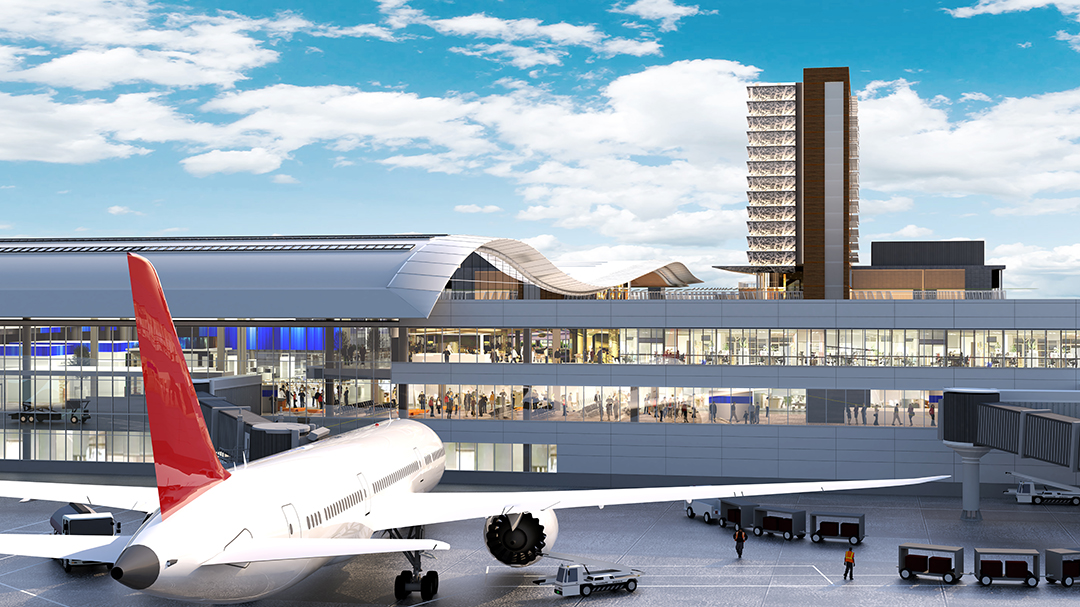 As for public transportation, the Metropolitan Transit Authority (MTA) provides bus service throughout Nashville and its surrounding areas. Several MTA bus routes serve the area near Sky At Fern, offering an affordable and convenient option for getting around the city.
For residents who prefer to travel by rail, the Music City Star Commuter Rail has a station downtown that's just a short drive or bus ride from Sky At Fern. The train service connects downtown Nashville with the eastern suburbs, making it a viable commuting option if you work outside the city or simply want to explore further afield.
Biking is another option in this bike-friendly city, with numerous bike lanes and trails throughout the area. B-Cycle, Nashville's bike share program, has multiple stations throughout the city, providing a healthy and eco-friendly transportation option.
For those looking to reduce their carbon footprint, WeGo Public Transit also offers a carpooling program. By connecting riders heading in the same direction, the program aims to decrease traffic congestion and improve air quality.
In summary, whether you're jet-setting across the country, commuting for work, or exploring the city, living at Sky At Fern means you're well-served by a variety of convenient transportation options.