Laurelbrooke, Franklin, TN Homes for Sale
Laurelbrooke, Franklin, TN Property Listings
December 1, 2023
$3,101,500
Med. List Price
Rather speak with a local Laurelbrooke, Franklin real estate agent on the phone instead? Give us a call at
(615) 257-8317
for a free consultation. We look forward to helping you find the perfect home!
Laurelbrooke Homes
Laurelbrooke homes in Franklin, TN, present a fascinating blend of opulence and comfort, with an array of architectural styles that range from traditional Southern elegance to grand European designs. The homes are typically large, multi-story residences featuring spacious rooms, high ceilings, and intricate detailing, emphasizing luxury and refinement. They are meticulously crafted to include numerous amenities such as gourmet kitchens with high-end appliances, media rooms, home offices, wine cellars, and sweeping master suites with spa-like bathrooms. Many of the homes also come with outdoor features like heated pools, elaborate gardens, or expansive patios overlooking the scenic landscape.
Each home in Laurelbrooke is unique, reflecting the artistry and creativity of the architects and builders who crafted them. But despite their diversity, a common thread that ties them all together is the harmonious blend with the surrounding natural landscape. Many homes boast views of the rolling Tennessee hills, tranquil ponds, and lush wooded areas, creating an ambiance of serene, country living. These views not only enhance the visual appeal of the homes but also contribute to the overall sense of peace and tranquility that defines life in Laurelbrooke.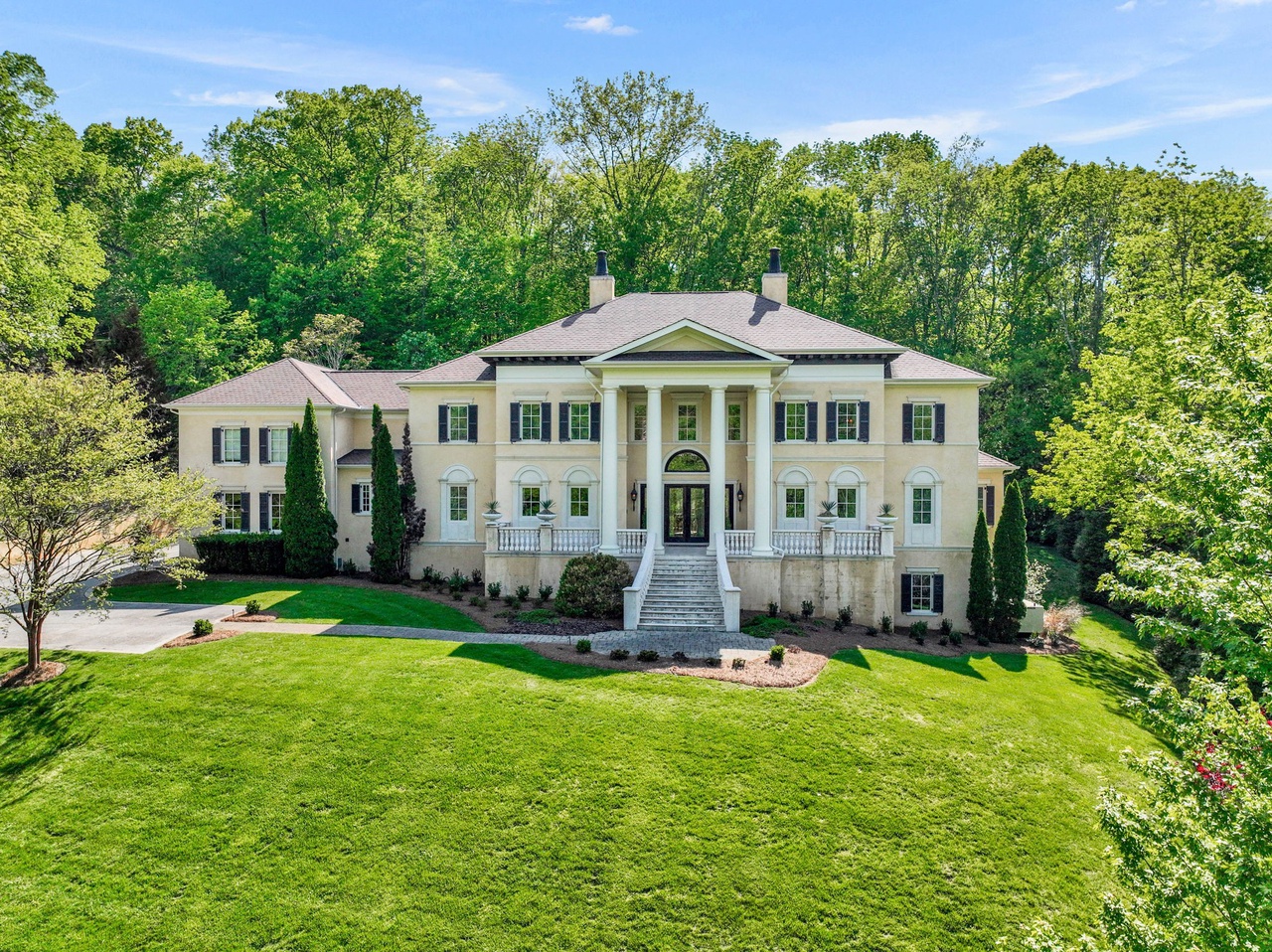 The neighborhood itself has a lot to offer to its residents. Laurelbrooke is a gated community, which ensures security and privacy for its inhabitants. Residents can enjoy the benefits of a community clubhouse, complete with a fitness center, swimming pool, and tennis courts. Children can avail themselves of a well-equipped playground area. There's also an active homeowners association that organizes regular social activities, fostering a close-knit community spirit.
The surrounding community of Franklin, TN, further augments the allure of Laurelbrooke homes. Franklin is known for its vibrant historic downtown, filled with an array of boutiques, art galleries, restaurants, and coffee shops. The city offers numerous parks and recreational facilities and hosts several annual events like music festivals and craft fairs that enhance the local cultural scene. The excellent school system, coupled with a low crime rate, makes Franklin an ideal location for families. In addition, the healthcare facilities, including Williamson Medical Center and several specialized clinics, are top-notch, catering to the overall well-being of the residents.
In terms of accessibility, Laurelbrooke is conveniently located just minutes away from downtown Franklin and about half an hour from Nashville, making it ideal for those seeking a quiet, peaceful neighborhood but still wanting to enjoy the vibrancy of city life. The local infrastructure also includes easy access to public transportation and major highways, adding to the convenience of living in Laurelbrooke. Whether it's the luxurious homes, the peaceful neighborhood, or the thriving surrounding community, Laurelbrooke truly encapsulates the essence of sophisticated Southern living.
Similar Communities
Situated just a short distance from Laurelbrooke is the prestigious neighborhood of Westhaven. This master-planned community, like Laurelbrooke, features upscale homes that mirror the grandeur and elegance characteristic of Southern living. Westhaven homes typically embody a blend of classic architecture with modern features, showcasing meticulous attention to detail in their design. High ceilings, gourmet kitchens, hardwood floors, and beautifully crafted outdoor spaces are common features of these homes. Westhaven also offers an array of amenities, including a clubhouse, golf course, swimming pools, and hiking trails. An added charm is the community's own Town Center, complete with shops, restaurants, and a grocery store, fostering a sense of self-contained community living.
A short drive north of Laurelbrooke leads to the upscale community of Brentwood. Brentwood, like Franklin, offers luxurious living in a serene suburban setting. Its homes, nestled among rolling hills and scenic landscapes, are expansive and exhibit a similar elegance to those in Laurelbrooke. They are custom-built, providing homeowners the opportunity to include personalized features and design elements. Brentwood also offers its residents an abundance of green spaces, parks, and trails, contributing to the healthy and active lifestyle enjoyed by the community. The city also boasts a number of top-rated schools and recreational facilities, making it a highly sought-after neighborhood for families.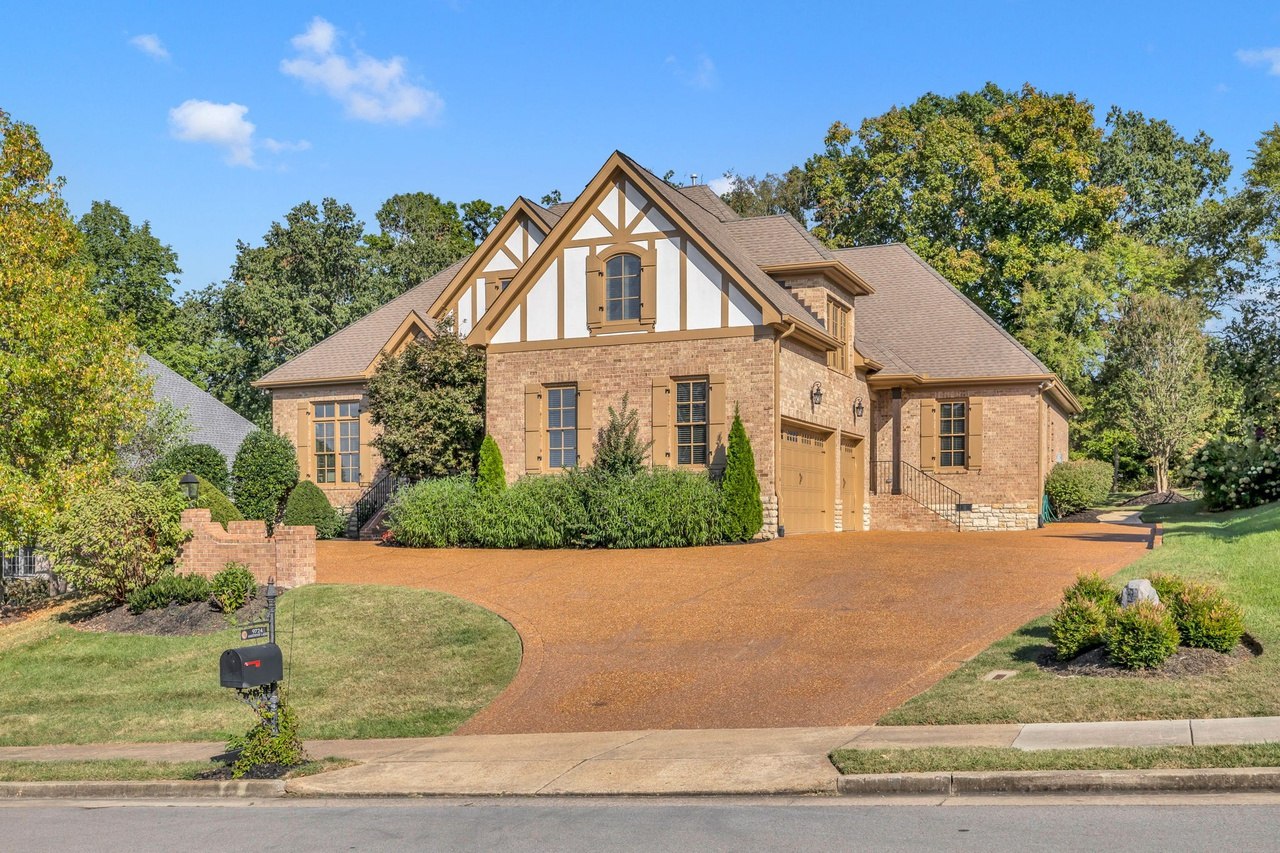 Just east of Franklin lies the exclusive neighborhood of Governors Club. This private gated community is renowned for its custom-built homes that reflect architectural sophistication and elegance. Like Laurelbrooke, Governors Club homes are large, with multiple bedrooms, gourmet kitchens, and expansive outdoor living spaces. Many homes also offer scenic views of the community's golf course or the surrounding Tennessee hills. On-site amenities include a championship 18-hole golf course, clubhouse, swimming pool, and tennis courts, underscoring the active, yet luxurious lifestyle of the residents.
In terms of price points, all these neighborhoods are comparable to Laurelbrooke, with homes generally selling for seven figures. They attract a similar demographic of residents, typically professionals, business owners, and families who appreciate the luxury, security, and community-focused lifestyle these neighborhoods offer. The easy access to quality education, healthcare, recreational facilities, and the vibrant urban centers of Franklin and Nashville make these neighborhoods highly attractive alternatives for potential homebuyers.
Food Scene
One can't talk about dining near Laurelbrooke without mentioning the charming culinary scene of downtown Franklin. Just a short drive away, downtown Franklin is a food lover's paradise, offering a variety of options that cater to all sorts of tastes and preferences.
If you're craving some authentic Southern cuisine, you should definitely drop by Puckett's Grocery & Restaurant. It's a Franklin staple, loved by locals and visitors alike for its mouthwatering BBQ dishes and live music nights. Puckett's combines the relaxed vibe of a neighborhood joint with the dynamic energy of a local music club, making it a unique dining experience.
Now, if you're in the mood for fine dining, the romantic setting of Gray's On Main is hard to beat. Housed in a historic building, Gray's showcases a menu that creatively mixes traditional Southern fare with modern culinary techniques. The restaurant also has a fantastic selection of artisan cocktails, which you can enjoy while listening to some live music.
For Italian food lovers, there's no better place than Trattoria A. Known for its warm and cozy atmosphere, Trattoria A serves a wide range of classic Italian dishes made from locally sourced ingredients. Their handmade pasta and wood-fired pizzas are an absolute delight and will transport you straight to the streets of Italy.
You can't forget about Franklin's blossoming food truck scene as well. Food Truck Fridays at the Factory at Franklin is a culinary extravaganza where you can taste an assortment of cuisines – from Korean BBQ to gourmet grilled cheese. It's the perfect spot for adventurous foodies and families alike.
For those with a sweet tooth, the Frothy Monkey and Merridee's Breadbasket are must-visit spots. The Frothy Monkey, with its quirky décor and art-filled walls, is a local favorite for coffee and pastries. Merridee's Breadbasket, on the other hand, is renowned for its freshly baked breads, pastries, and pies – the perfect way to round off a meal.
Just a bit further, the cosmopolitan city of Nashville, with its rich culinary scene, adds to the list of gastronomic options. Whether it's upscale dining at The Catbird Seat, seafood at the Saltine, or the famous hot chicken at Hattie B's, there are choices galore. The dining scene near Laurelbrooke, with its delightful mix of traditional, international, and experimental cuisine, truly caters to every palate and preference.
Entertainment
When it comes to entertainment and sporting events, the area surrounding Laurelbrooke is truly a treasure trove of possibilities. Starting in Franklin, one of the city's crown jewels is the Franklin Theatre. This historic venue has been beautifully restored and now hosts an exciting roster of movies, live music performances, and community events throughout the year. It's an absolute must-visit for anyone who loves the arts.
Another gem in Franklin's entertainment scene is The Factory at Franklin. This multi-use facility is home to an eclectic mix of restaurants, boutiques, and art galleries. However, it's not just about shopping and dining. The Factory also hosts a wide range of events like concerts, theater performances, and farmers markets. It's a vibrant hub of creativity and community spirit.
For outdoor enthusiasts, there's the Park at Harlinsdale Farm, which regularly hosts equestrian events. And if you're into running, the area offers several marathons and fun runs throughout the year, like the Franklin Classic Race and the Half Pint Half Marathon.
For sports fans, the short drive to Nashville opens up even more opportunities. The city is home to the NFL's Tennessee Titans, and catching a game at Nissan Stadium is a thrilling experience. For hockey enthusiasts, the NHL's Nashville Predators play at the Bridgestone Arena, where the crowd is always electric.
And let's not forget about Nashville's rich music scene. Renowned as the "Music City," Nashville is world-famous for its country music, but its vibrant music scene spans a wide range of genres. The Grand Ole Opry, Ryman Auditorium, and the Bluebird Cafe are iconic venues hosting performances by both established stars and up-and-coming talents. Plus, the city hosts a number of music festivals throughout the year, including the CMA Music Festival and the Bonnaroo Music and Arts Festival.
So whether it's live performances, sports, festivals, or community events, there's always something going on near Laurelbrooke. It's an area that offers a rich blend of small-town charm and big-city excitement, making it a fantastic place for entertainment and sports lovers.
Health and Wellness
Franklin and the surrounding areas near Laurelbrooke offer an abundance of health and wellness options that support a healthy and balanced lifestyle, making it an excellent place for individuals and families who prioritize well-being.
For starters, there's the Franklin Health & Fitness Center, a state-of-the-art facility offering a wide range of workout options, including cardio machines, weight training, personal training, group classes, and even a swimming pool for aquatic workouts. Whether you're a fitness enthusiast or just beginning your health journey, it's a great place to maintain an active lifestyle.
If you're a fan of yoga or Pilates, check out the Franklin Yoga Center and Pilates Franklin. They offer a wide variety of classes for all skill levels in a warm, welcoming environment. It's a wonderful way to strengthen your body, increase flexibility, and calm your mind.
Outdoor enthusiasts will appreciate the many trails and parks that the area offers. Pinkerton Park, for instance, has beautiful trails that are perfect for a morning jog or a leisurely evening walk. And for those who enjoy a more vigorous hike, there's the Natchez Trace Parkway, which offers breathtaking views of the Tennessee countryside.
Nutrition is, of course, an essential part of wellness, and there's no shortage of healthy eating options in the area. The Franklin Farmers Market is a local favorite, offering a wide variety of fresh, locally sourced produce, meats, dairy products, and baked goods. And for those days when you'd rather eat out, many restaurants in the area, such as Avo and The Wild Cow, serve delicious, nutritious dishes that cater to a range of dietary needs.
Healthcare services are also top-notch near Laurelbrooke. The Williamson Medical Center offers comprehensive medical care, including preventive services, emergency care, and a range of specialist services. The Bone and Joint Institute of Tennessee is one of the leading orthopedic facilities in the region, and Vanderbilt Health has several clinics and imaging centers in the area.
Mental wellness is also well catered to in the area, with a range of services available including counseling, psychotherapy, and mindfulness programs. The Refuge Center for Counseling and the Sage Hill Counseling center are just two of the many services available for residents.
In short, whether it's fitness, nutrition, mental health, or medical care, the Laurelbrooke area offers an array of resources to help residents maintain a balanced and healthy lifestyle.
Outdoor Lifestyle
Outdoor enthusiasts will find an abundance of opportunities to engage with nature near Laurelbrooke, Franklin, TN. The area is blessed with numerous parks, trails, and open spaces that make it ideal for a wide range of outdoor activities, providing endless avenues to enjoy the lush Tennessee countryside.
Let's start with Pinkerton Park, one of the most popular green spaces in Franklin. Nestled alongside the Harpeth River, this park has a lovely 1-mile paved trail, perfect for a leisurely stroll or a brisk run. There's also a playground for the kids and picnic areas where you can enjoy a relaxed outdoor meal with family and friends.
For a more adventurous outdoor experience, the Natchez Trace Parkway is a must-visit. This historic trail extends over 400 miles through Alabama, Mississippi, and Tennessee, but the portion near Franklin offers some breathtaking views of Tennessee's natural beauty. It's great for hiking, biking, or even just a scenic drive.
Harlinsdale Farm is another local gem. This former horse farm has been transformed into a 200-acre park offering walking trails, a dog park, and fishing ponds. It's also the site of many community events, including the Pilgrimage Music & Cultural Festival. And for horse lovers, the park has a rich history in the Tennessee Walking Horse industry, making it a fascinating place to explore.
For water enthusiasts, the Harpeth River offers ample opportunities for kayaking and canoeing. Foggy Bottom Canoe and River Rat Canoe Rental provide equipment and guided tours, making it easy for everyone to enjoy the tranquil waters.
Nearby, the expansive Percy Warner Park, with its intricate network of hiking and equestrian trails, offers another delightful getaway for nature lovers. And a little further away, the Radnor Lake State Park is a haven for bird watchers and wildlife enthusiasts, with numerous species calling the park home.
In addition to these, the local Franklin Farmers Market is a great place to connect with the area's agricultural heritage. Open on Saturdays, the market features fresh, locally grown produce, as well as handmade crafts and live music.
With such a wide array of outdoor options, the Laurelbrooke area truly embraces and celebrates its natural surroundings. It's an ideal location for anyone seeking an active, outdoor lifestyle, all set against the backdrop of Tennessee's enchanting landscape.
Education
When it comes to education, residents of Laurelbrooke, Franklin, TN are indeed spoilt for choice. The area is served by Williamson County Schools, one of the top-ranked school districts in the state, which boasts several high-performing public schools.
One such school is Grassland Elementary, known for its strong academic program and community involvement. Serving grades K-5, the school provides an engaging and supportive learning environment that caters to the diverse needs of its students. For middle school students, Grassland Middle School offers a broad curriculum with a variety of extracurricular activities, fostering a balance of academic and personal development.
High school students in the area typically attend Franklin High School, a school with a rich history and tradition of academic excellence. The school offers a comprehensive curriculum with advanced placement (AP) courses and a variety of extracurricular activities, including sports, arts, and clubs.
For families interested in private education, there are several top-rated private schools in and around Franklin. Battle Ground Academy is a renowned private institution that offers a college-preparatory program for students in grades K-12. Known for its rigorous academics and vibrant community, the school is committed to nurturing the intellectual, moral, creative, and physical growth of its students.
Brentwood Academy is another notable private school option, offering grades 6-12. The school has a robust academic program and a strong emphasis on character development. Moreover, Brentwood Academy has a well-regarded athletics program, making it an excellent choice for students who wish to balance their academic pursuits with sports.
For younger children, there are several reputable preschools and childcare centers in the area. Primrose School of Cool Springs and Montessori School of Franklin are two options that come highly recommended. They offer programs that nurture the holistic development of children, providing them with a strong foundation for their future learning journey.
In terms of higher education, the proximity to Nashville provides access to numerous colleges and universities, including Vanderbilt University and Belmont University, both renowned for their strong academic programs and vibrant campus life.
With such a diverse range of quality education options, families residing in Laurelbrooke are well-placed to find an educational setting that best fits their child's needs and aspirations.
Shopping and Retail
For shopping enthusiasts, the area around Laurelbrooke, Franklin, TN offers a delightful mix of retail options, from charming local boutiques to upscale shopping centers.
Downtown Franklin is a shopping paradise, steeped in historic charm. Main Street is lined with unique boutiques, antique shops, and specialty stores, offering everything from fashion and home decor to books and artisan crafts. Some noteworthy local favorites include White's Mercantile, a modern day general store with a variety of high-quality items, and Franklin Antique Mall, a treasure trove for antique lovers.
If you're looking for a more comprehensive shopping experience, CoolSprings Galleria is just a short drive away. This large, indoor mall features more than 150 stores, including popular retailers like Macy's, Dillard's, and Apple. It also has a food court and several sit-down restaurants, so you can easily make a day of your shopping trip.
In addition to these, The Factory at Franklin offers a unique shopping experience. This converted factory now houses a collection of eclectic boutiques and artisan shops, selling everything from clothing and jewelry to handmade chocolates and locally roasted coffee. It's also a hub for local events, so there's always something interesting going on.
For everyday needs, there are several supermarkets and retail chains in the vicinity. Whole Foods and Publix Super Market cater to grocery needs, and Target and Home Depot are nearby for home essentials and DIY projects.
If you're into fresh, local produce and handmade crafts, don't miss the Franklin Farmers Market. It's held every Saturday at The Factory and features a wide variety of locally sourced produce, artisan foods, and crafts.
For book lovers, Landmark Booksellers is an absolute must-visit. Housed in a historic building, this charming bookstore specializes in rare and out-of-print books, and it's the perfect place to lose yourself for a few hours.
In short, whether you're on the hunt for the latest fashion trends, searching for a unique gift, or just enjoying a leisurely day of retail therapy, the shopping scene near Laurelbrooke, Franklin, TN has something for everyone.
Business and Economy
When it comes to businesses and industries, the area surrounding Laurelbrooke, Franklin, TN is a dynamic hub of economic activity, offering a diverse range of opportunities and contributing to the thriving local economy.
Healthcare is one of the dominant industries in the region. Franklin is home to several healthcare companies, including Community Health Systems, one of the largest providers of general hospital healthcare services in the US. There's also Williamson Medical Center, a comprehensive healthcare facility that not only serves the health needs of the community but also employs a large number of local residents.
Another notable business sector in the area is the automotive industry. Nissan North America has its headquarters in nearby Cool Springs, and its presence has attracted a network of automotive suppliers, creating numerous jobs and driving economic growth.
Information technology and professional services are also significant contributors to the local economy. Microsoft and Cognizant have offices in Franklin, employing people in a variety of roles. In addition, there are several business and financial services firms in the area, like Franklin Synergy Bank and Jackson National Life, that provide a wide range of services and job opportunities.
Of course, the region's economy is also supported by a robust retail and hospitality sector. From shopping centers like CoolSprings Galleria to the eclectic mix of boutiques and restaurants in downtown Franklin, these businesses serve both locals and tourists alike, contributing to the vibrant local economy.
The music and entertainment industry, thanks to the proximity to Nashville, also plays a part in the local economy. Not only does it attract tourists, but it also provides a variety of jobs, from performance and production to marketing and management roles.
The agricultural sector, while smaller, is an important part of Franklin's identity and economy. From the farms that sell their produce at the Franklin Farmers Market to Arrington Vineyards, a popular local winery, these businesses help to maintain the area's rural charm and agricultural heritage.
In short, the Laurelbrooke area benefits from a diverse and dynamic business environment. The wide range of industries present in and around Franklin contributes to a strong local economy and provides a wealth of job opportunities for residents.
Hotels and Lodging
Whether you're hosting visitors or planning a local staycation, the area around Laurelbrooke, Franklin, TN offers a range of appealing lodging options, from luxury hotels to charming bed and breakfasts.
For those who appreciate upscale comfort, the Hilton Franklin Cool Springs is a great choice. This contemporary hotel offers sleek rooms, a fitness center, a stylish restaurant, and even a rooftop lounge where guests can enjoy panoramic views of the Tennessee hills.
Avid hotel-goers should also check out the Drury Plaza Hotel in Franklin, known for its spacious rooms and excellent customer service. The hotel also boasts a beautiful indoor/outdoor pool, making it a popular choice for families and leisure travelers.
For a more intimate and historical experience, the Franklin area is home to several bed and breakfasts that offer a unique and charming stay. Take, for example, the Magnolia House Bed and Breakfast. This stunning Civil War-era home provides cozy, elegantly furnished rooms, and guests often rave about the gourmet breakfast served each morning.
Another bed and breakfast option is the Pot N' Kettle Cottages in Leiper's Fork, a short drive from Laurelbrooke. Each of their four cottages is uniquely decorated and surrounded by beautiful landscapes, providing a serene, rustic retreat from the hustle and bustle.
Airbnb and VRBO also offer a variety of rental properties in and around Franklin, from modern apartments in the city center to countryside cabins nestled in the Tennessee hills. These options provide flexibility and can cater to different travel needs and group sizes.
For those looking to immerse themselves in the local history, The Harpeth Hotel, located in historic downtown Franklin, is a Curio Collection by Hilton Hotel that offers luxurious rooms and a slice of Franklin's history. The hotel also features two restaurants and a whiskey-focused bar, ideal for unwinding after a day of sightseeing or meetings.
Whether you're looking for luxury, charm, history, or flexibility, the accommodations near Laurelbrooke, Franklin, TN are sure to provide a comfortable and memorable stay.
Travel and Transportation
Travel and transportation are important aspects to consider when choosing a place to live, and residents of Laurelbrooke, Franklin, TN, enjoy convenient access to both local and international travel hubs.
The closest major airport to Laurelbrooke is Nashville International Airport (BNA), located approximately 25 miles north-east, which is about a 30-minute drive under normal traffic conditions. Nashville International offers a wide range of domestic and international flights, making both business and leisure travel quite convenient. It's serviced by all major airlines, so you'll have plenty of options when booking flights.
When it comes to local public transportation, Franklin Transit Authority provides services within the city of Franklin. The transit service operates fixed routes six days a week, connecting residential areas with downtown Franklin and major shopping centers. The Franklin Transit Authority also offers a TODD (Transit On DemanD) service, a curb-to-curb service that can be booked in advance.
For those commuting to Nashville for work or entertainment, the Regional Transportation Authority (RTA) offers the Relax & Ride bus service from Franklin to Nashville. There's also a Park & Ride lot in Franklin for commuters who prefer to drive part of the way.
Rideshare services like Uber and Lyft are also widely available in the Franklin area, providing another convenient option for getting around locally or for trips to and from the airport.
As for cycling enthusiasts, Franklin has made strides to become a more bicycle-friendly community. Many areas, including downtown Franklin, have bike lanes, and there are also plenty of bike-friendly trails in local parks for those who prefer to travel on two wheels.
In summary, whether you're jetting off on an international trip, commuting to Nashville, or simply exploring local attractions, residents of Laurelbrooke will find a variety of transportation options to meet their needs.