Garden Club Estates, Franklin, TN Homes for Sale
Garden Club Estates, Franklin, TN Property Listings
December 5, 2023
Rather speak with a local Garden Club Estates, Franklin real estate agent on the phone instead? Give us a call at
(615) 257-8317
for a free consultation. We look forward to helping you find the perfect home!
Garden Club Estates Homes
Garden Club Estates in Franklin, Tennessee is characterized by its exquisite homes, a blend of timeless architecture and modern design. These houses boast of various sizes, styles, and layouts, allowing potential homeowners a wealth of options. The houses typically range from 3 to 5 bedrooms, with the majority having spacious lots. Many homes feature amenities such as upgraded kitchens with stainless steel appliances, granite countertops, and custom cabinetry. Hardwood flooring is common in many of these homes, offering a touch of classic elegance. Expansive yards, professional landscaping, and outdoor living spaces are common, making these homes perfect for entertaining or simply enjoying the outdoors in a private setting.
The neighborhood's distinctive architecture is complemented by the picturesque beauty of the community. The well-manicured lawns, mature trees, and blooming flowers contribute to the serene and attractive appearance of the area. Garden Club Estates has a distinct suburban feel that is calming and inviting. Many homes have stunning views of the surrounding green space, with some bordering the local golf course.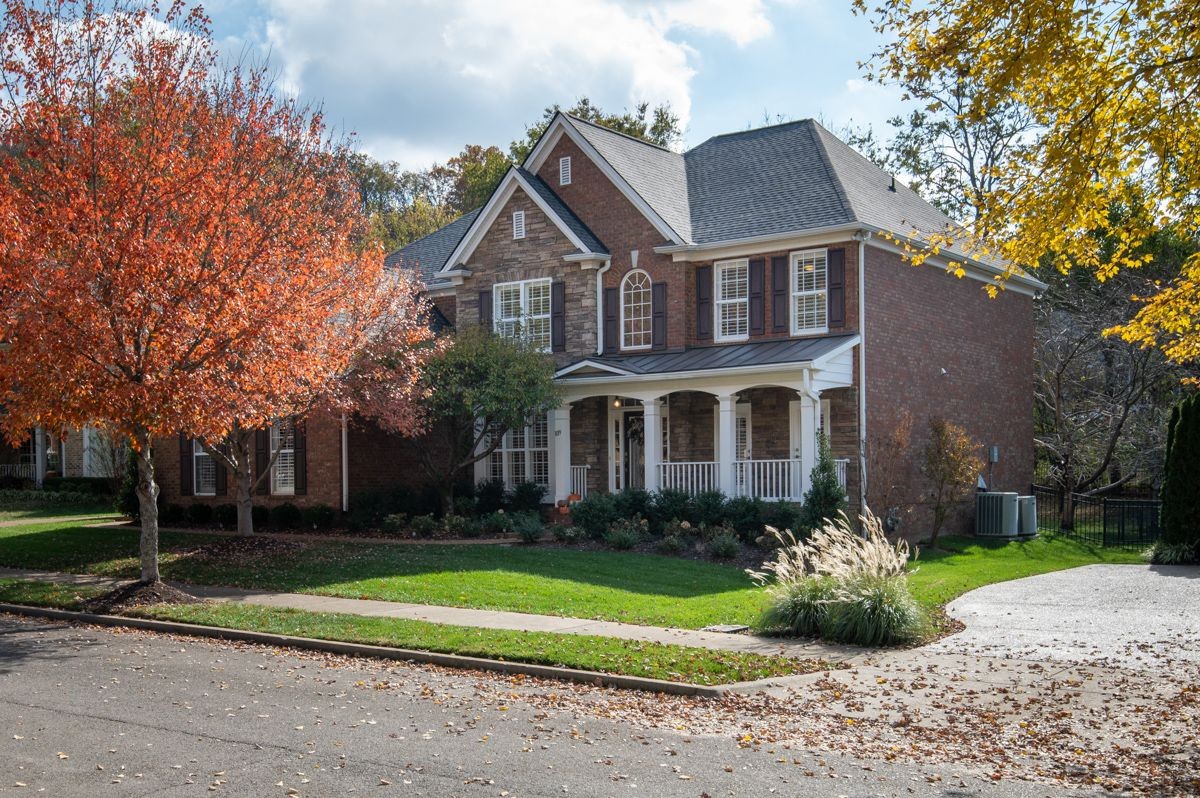 The sense of community in Garden Club Estates is strong. It's common to see families walking along the tree-lined sidewalks, children riding bikes, or neighbors greeting each other. The community hosts several events throughout the year, such as holiday celebrations and neighborhood garage sales, encouraging a close-knit atmosphere.
Surrounding the homes, Garden Club Estates also offers a variety of amenities. There are community parks and playgrounds for families to enjoy, and walking trails for those who like to explore their surroundings on foot. The community also has a clubhouse that serves as a central gathering place, and a well-maintained pool, perfect for cooling off in the summer months.
In terms of location, Garden Club Estates is conveniently situated. It's just a short drive from downtown Franklin, offering easy access to shopping, dining, and entertainment options. Highly regarded schools are nearby, making it a great place for families with children. Despite its proximity to the city center, Garden Club Estates maintains its tranquil and laid-back atmosphere, offering a perfect balance of convenience and tranquility.
The housing market in Garden Club Estates is typically very robust. The demand for homes in this area is high due to the high quality of life it offers. Whether you're a first-time homebuyer or looking for an upgrade, the homes in Garden Club Estates, Franklin, TN offer a blend of comfort, luxury, and community that are hard to resist.
Similar Communities
Similar in price point, construction, and lifestyle to Garden Club Estates is the desirable neighborhood of Sullivan Farms. Nestled in the heart of Franklin, TN, Sullivan Farms offers a blend of luxurious living and the charms of a close-knit community. The homes here feature traditional American architecture with modern amenities. Much like Garden Club Estates, homes typically offer 3 to 5 bedrooms and are set on generous lots with well-landscaped exteriors. Interiors highlight hardwood floors, spacious kitchens with high-quality fixtures, and a generous living space that makes for comfortable family living.
Residents of Sullivan Farms cherish their community's tranquility and neighborliness. Walking paths crisscross the community, connecting homes to playgrounds and common green spaces, ideal for family picnics or a casual game of football. The neighborhood's swimming pool is a hub of activity during warm summer months, with residents gathering for friendly interaction.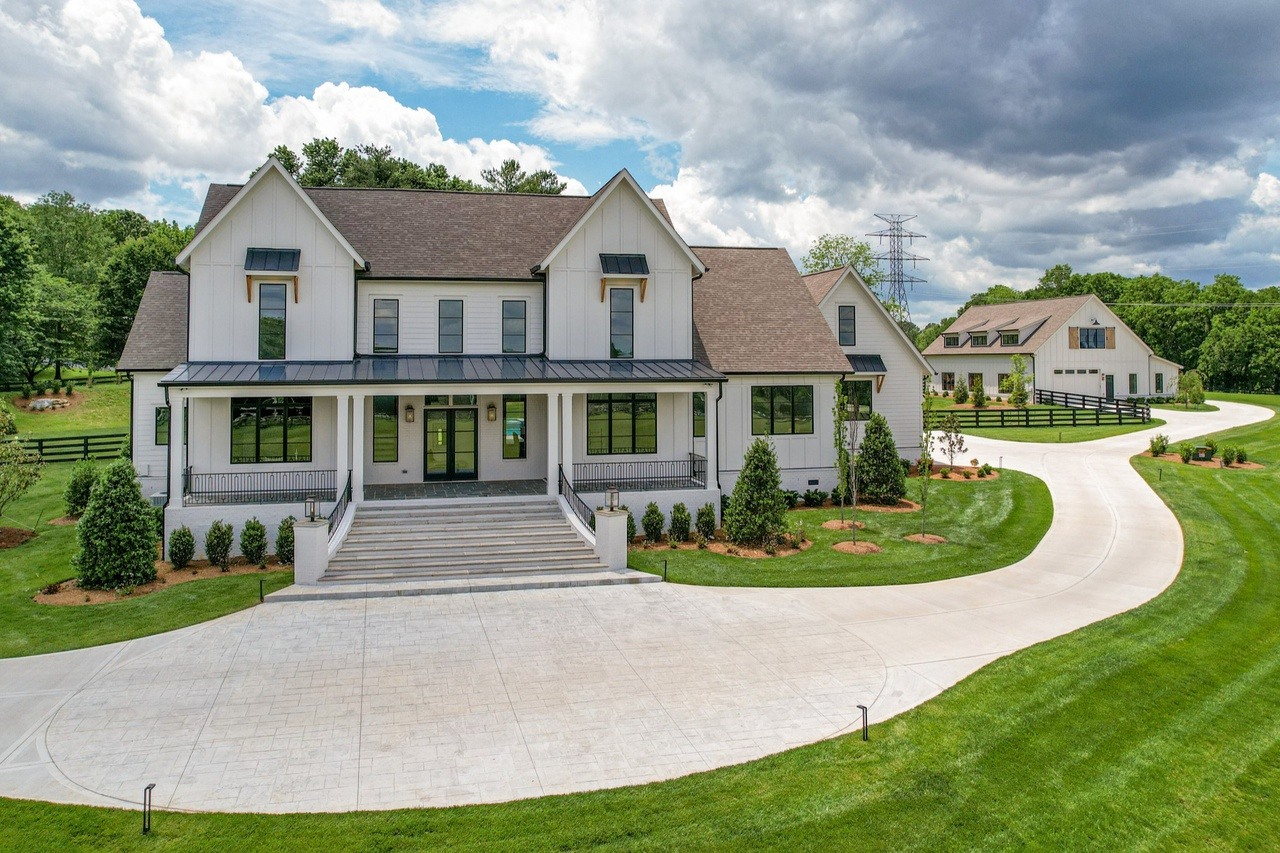 Fieldstone Farms is another community that parallels Garden Club Estates in terms of cost and style. This master-planned community features homes with a mix of traditional and contemporary designs. The house sizes are flexible, ranging from cozy 2-bedroom homes perfect for young couples to expansive 5-bedroom family homes. Numerous houses showcase upgrades such as granite countertops, stainless steel appliances, and bonus rooms that can be converted into home offices or playrooms.
Fieldstone Farms is abundant in amenities, including a comprehensive clubhouse with a fitness center, swimming pools, and tennis courts. Walking and biking trails wind throughout the neighborhood, offering residents plenty of opportunities to enjoy the outdoors and get to know their neighbors. The sense of community here is palpable, and the neighborhood often hosts events that foster camaraderie among residents.
Westhaven is a premier neighborhood that matches the construction and lifestyle of Garden Club Estates. The community is known for its high-quality homes that blend timeless design with modern amenities. These spacious homes boast hardwood floors, upgraded kitchens, and spacious yards, much like those in Garden Club Estates.
A defining feature of Westhaven is its comprehensive suite of amenities, including a golf course, a large clubhouse, swimming pools, and tennis courts. The neighborhood emphasizes a walkable lifestyle, with sidewalks and trails connecting different parts of the community. Shops, restaurants, and schools are all conveniently located within the community, making it a self-contained paradise. Residents enjoy a bustling social calendar with events like concerts, farmers markets, and holiday parades, fostering a robust community spirit.
All these neighborhoods offer a similar price point, construction, and lifestyle to Garden Club Estates, ensuring that there are plenty of options for those seeking a home in Franklin, TN.
Food Scene
One of the many benefits of living in Garden Club Estates is the proximity to a myriad of fantastic dining options that Franklin has to offer. Franklin's food scene is a blend of traditional Southern fare, international cuisine, and innovative culinary creations. Residents are never far from a great meal, no matter what their taste buds desire.
For those who enjoy Southern comfort food, Gray's On Main is a must-visit. Housed in a historic building on Franklin's charming Main Street, Gray's dishes up a variety of traditional Southern favorites with a modern twist. It's the perfect spot to indulge in a hearty brunch on the weekend or a cozy dinner on a weekday evening. The place also features live music, adding to the overall charm and providing an excellent dining experience.
For a night of fine dining, residents often head to Cork & Cow. This upscale steakhouse is known for its high-quality, locally-sourced meats and an extensive wine list. The ambiance is sophisticated yet comfortable, making it an ideal place for celebrating special occasions or enjoying a night out.
When craving something more global, Saffire in The Factory at Franklin provides an eclectic mix of dishes inspired by cuisines from around the world. Known for its vibrant ambiance and fresh ingredients, this restaurant offers a unique dining experience. Saffire's menu is always evolving, giving food enthusiasts the chance to try something new with each visit.
For those looking for casual fare, Frothy Monkey offers a relaxed dining atmosphere. This local coffeehouse serves breakfast through dinner, with a menu full of sandwiches, salads, and bakery items. It's also a great place for coffee lovers, with a menu of artisanal brews and specialty drinks.
Pizza lovers are not left out, with Mellow Mushroom offering a diverse selection of gourmet pizzas. With its vibrant and quirky atmosphere, it's a favorite spot for families and groups of friends. The restaurant also features a bar area, making it a great spot for a relaxed evening out.
BB's Bar-B-Q is another local favorite. Known for its mouth-watering barbecue, it's a popular spot for those craving ribs, pulled pork, and other Southern BBQ classics. The atmosphere is laid back, with the rich aroma of smoked meats creating a true Tennessee BBQ experience.
From upscale dining to casual eats, the area around Garden Club Estates in Franklin, TN, provides a variety of dining options to satisfy any palate.
Entertainment
If you're a fan of live music, then living in Garden Club Estates gives you easy access to an array of musical entertainment options. The Franklin Theatre, a staple of downtown Franklin, is a beautifully restored historic movie house that hosts live music performances, theater productions, and classic film screenings. The quality of the performances and the charming vintage setting make it a favorite among locals.
For larger concerts and events, there's the nearby FirstBank Amphitheater, which hosts national and international touring acts throughout the year. This outdoor venue provides an excellent backdrop for a memorable summer night of music under the stars.
Just a short drive away is Nashville, known as Music City, which has a wide variety of musical venues from the legendary Grand Ole Opry to the small, intimate Bluebird Cafe. The city's vibrant music scene is not just limited to country music but spans across all genres, promising something for every music lover.
For sports enthusiasts, catch a Nashville Predators NHL game or a Tennessee Titans NFL game, both less than an hour's drive away. If you're a soccer fan, Nashville SC, the city's Major League Soccer team, offers exciting games throughout the season.
The local minor league baseball team, the Nashville Sounds, also provides an affordable and fun outing for the whole family. Their games are held at the state-of-the-art First Horizon Park, which is designed to provide a fantastic fan experience with great views of the field from all angles.
The Cool Springs Galleria, a large indoor mall, offers entertainment of a different kind, from shopping and dining to a movie theater and even an indoor ice skating rink. It's a perfect destination for a day of family fun or a casual night out with friends.
Franklin also boasts a lively arts scene with numerous galleries featuring local artists. The city's monthly Art Scene event is a local favorite, where art enthusiasts and artists come together to celebrate Franklin's thriving art community.
The area surrounding Garden Club Estates, Franklin, TN, has a diverse range of entertainment and sporting events that cater to all preferences. From art exhibitions and musical performances to sporting events and shopping, the options are plentiful and sure to provide residents with a rich and varied lifestyle.
Health and Wellness
Living in Garden Club Estates, Franklin, TN, provides residents with a plethora of health and wellness options to support a balanced lifestyle. The area offers a blend of traditional fitness facilities, outdoor recreational opportunities, and holistic wellness centers.
One of the highlights in the area is the Williamson County Recreation Complex at Nolensville. This large, comprehensive facility has everything you need to stay active, including a wellness center, group fitness classes, a swimming pool, and sports courts. The complex offers programs for all ages and fitness levels, making it a go-to spot for many residents.
For those who prefer exercising outdoors, the expansive Park at Harlinsdale Farm offers numerous walking and running trails. This historic horse farm turned public park is a local gem, with over 200 acres of green space perfect for outdoor activities. Whether you enjoy running, walking, or simply taking in the natural beauty, this park is a great place to stay active.
Brentwood Yoga Center is another great resource nearby for those seeking a mind-body workout. The center offers a variety of yoga classes, from beginner to advanced levels, and even hosts special workshops and events for those looking to deepen their practice.
When it comes to holistic wellness, the Essence of Health Wellness Clinic offers a range of services from acupuncture and massage therapy to nutrition counseling. The staff at Essence of Health takes a personalized approach to each client's health, providing services that help promote overall wellness and balance.
Nutrition is also a key component of health and wellness, and there are plenty of options for fresh, healthy food in the area. The Franklin Farmers Market is a local favorite, offering a wide variety of locally sourced produce, meats, and other goods. It's a great way to support local farmers while stocking up on fresh and healthy ingredients.
In addition, there are several specialty health food stores and organic supermarkets in the area, such as Whole Foods and Trader Joe's, that offer an array of healthy products and prepared foods.
From traditional fitness facilities and yoga studios to beautiful parks and nutritious food options, Garden Club Estates is surrounded by a variety of resources that make maintaining a healthy and balanced lifestyle convenient and enjoyable.
Outdoor Lifestyle
There's a host of options for everyone, from tranquil nature walks to adventurous hikes and family-friendly outdoor activities.
One of the most notable parks nearby is the picturesque Pinkerton Park. With its expansive lawns, scenic views of the Harpeth River, and a paved trail, it's an ideal spot for casual walks, runs, or a fun family picnic. The park's Adventure Playground is a particular hit with kids, and the Tinkerbell Tree, a local landmark, adds a magical touch to the surroundings.
The Park at Harlinsdale Farm is another remarkable public space, characterized by its sprawling 200-acre landscape. Once a renowned walking horse farm, it now serves as a multipurpose park, retaining much of its historic charm. With its walking trails, dog park, and equestrian trails, Harlinsdale Farm is an excellent place for a leisurely stroll or a more active outing.
For those who enjoy hiking, Timberland Park, located just off the historic Natchez Trace Parkway, is a must-visit. The park boasts several miles of trails winding through beautiful, forested landscapes, providing spectacular views of the surrounding hills. The park also has a visitor's center that offers exhibits and information about the local flora and fauna.
Water enthusiasts will appreciate the easy access to the Harpeth River. Canoeing, kayaking, and fishing are popular activities here. A number of local companies offer canoe and kayak rentals and shuttle services, making it easy to enjoy a day out on the water.
Golfers are also well catered to in Franklin. The Forrest Crossing Golf Course, a local favorite, offers an 18-hole course with a stunning backdrop of the Harpeth River. With its rolling fairways and challenging greens, it's a great place for golfers of all levels to enjoy a round.
For those who prefer cycling, the Natchez Trace Parkway is a well-loved route. This scenic road stretches from Nashville, Tennessee to Natchez, Mississippi, and offers some beautiful cycling paths, particularly in the Franklin area.
Whether you're an adventurer at heart, a fan of leisurely strolls, or someone who loves organized outdoor sports, the areas surrounding Garden Club Estates have plenty to offer to feed your love for the outdoors.
Education
For public schools, residents have access to the highly-regarded Williamson County School District, recognized for its exceptional academic standards and broad curriculum offerings. Schools like Clovercroft Elementary, Page Middle School, and Centennial High School serve the community, each of them boasting excellent academic performance and a robust array of extracurricular activities. The school district is noted for its focus on technology in the classroom, the arts, and athletic programs, providing a well-rounded educational experience.
In terms of private education, the area offers several respected institutions. Battle Ground Academy, a co-ed independent school, offers classes for kindergarteners through twelfth grade. The Academy is known for its rigorous college preparatory curriculum and a strong commitment to character education. They also offer a multitude of sports and fine arts programs, fostering a vibrant and enriching learning environment.
Another prominent private school is Franklin Road Academy, providing a pre-kindergarten to grade 12 education. Their philosophy revolves around a personalized education experience with an emphasis on character development. Small class sizes, excellent student-teacher ratios, and diverse course offerings are the hallmarks of this institution.
Montessori School of Franklin is a popular choice for parents interested in the Montessori method for their young children. Catering to children from pre-kindergarten to 8th grade, the school emphasizes hands-on, self-paced learning with a focus on independence and critical thinking skills.
For parents seeking a faith-based education, the area is home to Grace Christian Academy, a school that integrates biblical principles within their curriculum. They cater to students from kindergarten through high school and are known for their strong academic programs and commitment to spiritual growth.
Residents of Garden Club Estates are well-situated to take advantage of these excellent educational opportunities, giving them the ability to choose an educational path that best suits the needs and interests of their children.
Shopping and Retail
Downtown Franklin, just a short drive away, is a treasure trove of boutique shops, antique stores, and specialty retailers. It's the perfect place to spend a leisurely afternoon browsing for one-of-a-kind items. From the beautifully curated selections at Philanthropy Fashion, known for its chic clothing and commitment to charitable causes, to the eclectic finds at White's Mercantile, a modern general store offering a wide variety of goods, there's something to satisfy every shopper.
For those seeking a more traditional shopping experience, the Cool Springs Galleria is a local favorite. This large, indoor mall features a variety of popular retailers including Macy's, H&M, and Apple. In addition to the diverse shopping options, the Galleria also offers numerous dining choices and a movie theater, making it a popular destination for a day of shopping and entertainment.
For everyday essentials, residents can head to the Thoroughbred Village shopping center, which is home to various stores such as Target, Whole Foods, and HomeGoods. It's a convenient spot for grocery shopping, home decor, and more.
For those passionate about interior design, the Factory at Franklin, a converted factory complex, is a must-visit. It houses an array of interior design stores, art galleries, and specialty retailers. While there, be sure to check out City Farmhouse, which specializes in vintage and modern home furnishings.
When it comes to grocery shopping, Franklin offers numerous options. In addition to mainstream grocers like Publix and Kroger, there are several specialty food markets. Whole Foods and Trader Joe's are favorites for organic produce and gourmet foods, while the Franklin Farmers Market offers an array of locally-grown produce, fresh meats, and artisanal products.
Overall, the variety of retail offerings near Garden Club Estates makes shopping a convenient and enjoyable part of life in this community. Whether you're outfitting your home, updating your wardrobe, or picking up daily necessities, you'll find what you need within a short drive.
Business and Economy
Garden Club Estates is nestled in the thriving economic landscape of Franklin, TN, a city that supports a diverse mix of businesses and industries. The local economy is robust and dynamic, with sectors such as healthcare, finance, and technology making significant contributions.
Healthcare is a major economic driver in the region, with several large healthcare corporations headquartered in the area. Among them is Community Health Systems, one of the largest hospital networks in the United States. Additionally, Healthways, a well-known health and well-being company, also calls Franklin home. These businesses not only provide a significant number of jobs but also contribute to the quality of healthcare services available locally.
Finance and insurance services are another key industry in Franklin. Companies such as Nissan North America and Jackson National Life Insurance have their headquarters in the city. These businesses provide a broad range of jobs and also help to attract other enterprises to the region.
The technology sector in Franklin is also thriving, with several tech companies setting up shop in the city. Digital Reasoning, a leader in artificial intelligence, has its headquarters in Franklin, and cyber-security firm, Cyberspace, also has a significant presence. These companies contribute to the innovative and progressive business climate in the city.
Furthermore, the city's proximity to Nashville means residents have access to the diverse industries and businesses there. Nashville is a significant hub for the music and entertainment industry, but also hosts a variety of other sectors including education, with notable institutions like Vanderbilt University, and tourism, supported by a range of landmarks and cultural events.
In addition, the agricultural sector plays a vital role in the local economy, with numerous farms in the surrounding region contributing to local farmers markets and restaurants. This gives Franklin a unique blend of urban and rural economies, contributing to its charm and appeal.
With this diverse mix of industries, residents of Garden Club Estates benefit from a vibrant local economy that offers a wide range of employment opportunities. The area's economic health also contributes to the high quality of life in the community, making it a great place to live and work.
Hotels and Lodging
Visitors to Garden Club Estates and its surrounding areas have a variety of welcoming accommodations to choose from, with a charming blend of high-end hotels, cozy bed and breakfasts, and unique lodging options that reflect the character of Franklin, TN.
A popular option for lodging is the Franklin Marriott Cool Springs, known for its luxurious rooms and great service. It's conveniently located near Cool Springs Galleria, offering visitors easy access to a host of dining and shopping options. The hotel also has an indoor pool, a fitness center, and a restaurant serving American fare, ensuring guests have all the comforts they need during their stay.
For those seeking a more boutique hotel experience, The Harpeth Hotel, nestled in downtown Franklin, is a standout. This luxury hotel is steeply rooted in the area's history, offering elegant accommodations combined with a unique sense of place. Guests can take advantage of the on-site restaurant and bar, and enjoy the hotel's proximity to the historic and charming downtown area.
If a quaint bed and breakfast is more your style, then you'll love the charm of the Magnolia House Bed & Breakfast. This beautiful, historic home offers three elegantly decorated rooms, and the hosts are known for their warm hospitality and delicious breakfasts. It's the perfect choice for a romantic getaway or a peaceful retreat.
Another unique lodging option is the Pot N' Kettle Cottages. These historic homes, located in Leiper's Fork, offer guests the chance to immerse themselves in a laid-back, village lifestyle. Each cottage is uniquely decorated, showcasing the charm and heritage of the region. It's the perfect base for exploring the local art scene, boutique shops, and restaurants.
There are also numerous Airbnb rentals in and around Franklin, offering everything from private rooms to entire homes. These can provide a more personalized and homely lodging experience and can cater to a range of budgets and preferences.
With this array of lodging options, visitors to the area near Garden Club Estates can find the perfect accommodation to meet their needs and enjoy all that the region has to offer.
Travel and Transportation
When it comes to transportation, Garden Club Estates in Franklin, TN, enjoys a convenient location with easy access to a range of options, including airports and public transportation.
For air travel, residents are just under a 30-minute drive from Nashville International Airport. This major airport serves numerous domestic and international flights daily, connecting Franklin with the rest of the country and the world. Whether it's for business travel or vacations, having such a major transportation hub nearby is incredibly handy.
In terms of public transportation, the Franklin Transit Authority provides services throughout the City of Franklin. The fixed-route service, known as the Franklin Transit Fixed Routes, operates Monday through Saturday, servicing key community locations such as downtown Franklin, Williamson Medical Center, and the Cool Springs Galleria. This service is a reliable and affordable option for those who prefer not to drive.
Another great public transportation option is the regional bus service provided by the Regional Transportation Authority of Middle Tennessee (RTA). The RTA offers a commuter bus service, known as the Franklin Transit Line, which connects Franklin to downtown Nashville, offering a convenient option for daily commuters or those looking to enjoy a day or night out in the city without the hassle of driving and parking.
For shorter trips within the city or special nights out, ride-sharing services such as Uber and Lyft are readily available and widely used in the Franklin area. These services offer another flexible, convenient option for getting around.
In terms of cycling and walking, Franklin is known for its friendly environment with an extensive system of sidewalks and bike lanes making these healthy and eco-friendly transportation options convenient and enjoyable.
Overall, the transportation options available to residents of Garden Club Estates are plentiful and diverse, making commuting, traveling, or simply getting around town both easy and convenient.