Blossom Park, Franklin, TN Homes for Sale
Blossom Park, Franklin, TN Property Listings
December 5, 2023
Rather speak with a local Blossom Park, Franklin real estate agent on the phone instead? Give us a call at
(615) 257-8317
for a free consultation. We look forward to helping you find the perfect home!
Blossom Park Homes
Homes in Blossom Park, Franklin, TN, are renowned for their architectural elegance and modern amenities, blending both tradition and innovation in their design. They predominantly feature contemporary layouts, with open-concept spaces that promote seamless indoor-outdoor living. Most residences sport three to five bedrooms, multiple baths, gourmet kitchens equipped with state-of-the-art appliances, and spacious living rooms designed for comfort and entertaining. Quality materials like hardwood floors, marble countertops, and detailed moldings add an extra touch of luxury. The homes often include bonus features, such as home offices, finished basements, and outdoor entertaining spaces with landscaped gardens, providing versatility to meet the needs of today's homeowners.
Beyond the individual residences, the Blossom Park community itself offers a wealth of amenities. The neighborhood prides itself on being a haven for active families and nature enthusiasts, with easy access to parks, trails, and outdoor recreational facilities. The community clubhouse serves as a social hub, hosting various events and activities that foster a tight-knit neighborhood atmosphere. Residents also enjoy shared amenities such as a sparkling swimming pool, tennis courts, and a state-of-the-art fitness center, promoting a healthy and active lifestyle.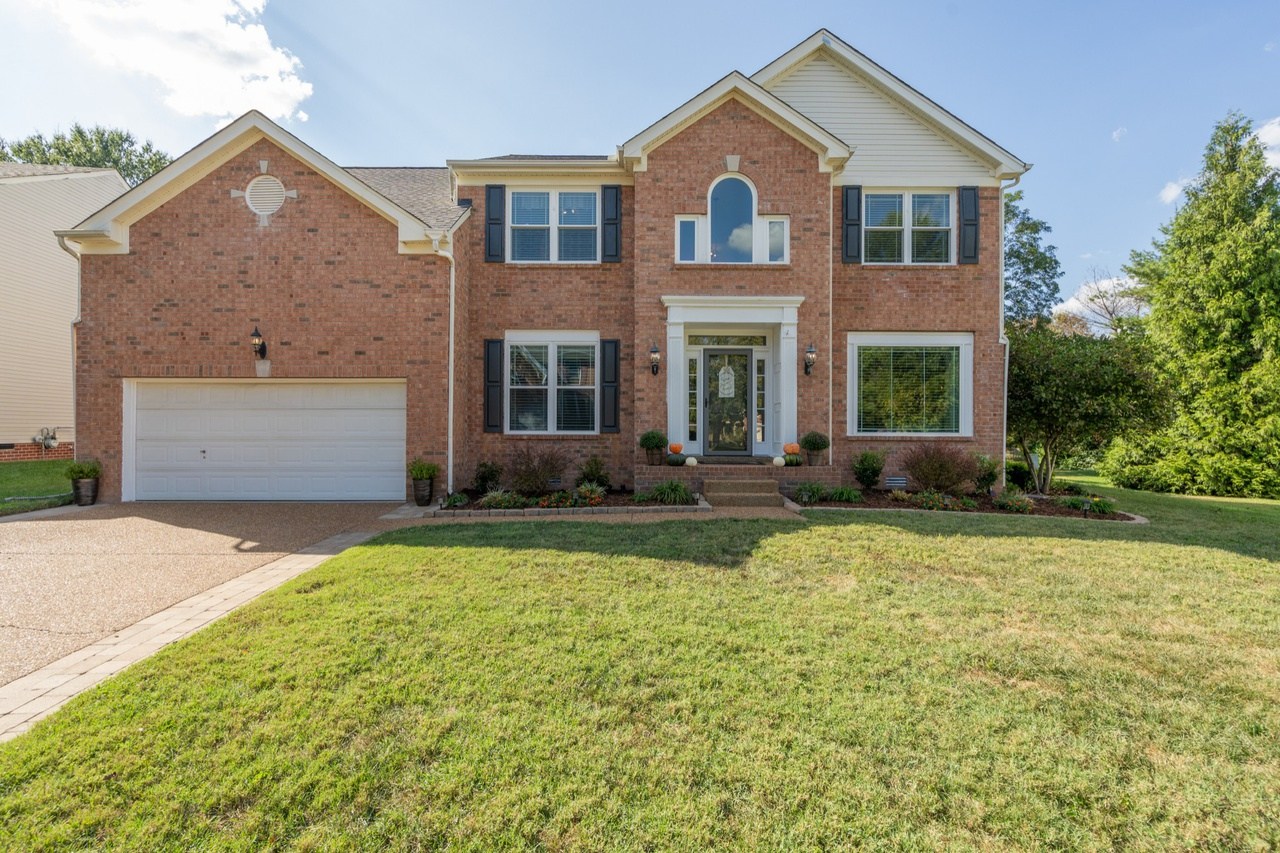 The location of Blossom Park in Franklin, TN, amplifies its appeal. The neighborhood is a short drive from the historic heart of Franklin, known for its vibrant music scene, unique boutiques, and distinctive dining experiences. Families benefit from the area's highly rated schools, both public and private, that provide excellent educational opportunities. For commuters, the proximity to the Interstate ensures convenient access to the greater Nashville metropolitan area.
Environmentally, the Blossom Park community is nestled within Tennessee's beautiful rolling hills and lush green landscapes. Mature trees line the streets, and meticulously maintained parks and green spaces are common, lending the area a tranquil, serene atmosphere. This natural beauty, combined with the thoughtfully designed residences, creates a welcoming retreat from the hustle and bustle of city life.
The Blossom Park community fosters a spirit of inclusivity and warmth. Neighbors often know each other by name, and it's not uncommon to see families and friends gathering for barbecues, block parties, or impromptu playdates at the community park. The active homeowners' association ensures that the community's standards are maintained, and their events create countless opportunities for social interaction, making Blossom Park a truly connected neighborhood.
Similar Communities
One such neighborhood sharing similar characteristics with Blossom Park is Westhaven, a master-planned community located on the western outskirts of Franklin. The homes here echo the elegant design and quality construction of Blossom Park, with open concept floor plans, gourmet kitchens, and spacious family rooms. Attention to detail and luxury are evident in the finishes, with marble countertops, hardwood floors, and exquisite moldings. Westhaven also provides an array of outdoor spaces for recreation, including a residents' club, a large community pool, and an 18-hole golf course. Its convenience to Downtown Franklin and excellent school district make it a top choice for families and professionals alike.
Fieldstone Farms is another community comparable to Blossom Park. The homes here offer three to five bedrooms, multiple baths, and an array of modern amenities similar to Blossom Park. However, Fieldstone Farms has a slightly more traditional architectural style, emphasizing brick exteriors and classic interior design. The community is served by a clubhouse with a workout facility, pools, and tennis courts. Its proximity to the Harpeth River and its trails lend a delightful touch for outdoor enthusiasts, and top-rated schools are a boon for families.
Avalon is a luxurious gated community that provides a comparable lifestyle to Blossom Park. The homes here are built with similar attention to detail and are characterized by high-end finishes, spacious layouts, and modern amenities. Avalon residents have access to a variety of community amenities, including walking trails, fishing ponds, and a community pool. The community is surrounded by rolling hills and lush greenery, much like Blossom Park, making it a perfect haven for those seeking a balance between natural beauty and modern convenience.
Lastly, Mckays Mill is another community with a lifestyle and price point similar to Blossom Park. Its homes feature modern open layouts, high-end appliances, and quality finishes, much like Blossom Park. The community offers a wealth of amenities such as a clubhouse, pool, and a fitness center. A grocery store within walking distance and the Cool Springs Galleria nearby make Mckays Mill highly convenient, and the community's close-knit spirit echoes that of Blossom Park.
Food Scene
If you're craving a taste of the South, you're in luck! Near Blossom Park, you'll find Puckett's Grocery & Restaurant, a Franklin staple known for its delicious Southern comfort food. Here, you can dig into their mouthwatering smoked BBQ ribs or enjoy their famous meat-and-three specials. Their live music events, featuring local artists, give Puckett's an energetic, community vibe that complements their hearty fare.
Just a short drive away is the iconic Gray's on Main. Housed in a 19th-century pharmacy building, Gray's melds tradition and innovation in their menu, just like the homes in Blossom Park. They offer an array of creative dishes that celebrate Tennessee's culinary heritage. Whether you're sampling their gourmet twist on shrimp and grits or trying one of their craft cocktails inspired by pre-Prohibition times, dining at Gray's is truly an experience.
If you're looking for international flavors, Saffire might be right up your alley. Located in The Factory at Franklin, Saffire serves an eclectic mix of dishes, with influences from Southern, Asian, and Mediterranean cuisine. They use locally sourced ingredients, and the seasonal menu changes ensure that there's always something new and exciting to try.
Pizza lovers will appreciate Mellow Mushroom, a funky, art-filled pizzeria serving up stone-baked pizzas with all sorts of creative toppings. If you're more of a classic pizza person, their traditional pepperoni is just as delicious! It's the perfect spot for a casual family dinner or a weekend hangout with friends.
Finally, for those with a sweet tooth, don't miss out on Merridee's Breadbasket. They're a bakery and café known for their made-from-scratch breads, pastries, and pies. It's a perfect place for a leisurely brunch, or just to pick up a treat to enjoy back home in Blossom Park.
Entertainment
For fans of live music, the renowned Franklin Theatre is a stone's throw from Blossom Park. This restored historic movie theater now serves as a vibrant venue for concerts, movies, and live theater performances. You might catch a rising country music star one evening or enjoy a classic film with the family the next. The marquee lights of the Franklin Theatre are a beacon of the local cultural scene.
Close by, the Factory at Franklin also offers a variety of entertainment options. Beyond being a shopping destination, it's a hub for local events, art shows, and farmers markets. The Little Brick Theatre within the Factory hosts plays and improv shows, making it a delight for those who appreciate the performing arts.
Outdoor enthusiasts and sports fans are equally catered for. The Park at Harlinsdale Farm, a historic horse farm turned public park, regularly hosts equestrian events, music festivals, and outdoor concerts. It's a fantastic place to spread out a picnic blanket, enjoy some live music, or just take in the beautiful surroundings.
Then, there's golf. A short drive will get you to the Westhaven Golf Club, one of the finest golf courses in the area. It's a great spot for both seasoned golfers and beginners. Their annual tournaments and events are a big draw for the local community, and even if you don't play, you can enjoy a meal with a view at the club's restaurant.
If you're a soccer fan, you're in luck! The Nashville SC, our Major League Soccer team, plays home games at the Nissan Stadium in Nashville, which is just a short drive from Franklin. The exhilarating atmosphere of a live soccer match is an experience not to be missed. For football fans, the Tennessee Titans also play at the Nissan Stadium. So, whether you're into soccer or football, there's a sporting event nearby that's sure to get your adrenaline pumping.
Health and Wellness
Health and wellness are integral parts of the lifestyle around Blossom Park, Franklin, and the surrounding area has a lot to offer. The Williamson County Recreation Complex is just a short drive away and features a wide array of facilities. From indoor and outdoor pools to fitness classes and sports leagues, there's something for every age and ability level. It's the perfect spot to get in your daily exercise or take the family for a fun day out.
For those who love hitting the gym, there's an array of options, including Franklin Athletic Club and OrangeTheory Fitness. The former is a full-service fitness center complete with a variety of equipment, fitness classes, and personal training options. OrangeTheory Fitness, on the other hand, offers high-intensity interval training sessions that are both challenging and energizing. They're excellent options to stay fit and meet fellow fitness enthusiasts.
Yoga lovers will be delighted to know that there are several yoga studios nearby. Epic Yoga, for example, offers a variety of classes, from restorative to vinyasa flow. They also host workshops and events, making it a welcoming and inclusive space for practitioners of all levels.
Access to quality healthcare is also a crucial part of a balanced lifestyle. Williamson Medical Center, a top-rated hospital, is just a short drive away. They offer a wide range of services from primary care to specialized treatments. And for everyday medical needs, there are plenty of clinics and pharmacies in the area.
Finally, the surrounding natural beauty lends itself perfectly to outdoor wellness activities. Many residents enjoy walking, jogging, or biking along the Harpeth River Greenway, a beautiful trail system that winds through parks and natural areas. It's an excellent way to get in some exercise while enjoying the stunning Tennessee scenery.
So, whether you're into rigorous workouts, leisurely nature walks, or seeking quality medical care, the area surrounding Blossom Park caters to a broad spectrum of health and wellness needs. It's truly a place that supports and nurtures a balanced and healthy lifestyle.
Outdoor Lifestyle
Living near Blossom Park, Franklin, TN opens a world of outdoor opportunities that beautifully blend nature with leisure. A favorite among residents is Pinkerton Park, just a short drive away. Known for its spacious play areas, walking trails, and iconic Tinkerbell Playground, Pinkerton Park is a hit with families. It's the perfect place for a weekend picnic or a casual stroll along the Harpeth River.
If you're a hiking enthusiast, the nearby Harpeth River State Park offers a plethora of trails for various skill levels. The park also boasts a unique feature: a tunnel that was hand-cut by slaves in the 1800s. Kayaking and canoeing on the Harpeth River are popular activities during the warmer months, offering another way to enjoy the park's natural beauty.
Just a stone's throw away is The Park at Harlinsdale Farm. While it's known for hosting events and festivals, it's also a great place for a leisurely walk or horseback ride. The park's sprawling open fields and serene pond make it a lovely place for relaxation and leisurely outdoor activities.
For the dog lovers, K-9 Korral Dog Park at Liberty Park is a must-visit. Your furry friends can run and play in this off-leash dog park while you enjoy the well-kept walking trails. It's a great place to socialize, not just for the dogs, but their owners as well!
For those who enjoy a round of golf, the Forrest Crossing Golf Course offers an 18-hole course that's both challenging and picturesque. After a game, you can enjoy a meal or a drink at the club while taking in the views of the Harpeth River.
Residents who enjoy fishing will find the local lakes and rivers teeming with a variety of species. Fishing spots like Marcella Vivrette Smith Park and J. Percy Priest Lake are popular amongst anglers, providing peaceful settings for a day out with a fishing rod.
So, whether you're hiking, picnicking, playing golf, or just taking your dog for a walk, the natural surroundings near Blossom Park offer a wealth of outdoor lifestyle options. It's the perfect area to enjoy nature's bounty while staying active and healthy.
Education
When it comes to education, families in Blossom Park, Franklin, TN are fortunate to have some excellent choices. The area is served by the Williamson County School District, which is well-regarded for its high academic standards, dedicated teachers, and robust extracurricular activities. Among the public schools nearby, Franklin High School is particularly noteworthy for its strong academics and competitive sports teams. Likewise, Grassland Middle School and Walnut Grove Elementary are recognized for their commitment to fostering a nurturing and academically challenging environment.
But it's not just about the public schools. Franklin is also home to a variety of prestigious private institutions, providing families with a wide array of options tailored to their children's specific needs. Battle Ground Academy, a private college preparatory school, offers a comprehensive curriculum from kindergarten through 12th grade. The school is highly respected for its balanced focus on academics, arts, and athletics, and it boasts small class sizes that allow for personalized instruction.
If you're looking for a faith-based education, Franklin Christian Academy and St. Matthew Catholic School are excellent choices. Both schools offer a rigorous academic curriculum, infused with religious teachings. They pride themselves on their supportive, faith-centered communities and commitment to character development.
For younger children, there's a wealth of top-rated preschools in and around Franklin. Primrose School of Cool Springs is renowned for its nurturing environment and curriculum that balances learning with play. Montessori School of Franklin is another excellent option, with its focus on self-directed, experiential learning in a supportive environment.
And for families considering alternative educational philosophies, the Linden Waldorf School offers a unique, arts-based approach to learning inspired by the Waldorf philosophy. This K-8 school is nestled in a beautiful campus and offers a curriculum designed to nurture the intellectual, emotional, physical, and spiritual development of children.
So, whether you're leaning towards public, private, religious, or alternative education, there are diverse and quality options to explore near Blossom Park, Franklin, TN. It's just another reason why this community is such a wonderful place for families.
Shopping and Retail
When it comes to shopping and retail options, Blossom Park residents have an abundance of choices within easy reach. Downtown Franklin is just a short drive away and offers an array of unique boutiques and antique shops, perfect for a leisurely shopping day. Stores like Savory Spice Shop, White's Mercantile, and Philanthropy are local favorites, each offering a unique shopping experience.
If you're looking for an all-in-one shopping destination, the Cool Springs Galleria is the place to go. This major regional shopping mall houses well-known retail stores like Apple, Macy's, and H&M, along with a variety of restaurants and a food court. Whether you're on a mission for back-to-school shopping or just looking to update your wardrobe, the Galleria has you covered.
But shopping in the area isn't just about clothing and accessories. For fresh, locally sourced produce, the Franklin Farmers Market is a must-visit. Located at the Factory at Franklin, this market runs year-round, offering a wide variety of fruits, vegetables, meats, and baked goods from local farmers and vendors. It's an excellent place to stock up for the week while supporting local agriculture.
Book lovers will appreciate Landmark Booksellers, a charming bookstore located in a historic building in downtown Franklin. With over 60,000 volumes of rare, out-of-print, and signed books, it's a literary haven just waiting to be explored.
Then, there's the Factory at Franklin. This unique retail and entertainment complex houses a collection of eclectic stores offering everything from handmade jewelry to home furnishings. It's also home to a number of studios and galleries where you can see local artists at work.
So, whether you're in need of retail therapy, hunting for a unique gift, or just in the mood for some window-shopping, the area around Blossom Park has plenty of options to choose from. It's just another aspect of the community that makes living here so enjoyable.
Business and Economy
The economic landscape near Blossom Park, Franklin, TN, is as diverse as the community itself, with a mix of large corporations, small businesses, and innovative start-ups contributing to the area's thriving economy. The region's primary industries include healthcare, entertainment, education, and retail, among others.
Healthcare is one of the largest sectors in the region, and it's no wonder, given that Franklin is in the heart of Middle Tennessee, a major hub for healthcare companies. Companies like Community Health Systems and Healthways have their headquarters here, providing a significant number of jobs and contributing greatly to the local economy.
The entertainment industry also plays a significant role, given Franklin's proximity to Music City – Nashville. Several music-related businesses and record labels have offices in Franklin, and a growing number of musicians and songwriters call Franklin home. This influence can be seen in the local culture with live music events and festivals frequently taking place in the area.
Education, both public and private, is another major industry in Franklin. The Williamson County School District is one of the largest employers in the area, with a significant number of teachers, administrators, and support staff. Additionally, the numerous private schools and educational institutions contribute to the area's strong emphasis on education.
Retail is also a crucial component of the local economy, with Cool Springs Galleria serving as a major retail hub. This large shopping mall, along with the unique boutiques and shops in downtown Franklin, not only provide a variety of shopping options for residents but also support numerous jobs in the area.
Small businesses, from restaurants and cafes to professional services, are integral to Franklin's economy. These locally owned enterprises add character to the area while also creating jobs and stimulating economic growth.
In terms of industries, Franklin and the surrounding area are also becoming known for their tech and entrepreneurial scene. Several tech start-ups have sprung up in recent years, benefiting from the region's educated workforce and business-friendly environment.
With this dynamic mix of businesses and industries, it's clear that the area surrounding Blossom Park is not just a great place to live, but also a thriving place to work and do business.
Hotels and Lodging
Whether you have friends visiting or you're planning a staycation, there are plenty of hotels, lodgings, and charming bed and breakfast options near Blossom Park, Franklin, TN.
For a luxury experience, the Harpeth Hotel in downtown Franklin is a top choice. As a part of the Curio Collection by Hilton, this boutique hotel combines Southern charm with modern amenities. Its riverside location and on-site restaurant make it a great place for a relaxing getaway or a comfortable base for exploring the area.
Drury Plaza Hotel Nashville Franklin is another fantastic option, particularly for those who love convenience. Located near the Cool Springs Galleria, it offers comfortable accommodations, free breakfast, and an indoor/outdoor pool. It's a great choice for families or business travelers.
For travelers who prefer a homier atmosphere, Franklin has several bed and breakfasts that promise a warm, personalized stay. The Magnolia House, a charming Victorian B&B, offers three elegantly appointed rooms, each with a private bath. With a gourmet breakfast included and a lovely garden to unwind in, it's an idyllic place to stay.
Another unique option is Pot N' Kettle Cottages. This collection of historic cottages is perfect for those seeking a little privacy while still being within walking distance of Leiper's Fork village. Each cottage is distinct, providing a charming, cozy accommodation option.
If you're traveling with pets, the Aloft Nashville-Cool Springs is a trendy, pet-friendly option with modern amenities. Located in the business district, it offers easy access to shopping, dining, and local attractions.
And let's not forget Airbnb. There are plenty of privately-owned properties available for short-term rental, ranging from chic downtown apartments to quaint country cabins. These offer the comfort of a home away from home and can cater to a range of tastes and budgets.
So, no matter what kind of lodging you're looking for, the area around Blossom Park, Franklin, TN, has a plethora of options to ensure a comfortable and memorable stay.
Travel and Transportation
Getting around the area around Blossom Park, Franklin, TN is a breeze thanks to its excellent location and various transportation options. If you're flying in or out, Nashville International Airport is conveniently located about 21 miles north of Franklin, which is approximately a 30-minute drive depending on traffic. This major airport offers a broad range of domestic and international flights, making both business and leisure travel quite convenient.
For local travel, Franklin Transit Authority provides reliable public transportation options. Their fixed-route service, known as the Franklin Transit Fixed Routes, operate Monday through Saturday and cover major areas of the city, including downtown Franklin, Cool Springs Galleria, and Williamson Medical Center. This is an affordable and eco-friendly way to travel around town, particularly during peak hours.
For those looking to venture into downtown Nashville, the Regional Transportation Authority (RTA) operates an express bus service, the 91X Franklin Express, which runs between downtown Franklin and downtown Nashville. This service is especially useful for commuters working in Nashville but living in the Franklin area.
Rideshare services such as Uber and Lyft are also readily available in the Franklin area. These can be particularly handy for direct trips where public transport routes may not be as convenient, or for travel outside of public transit operating hours.
For those who prefer to cycle, the city of Franklin has made significant efforts to be more bike-friendly, with numerous bike lanes and paths throughout the area. It's a great way to get around while also enjoying the beautiful local scenery.
While Franklin is a car-centric city like many in the US, the availability of these public transportation options, combined with rideshare services and bike paths, provides residents with multiple ways to navigate the city and beyond. It's all about choosing the one that best suits your lifestyle and travel preferences.