Forest Of Brentwood, Brentwood, TN Homes for Sale
Forest Of Brentwood, Brentwood, TN Property Listings
December 1, 2023
$1,776,250
Med. List Price
Rather speak with a local Forest Of Brentwood, Brentwood real estate agent on the phone instead? Give us a call at
(615) 257-8317
for a free consultation. We look forward to helping you find the perfect home!
Forest of Brentwood Homes
Forest of Brentwood, Brentwood, TN, is a beautiful and esteemed community that reflects a harmonious blend of luxury and tranquility. The residential homes that make up this community are known for their exquisite architectural beauty and exceptional amenities. Typically, they showcase a combination of classic and contemporary design elements, with materials such as stone, brick, and hardwood dominating the structures. The homes are spacious, often boasting multiple bedrooms and bathrooms, large modern kitchens, and various additional rooms for entertainment and relaxation. Many of the homes have vast landscaped yards and outdoor spaces, highlighting the community's connection to nature.
The interiors of the homes in the Forest of Brentwood further echo the aura of sophistication and comfort. Hardwood floors, vaulted ceilings, open layouts, and vast windows are common features. These large windows not only fill the homes with an abundance of natural light but also offer panoramic views of the picturesque scenery. Most of the kitchens are chef-inspired, equipped with state-of-the-art appliances, granite countertops, and custom cabinetry. The primary suites often feature large walk-in closets, spa-like bathrooms, and some even have private balconies.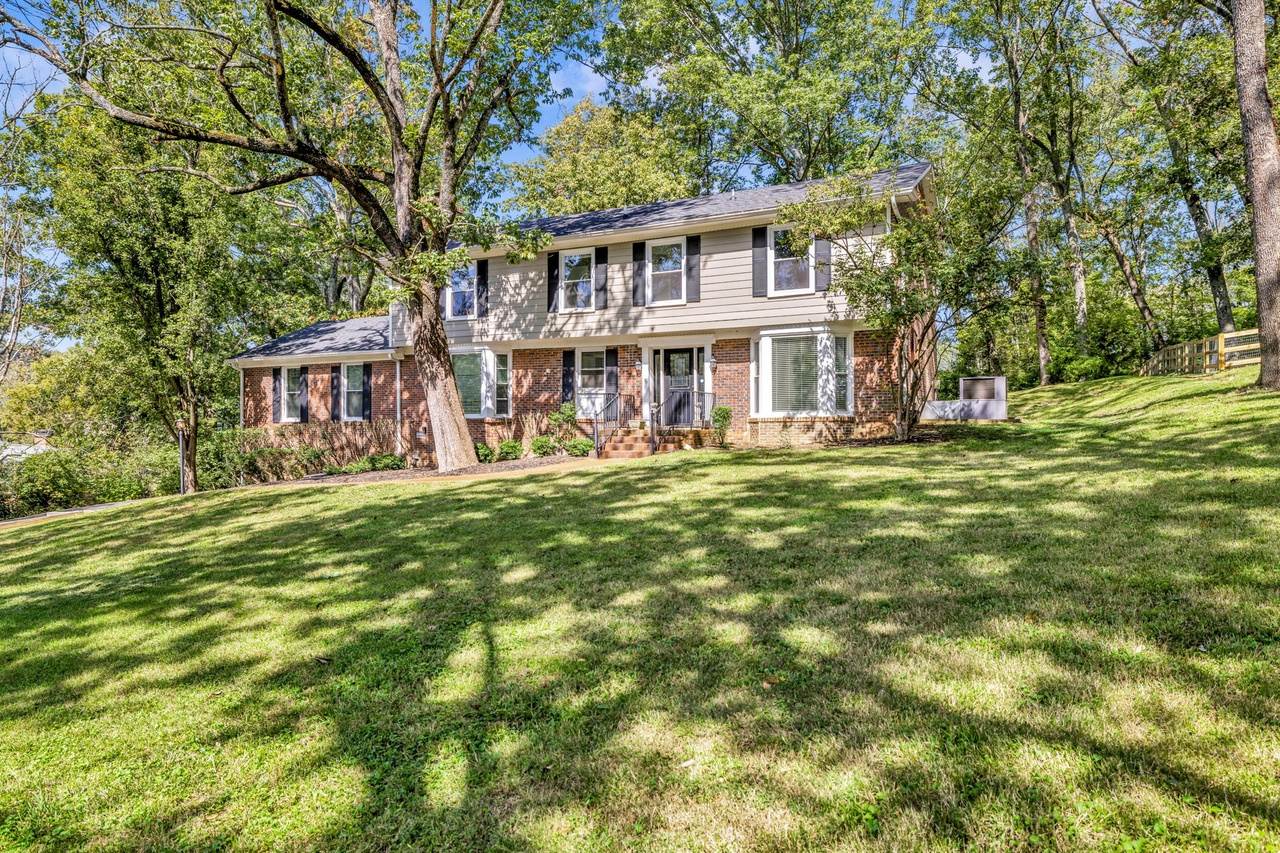 But it isn't just the homes themselves that make the Forest of Brentwood such a desirable place to live; it's also the community's location and surrounding amenities. The neighborhood is nestled among lush, mature trees, giving residents a feeling of living in a serene forest, while still being just a short drive from the heart of Brentwood. This provides a unique combination of seclusion and accessibility.
The community is in close proximity to a variety of local amenities and attractions, providing convenience and an active lifestyle to its residents. High-rated schools, shopping centers, restaurants, parks, and medical facilities are all within a short distance. The community is also near several golf courses and country clubs, making it an ideal location for golf enthusiasts.
Recreational opportunities abound in the surrounding areas as well. The Owl Creek Park, Marcella Vivrette Smith Park, and the Concord Park are all nearby, offering a range of outdoor activities like hiking, biking, and picnic areas. The community is also in proximity to the Brentwood Library and YMCA, making it easy for residents to engage in fitness, education, and social activities. The Forest of Brentwood, therefore, isn't just about luxurious homes – it's about a lifestyle that offers both comfort and engagement.
Similar Communities
Raintree Forest, Brentwood, TN is a community that parallels the elegance and sophistication of Forest of Brentwood. This neighborhood's homes often present a similar blend of traditional and contemporary design elements, exuding the essence of luxury and tranquility. The community boasts spacious homes with detailed architectural elements such as stone and brick exteriors, high ceilings, large modern kitchens, and expansive outdoor spaces. Home interiors are outfitted with features like hardwood floors, vaulted ceilings, open floor plans, and panoramic windows, creating an environment of lavish comfort.
Raintree Forest is equally equipped with impressive community amenities. The neighborhood features a clubhouse, swimming pool, and tennis courts, making it a haven for active and social residents. With close proximity to Crockett Park, one of the largest parks in Brentwood offering a wide variety of recreational activities including an amphitheater and athletic fields, residents can enjoy outdoor leisure and sporting events with ease.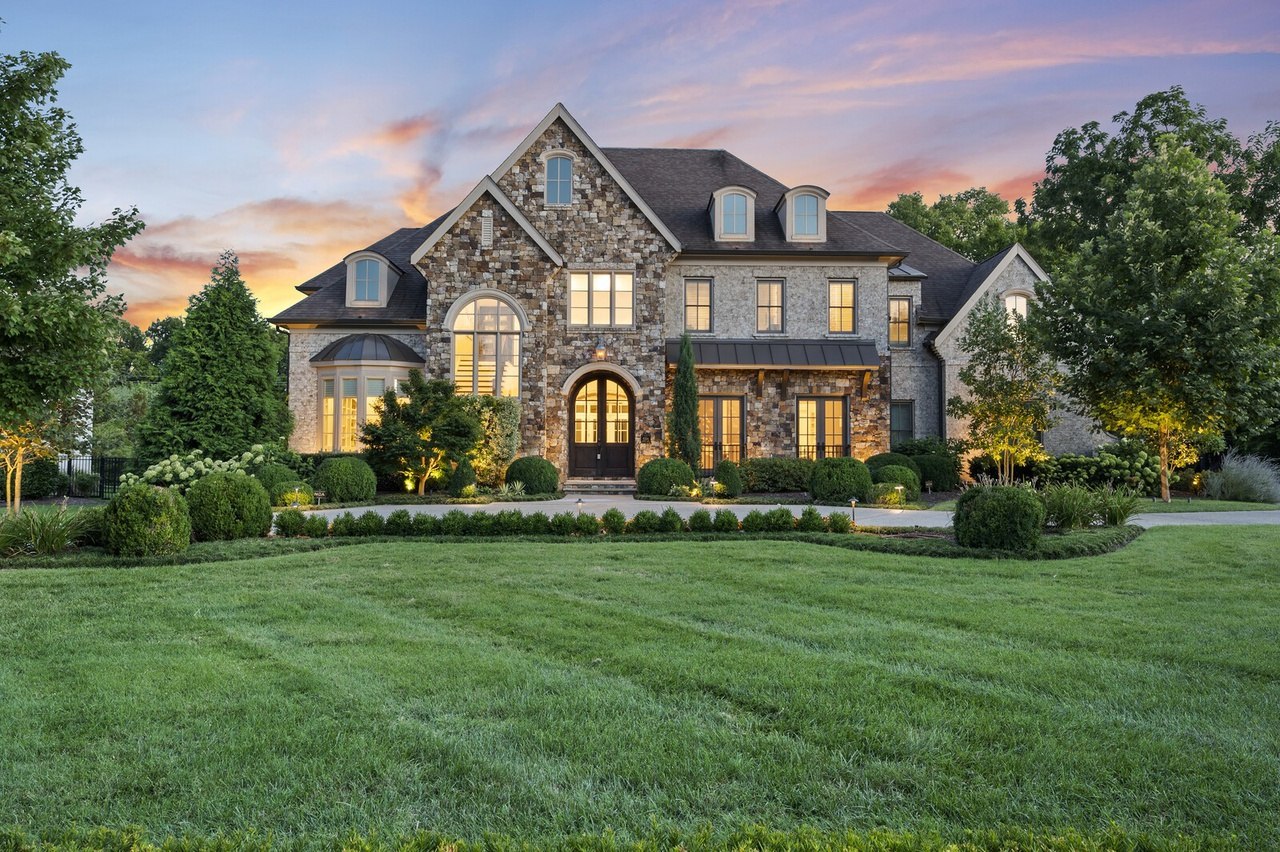 Another comparable neighborhood in Brentwood is Annandale. Known for its grandeur and distinctive elegance, homes in Annandale are meticulously designed with high-end finishes and detailing. These residences often come with multiple bedrooms, large chef-inspired kitchens, private home theaters, and resort-style outdoor spaces that feature swimming pools and outdoor kitchens. Moreover, like Forest of Brentwood, Annandale is nestled among rolling hills and mature trees, offering its residents stunning views and a feeling of peaceful seclusion, despite being minutes away from the heart of Brentwood.
Annandale also offers a host of community benefits. A remarkable feature of the neighborhood is the Annandale Club, a social hub offering various lifestyle amenities like a resort-style pool and a children's play area. The neighborhood is located near a variety of excellent dining and shopping options, along with well-rated schools. Moreover, Annandale is just a short drive from Radnor Lake State Park, providing ample opportunities for hiking and wildlife observation.
Governors Club, a private gated community in Brentwood, also mirrors the price point, construction, and lifestyle of Forest of Brentwood. This neighborhood is renowned for its custom-built luxury homes that exhibit both traditional and modern architectural styles. Each home in this community is a testament to elegance, with design elements such as hardwood floors, gourmet kitchens, spacious master suites, and large outdoor spaces. The neighborhood's unique selling point is its 18-hole championship golf course, perfect for golf enthusiasts.
In terms of lifestyle, the Governors Club is a cut above. It offers a clubhouse with dining and social events, a swimming pool, tennis courts, and a fitness center, providing a vibrant and active environment for its residents. The community's location offers the advantage of seclusion without sacrificing convenience. The Cool Springs Galleria Mall, Williamson Medical Center, and top-rated schools are all just a short drive away, ensuring residents have easy access to shopping, healthcare, and education.
Food Scene
One thing you'll love about living near the Forest of Brentwood is the abundance of great dining options nearby. If you're a fan of classic American comfort food, a trip to Mere Bulles is a must. Housed in a charming, converted early 1900s Maryland Manor, Mere Bulles serves up an array of flavorful dishes, from steak and seafood to salads and pastas. It's a great place for both casual meals and special occasions, with a warm and inviting atmosphere that's hard to resist.
Just a stone's throw away, the Wild Iris restaurant offers a delightful, cozy ambiance with its intimate dining room and lovely outdoor patio. Their menu focuses on New American cuisine, blending a variety of flavors to create unique and mouthwatering dishes. They also offer an extensive wine list that pairs well with their menu, making it a hit among wine enthusiasts.
For fans of international cuisine, there are plenty of options as well. Peter's Sushi & Thai is a beloved local spot that offers a wide variety of authentic Japanese and Thai dishes. Whether you're craving sushi, ramen, pad thai, or curries, Peter's has it all. The restaurant's friendly service and consistently excellent food have earned it a loyal following in the community.
Looking for some Southern-style barbecue? Look no further than Judge Bean's BBQ, which serves up mouth-watering ribs, pulled pork, brisket, and more, all cooked to perfection and slathered in their signature barbecue sauce. The casual, laid-back atmosphere of Judge Bean's is perfect for a relaxed meal with friends and family.
Let's not forget the dining options available at the local golf clubs. Both Brentwood Country Club and Nashville Golf & Athletic Club have restaurants that offer delectable meals, including steaks, seafood, and salads. These spots offer a lovely view of the green while you dine, making for a truly enjoyable dining experience.
For coffee lovers, there's the well-loved Puffy Muffin, a delightful local coffee shop that's been serving the community for over 30 years. Aside from serving fantastic coffee, they also have a bakery that makes delicious pastries, bread, and cakes, as well as a full breakfast and lunch menu. It's a perfect spot for a quick bite, a casual meeting, or a leisurely weekend brunch.
Entertainment
Living near the Forest of Brentwood not only offers serenity and luxury, but it also keeps you in close proximity to a vibrant array of entertainment options and sporting events. For those who appreciate live performances, Brentwood has a thriving arts scene. The Towne Centre Theatre, a local community theatre, often stages a variety of plays and musicals, presenting an excellent opportunity for an enjoyable evening out.
Just a short drive from Brentwood, you'll find the heart of Nashville, often called the "Music City". It's renowned for its vibrant live music scene, with performances spanning a range of genres, but with a particular emphasis on country music. Iconic venues like the Grand Ole Opry, Ryman Auditorium, and Bluebird Cafe are some places you wouldn't want to miss for a truly immersive musical experience.
If you're a sports fan, you're in luck too! The Nissan Stadium, home to the Tennessee Titans of the NFL, is located nearby in Nashville. Whether you're an avid football follower or just enjoy the atmosphere of a live game, a Titans' match makes for a thrilling experience.
For baseball enthusiasts, the Nashville Sounds, a AAA affiliate of the Texas Rangers, play at the First Horizon Park. The ballpark not only offers an exciting game but also a fun, family-friendly environment.
Golf is another popular sport in the Brentwood area. The Nashville Golf & Athletic Club and the Brentwood Country Club offer fantastic golfing experiences with beautifully maintained greens. They often host golf tournaments, providing an excellent opportunity to play or watch high-quality golf.
If you're more into outdoor adventure, you could also check out the various hiking trails in nearby parks such as the Radnor Lake State Park or the Marcella Vivrette Smith Park. These parks offer miles of trails for hiking, biking, and even bird watching. They are fantastic spots to get some exercise while also enjoying the beauty of Tennessee's natural scenery.
For movie lovers, the AMC Thoroughbred 20 offers a variety of the latest blockbusters. The cinema provides a comfortable and modern movie-going experience, perfect for a relaxed evening or weekend entertainment. And for a unique experience, the Stardust Drive-In Theatre in nearby Watertown provides a nostalgic trip back in time with its selection of new and classic films to enjoy from the comfort of your car.
Health and Wellness
The Forest of Brentwood area promotes a healthy and balanced lifestyle with a wide variety of health and wellness options. If you're into fitness and physical activity, there are several top-notch facilities in the vicinity. For instance, the Brentwood Family YMCA is a fantastic local resource that offers a multitude of fitness options. It features a fully-equipped gym, a swimming pool for laps, and various group classes such as yoga, pilates, spinning, and aerobics. They even offer personal training services for more individualized workout plans.
For outdoor enthusiasts, the Concord Park and Marcella Vivrette Smith Park are nearby and offer beautiful trails for jogging, walking, or biking. Not only do these parks provide an excellent platform for physical activities, but they also offer a serene environment for relaxation and mental wellbeing.
Additionally, for those who prefer a more personalized workout regime, boutique fitness studios such as Orange Theory Fitness and Pure Barre Brentwood are close by. These studios offer high-intensity interval training and barre classes respectively, which can be a fantastic way to shake up your workout routine.
Of course, health and wellness isn't just about physical fitness. Nutrition plays a significant role as well. The area boasts several grocery stores such as the Fresh Market and Whole Foods Market that offer a vast array of organic and health-focused products. These stores make it easy to maintain a balanced diet, whether you're looking for fresh produce, lean proteins, whole grains, or specialty dietary options.
And let's not forget about healthcare facilities. The Williamson Medical Center, one of the top-rated hospitals in the area, is just a short drive away. It offers a comprehensive range of medical services, ensuring residents have access to top-tier healthcare when they need it.
For those who lean towards holistic health, there are numerous options as well. There's Yoga Harmony, a popular yoga studio that offers classes suitable for all levels, and the Elements Massage Brentwood, a renowned massage therapy center that provides a variety of therapeutic massage services to help manage stress and support overall wellness.
In the end, the Forest of Brentwood area caters to all aspects of health and wellness. Whether you're seeking physical fitness, good nutrition, top-quality healthcare, or mental wellbeing, you'll find everything you need right here.
Outdoor Lifestyle
For residents near Forest of Brentwood who enjoy the outdoors and communing with nature, there are ample opportunities for exploration and recreation in the beautiful parks and natural areas around Brentwood, TN.
Take the Marcella Vivrette Smith Park, for example. As the largest park in Brentwood, it offers over six miles of rugged hiking trails through a lush, forested landscape. The park also includes the historic Ravenswood Mansion, a beautiful antebellum home that provides a picturesque backdrop for picnics or simply enjoying the outdoors.
Owl Creek Park is another local favorite. Although it's smaller, it's known for its well-designed play area, making it a perfect spot for families with children. The park has multiple slides, a rock climbing wall, swing sets, and even a splash pad to beat the summer heat. It's a great spot to let the kids burn off some energy while adults can relax and enjoy the fresh air.
For a more tranquil experience, you might want to check out River Park. With its serene walking trails and a charming pedestrian bridge over the Little Harpeth River, this park is a delightful place to enjoy a leisurely walk, run, or bike ride. It also has a large outdoor amphitheater, which often hosts community events and concerts during the warmer months.
For water sports enthusiasts, the nearby Percy Priest Lake offers a wealth of activities. Covering 14,000 acres, the lake is a popular spot for boating, fishing, swimming, and even camping. There's nothing quite like spending a warm summer day out on the water, or relaxing by the lake with a fishing rod in hand.
If you're a golfer, you're in luck too. The Brentwood area is home to several top-notch golf courses, including the Nashville Golf & Athletic Club and Brentwood Country Club. These beautifully maintained courses offer a challenging and enjoyable golfing experience in a stunning natural setting.
And, of course, we can't forget about the numerous opportunities for cycling. With the Natchez Trace Parkway nearby, cyclists have access to miles of scenic routes that offer both challenge and beauty.
All in all, the area surrounding the Forest of Brentwood offers a delightful array of outdoor lifestyle options, whether you're into hiking, boating, golfing, or simply enjoying a sunny afternoon at the park.
Education
The Forest of Brentwood, located in Brentwood, TN, is surrounded by some excellent educational opportunities for students of all ages. Whether it's public or private education you're seeking, you'll find high-quality options close by.
For those interested in public education, the Williamson County School District, which serves Brentwood, is one of the highest-rated school districts in Tennessee. Schools such as Scales Elementary, Brentwood Middle School, and Brentwood High School are known for their exceptional academic programs and extensive extracurricular offerings. Brentwood High, in particular, has earned recognition for its high AP participation rate and strong performance in state test scores.
The district also offers numerous specialized programs, including the International Baccalaureate (IB) Programme at Hillsboro Elementary/Middle School and Independence High School, and the Cambridge Programme at Summit High School. These globally recognized programs offer rigorous coursework that fosters critical thinking, intercultural understanding, and respect for others.
If you're considering private education, Brentwood is home to several well-respected institutions. Brentwood Academy is a renowned co-educational, independent school serving students from grades 6-12. It provides a challenging academic curriculum, strong athletic programs, and an emphasis on Christian values.
Another notable private institution is the Montessori Academy, which provides a unique education approach for children from 18 months through 8th grade. Following the Montessori method, the academy fosters independence, critical thinking, and a lifelong love of learning in a nurturing environment.
For those seeking a faith-based education, the Currey Ingram Academy and Battle Ground Academy offer excellent programs. Currey Ingram Academy is a K-12 school that provides personalized learning strategies to empower students with learning differences. Battle Ground Academy, on the other hand, is a college preparatory school with a history dating back over 130 years. It's known for its rigorous academics and strong community.
Lastly, the nearby Vanderbilt University's Peabody College, one of the top education schools in the nation, provides an excellent option for graduate and professional studies. With a broad array of programs and a strong commitment to research, it's an invaluable resource for those interested in advanced education or professional development.
In short, residents of the Forest of Brentwood have access to a wide array of excellent educational opportunities, ensuring students at every level have the tools they need to succeed.
Shopping and Retail
If you're a resident near Forest of Brentwood, Brentwood, TN, you'll find a range of excellent shopping and retail options right on your doorstep. From well-known big-box retailers to charming local boutiques, Brentwood offers a shopping experience to suit every style and need.
For your day-to-day needs, Brentwood has several convenient shopping centers. Brentwood Place Shopping Center, for example, has a number of essential stores including Kroger, Office Depot, and Stein Mart. There are also a variety of smaller shops and eateries in the center, making it a versatile stop for errands, a quick bite, or a casual browse.
If you're looking for a one-stop shopping experience, the CoolSprings Galleria in nearby Franklin is hard to beat. This large indoor mall boasts over 150 stores, including Macy's, Apple, H&M, and Pottery Barn, among others. It also offers a selection of restaurants and a cinema, making it an ideal destination for a full day of shopping and entertainment.
For upscale shopping, the Hill Center in Brentwood offers a curated selection of high-end boutiques and specialty stores. Here, you'll find a mix of fashion, home goods, and unique gift shops, such as Anthropologie, Kendra Scott, and Paper Source. The center's clean, modern architecture and beautifully landscaped walkways make for a pleasant shopping experience.
On a sunny day, a stroll down the charming streets of downtown Franklin can't be missed. With its well-preserved historic buildings, the area is home to an array of unique local boutiques offering everything from clothing and accessories to books and home decor. It's the perfect place to find one-of-a-kind items and support local businesses.
And let's not forget the farmers' market! The Brentwood Farmer's Market is a favorite among locals. It offers a delightful selection of locally grown produce, artisanal foods, and handmade crafts. It's not just a place to shop, but a community event where you can meet local farmers and artisans, sample their products, and enjoy a vibrant, friendly atmosphere.
No matter what you're shopping for, the area surrounding Forest of Brentwood has a variety of options that can cater to your needs and preferences. Whether it's essentials, luxury items, or unique local finds, you're sure to find it nearby.
Business and Economy
The area surrounding the Forest of Brentwood in Brentwood, TN, has a thriving economy with a diverse mix of businesses and industries contributing to its growth and development. The community's strategic location, proximity to Nashville, and high quality of life have attracted many businesses, making it an economic hub in its own right.
One of the most significant sectors contributing to the local economy is the healthcare industry. Brentwood is home to the headquarters of several major healthcare companies, including Quorum Health, LifePoint Health, and MedSolutions. These companies employ thousands of people in a range of positions, from clinical to administrative roles, playing a crucial part in the local economy.
The financial services sector is another major player in Brentwood's economy. Companies such as Tractor Supply Company and LBMC, one of the largest professional services firms in Tennessee, have their headquarters in Brentwood. These businesses offer a variety of jobs and bring considerable economic activity to the area.
Moreover, the retail sector is significant to Brentwood's economy, providing a plethora of employment opportunities. The CoolSprings Galleria alone, located in nearby Franklin, houses over 150 stores and restaurants, employing people in roles ranging from retail associates to management.
The presence of the Williamson County School District, one of the top-rated school districts in the state, also plays a significant role in the local economy. As one of the largest employers in the area, the district offers a range of jobs in education and administration.
Not to forget, Brentwood is home to several smaller local businesses – restaurants, boutiques, fitness studios, and more – that contribute to the area's economic diversity and vibrancy. These local businesses create a thriving local economy, contributing to job growth and providing essential services to the community.
Brentwood's proximity to Nashville also benefits its economy. Many residents commute to jobs in Nashville's booming music, entertainment, healthcare, and tech industries, contributing to Brentwood's robust and diverse economy.
With its mix of large corporations, local businesses, and high-quality public services, the Forest of Brentwood area offers a strong and diverse economy, providing ample job opportunities and a thriving business environment.
Hotels and Lodging
If you're visiting the Forest of Brentwood area in Brentwood, TN, you'll find a variety of welcoming accommodations, ranging from upscale hotels to quaint bed and breakfasts.
There are several chain hotels in the area that offer comfortable lodging with a host of modern amenities. For example, the Hilton Brentwood/Nashville Suites is a highly-rated option that features spacious suites, an indoor pool, a fitness center, and an on-site restaurant. Likewise, the Hyatt Place Nashville/Brentwood offers stylish, contemporary rooms, free Wi-Fi, a swimming pool, and a fitness center. Both are conveniently located, making them a good base to explore Brentwood and the greater Nashville area.
For a more luxurious experience, you might consider staying at the Brentwood Suites Hotel. This locally owned boutique hotel offers spacious, well-appointed suites, a fitness center, and complimentary breakfast. The hotel is known for its exceptional service and Southern hospitality, ensuring guests have a comfortable and memorable stay.
If you're seeking a more intimate and unique accommodation experience, the Brentwood Bed and Breakfast is a wonderful option. This charming B&B offers a tranquil, homey setting with tastefully decorated rooms, each boasting unique décor. Guests can also enjoy a homemade gourmet breakfast each morning, served in a cozy dining room that overlooks a beautiful garden.
Just a short drive from Brentwood, in the historic town of Franklin, you'll find more unique lodging options. The Magnolia House Bed & Breakfast, set in a restored Victorian home, offers a quiet retreat with antique-filled rooms and delicious breakfasts. The Franklin Marriott Cool Springs is another excellent choice, offering modern amenities, an outdoor pool, and close proximity to the CoolSprings Galleria.
For longer stays, the area also boasts several extended-stay options like the Residence Inn by Marriott Nashville Brentwood and the Extended Stay America - Nashville - Brentwood. These accommodations offer kitchenettes and living spaces, providing a more home-like environment for visitors.
With this wide range of accommodations, whether you're looking for the convenience of a well-known hotel, the charm of a bed and breakfast, or the comforts of an extended stay, you're sure to find the perfect place to rest in the Forest of Brentwood area.
Travel and Transportation
Living in the Forest of Brentwood area in Brentwood, TN, offers a wealth of convenience when it comes to transportation options, especially if you need to travel frequently for business or pleasure.
The closest major airport is the Nashville International Airport (BNA), which is located approximately 20 miles north of Brentwood. It's about a 25- to 30-minute drive, depending on traffic. This bustling airport offers numerous daily flights to destinations across the United States and around the world, served by multiple major airlines. Its recent expansion projects have added even more routes and services, making it an increasingly important hub for air travel in the Southeast.
In terms of public transportation, Brentwood is served by the Regional Transportation Authority (RTA), which offers bus services connecting Brentwood with downtown Nashville and other parts of the metropolitan area. The most direct route is the 91X Franklin/Brentwood Express, which offers several convenient pick-up points throughout Brentwood and provides a stress-free commute during peak rush hours.
If you're commuting to downtown Nashville for work or entertainment, using the RTA can be a great way to avoid the stress of traffic and parking. Plus, with Wi-Fi available on many buses, you can even start your workday or catch up on emails during your commute.
For local travel within Brentwood and the immediate area, rideshare services like Uber and Lyft are widely available and can be a convenient option, especially if you're planning an evening out and don't want to worry about parking or driving.
Residents and visitors also have the option to use the bike lanes and multi-use trails for commuting or leisurely travel within the city. Brentwood's city planning and development continue to prioritize and expand these alternatives for a greener and healthier mode of transport.
All in all, the Forest of Brentwood area offers convenient access to a variety of transportation options, making it an excellent choice whether you're commuting locally, traveling across the country, or planning an international trip.