The Ultimate Neighborhood Guide To Taproot Hills, Franklin TN
Posted by Matt Ward on Wednesday, January 18, 2023 at 10:55:52 AM
By Matt Ward / January 18, 2023
Comment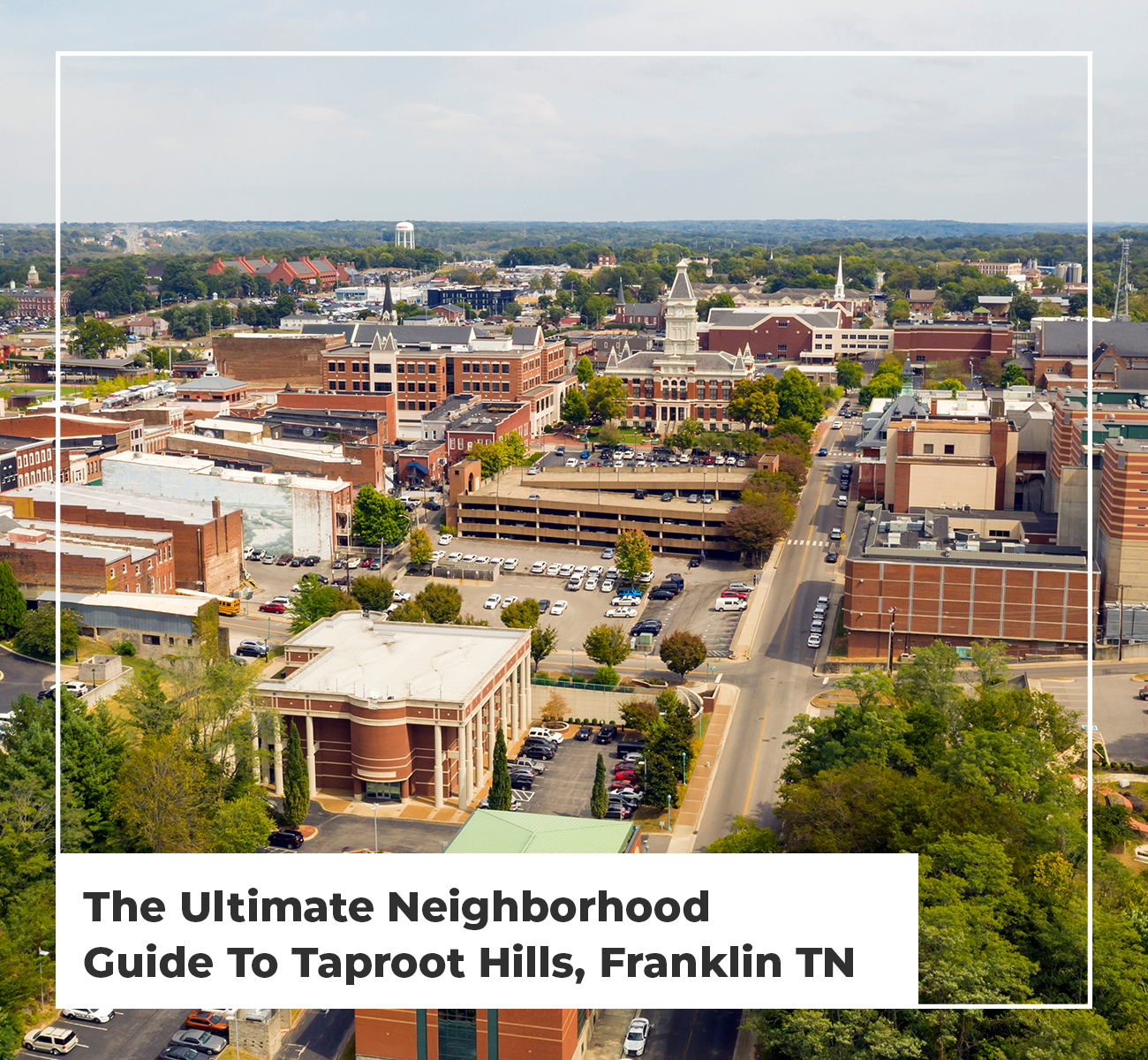 Perfectly positioned in the heart of Franklin, Tennessee, Taproot Hills has become one of the hottest neighborhoods in town. With quick access to downtown and its surrounding attractions, it's no surprise that Taproot Hills is a top choice for those looking to move to this charming Southern city.
If picturesque lands and charming homes are what you're after, Taproot Hills has plenty to offer. From gorgeous scenery with rolling hills and creeks to quaintly designed residences and subdivisions, this neighborhood is ideal for those seeking the perfect balance between city life and nature.
Living in Taproot Hills
Franklin, TN has been long known for its incredible sense of community, and Taproot Hills has that in spades. From the moment you arrive, you'll be welcomed with open arms into the friendly and tight-knit community of Taproot Hills.
When it comes to amenities and attractions, Taproot Hills shines in that area as well. With its close proximity to downtown Franklin and Cool Springs, residents have their pick of great local dining, shopping, entertainment, and recreation.
Outdoor opportunities are also plentiful in Taproot Hills. Whether you're looking for a scenic spot to take your morning jog or a tranquil spot to relax after work, this neighborhood has been designed to offer the best of both worlds.
Real Estate in Taproot Hills
Taproot Hills Franklin, TN is unrivaled in its real estate offerings. The subdivision boasts stylish floor plans that range from 1,700 to 4,200 square feet - with prices starting from the low 500s and reaching the $800s - making it possible for homebuyers of all budgets to find a house that suits their needs.
One of the greatest benefits Taproot Hills Franklin has to offer is some of the most private and spacious lots found unrivaled throughout the city. On top of that, each property comes with side-load garages, impeccable yards, and beautiful streetscapes, making this neighborhood a prime spot to call home in a thriving city like Franklin.
Education in Taproot Hills
Education in the Taproot Hills area is served by Williamson County Schools, one of the most highly regarded school districts in the country. The district's leadership focuses on building a culture of excellence by maintaining competitive standards across all of its educational environments.
Taproot Hills students and their parents can be confident that they are receiving excellent teaching and instruction while attending any school within the district.
From foundational studies and advanced courses to extracurricular activities and individualized instructional programs, Williamson County Schools offers an outstanding educational experience for the entire community of Taproot Hills.
School-aged children in the area may attend the following schools:

Community Atmosphere in Taproot Hills
When seeking out a new possible place to call home, one of the most important factors to consider is the atmosphere and sense of community in that area. Taproot Hills excels in this category by offering its residents a true sense of belonging in an inviting and flourishing environment.
From neighborhood get-togethers and block parties to outdoor events and summer festivals, there's always something going on that you can be part of. Friends quickly become family as you get to know and interact with your neighbors and make Taproot Hills a place to be proud of.
Perhaps one of the most notable features of Taproot Hills is the diversity in the community. Residents come from all different backgrounds and walks of life, creating a unique atmosphere that can be hard to find in other areas of the city.
The Proximity to Cool Springs Galleria
Another major attraction that draws many new residents to Taproot Hills is the fact that it's so close to Cool Springs Galleria. This large shopping mall features over 150 stores and restaurants, making it a fantastic spot to grab some fresh ingredients for dinner or pick up a few new outfits.
Cool Springs Galleria also offers many special events throughout the year, such as holiday celebrations and craft fairs, so there are always plenty of things to do when you need a break from your regular routine. Taproot Hills residents enjoy the convenience of being so close to this popular attraction and all the festivities it brings.
Parks & Trails near Taproot Hills
Getting active outdoors is an integral part of life in the Taproot Hills area. The subdivision is surrounded by several parks and trails, perfect for running, biking, or just taking a leisurely walk.
One of the most impressive outdoor destinations in the area is Trinity Park (Cecil Lewis Park at Trinity). This park features a gorgeous outdoor walking trail, a playground for children, three baseball fields, two soccer practice fields, a sand volleyball court, a concession stand, and restrooms.
Locals flock here for a variety of activities, from sports games to picnics and outdoor concerts. Listed below are a few more options for outdoor recreation in the area:
Restaurants near Taproot Hills
Just a short drive away from the neighborhood itself you'll find a wide range of dining options, from casual eateries to upscale restaurants.
Popular local spots include:
Taproot Hills in Franklin, TN is just proof that one neighborhood truly can have it all. The combination of excellent educational options, a strong community atmosphere, and easy access to shopping and outdoor recreation make this area an ideal choice for those looking to live a life of luxury in the heart of Tennessee.
Hopefully, this blog post has inspired you to take a closer look at Taproot Hills and lit a fire of excitement in you to make it your new home.
Matt & his team have been serving Nashville and Middle Tennessee for over 10 years now. Matt and his team know what it takes to succeed in real estate! His ideas have been proven effective and have contributed to helping over 500 families in the greater Nashville area buy and sell their homes. The Matt Ward Group strives to provide you with the latest tools, knowledge, and advice about real estate in Middle Tennessee.
View All Homes For Sale In Taproot Hills, Franklin TN
No Matching Listings
Try a new search, or click below to get notified when matching listings become available.