Lookaway Farms, Franklin TN: The Ultimate Neighborhood Guide!
Posted by Matt Ward on Tuesday, November 29, 2022 at 6:29:05 PM
By Matt Ward / November 29, 2022
Comment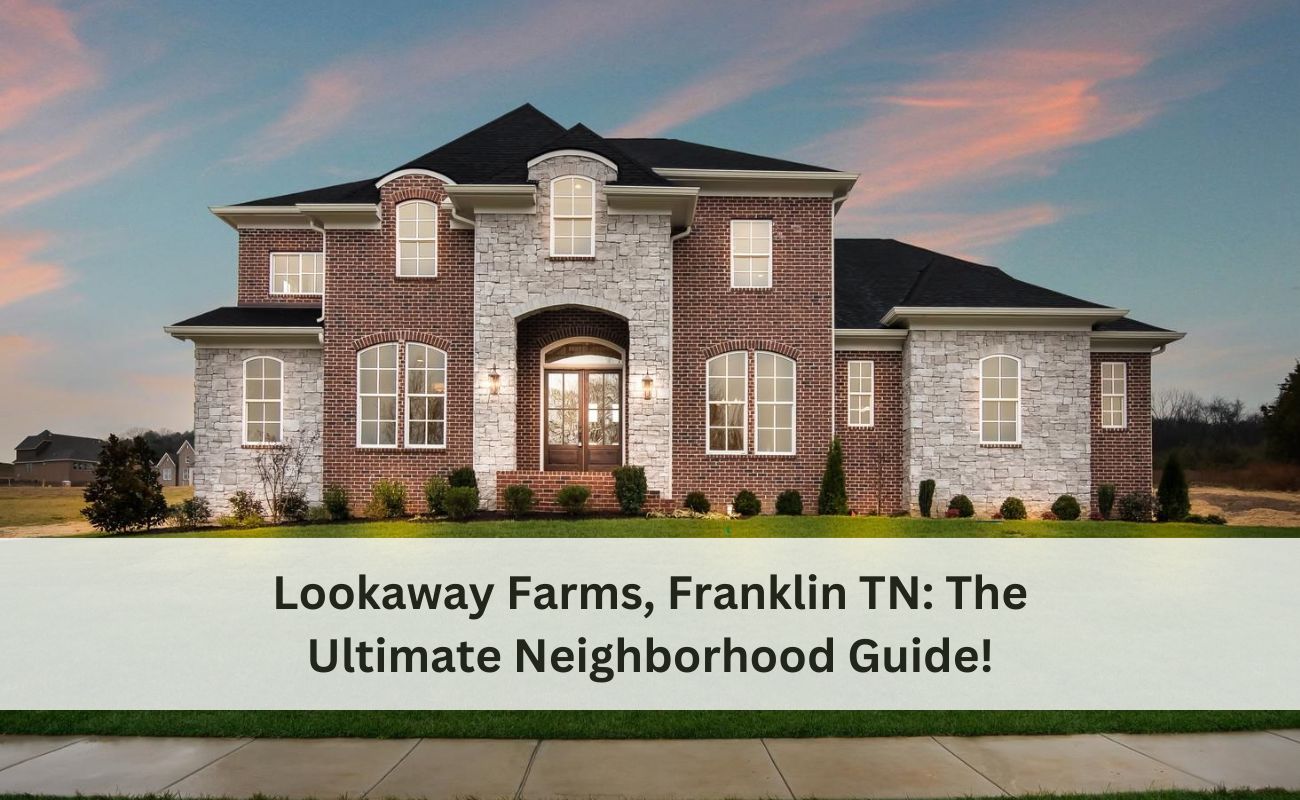 Are you interested in relocating to the Lookaway Farms area of Franklin, Tennessee? Look no further! This guide will provide you with all the information you need to make an informed decision about living in this vibrant community.

Located just east of Nashville, Lookaway Farms is a scenic and tranquil neighborhood that offers an ideal mix of city convenience and rural privacy. The area is characterized by tree-lined streets, lush green spaces, and picturesque homes – all within easy reach of downtown Franklin's restaurants, shopping, entertainment, and more.
View All Homes For Sale In Lookaway Farms, Franklin, TN
Living in Lookaway Farms, Franklin TN
As one of Franklin's newer and more luxurious residential areas, Lookaway Farms was designed with the utmost attention to detail and quality. This neighborhood is bursting with modern homes, upscale amenities, highly-rated schools, and everything else needed to live an exceptional lifestyle.

Located on the east side of Interstate 65 just off Clovercroft Road, Lookaway Farms offers easy access to all parts of Franklin, as well as Nolensville and other parts of Williamson County. Residents take advantage of these nearby places to shop, dine, and recreate. And while Franklin, TN is home to many charming areas few are as serene or as exclusive as Lookaway Farms.
Luxurious Real Estate
When it comes to real estate, there is no such thing as one size fits all. Every home is unique, and every buyer has their own specific needs and wants. That's why Lookaway Farms offers a diverse selection of high-end properties, ranging from single-family homes to spacious estate lots.

In Lookaway Farms there is only one builder which is Partners in Building. Also known as the number one custom home builder in the mid-south. Producing every home with awe-inspiring architecture, stunning craftsmanship, and the latest in luxury amenities.

From modern farmhouses to classic traditional, each of these beautiful homes features open floor plans, generous outdoor living spaces, and high-end finishes throughout. Although the Lookaway Farm homes do come with a higher price tag, they also offer a long-term return on investment that can't be matched by any other neighborhood in the area.
Unbeatable Education
Zoned for Williamson County Schools, Lookaway Farms is one of the best places to live in Franklin for parents with school-aged children. The highly-rated schools serve students in grades K–12 and offer a wide range of educational opportunities including honors classes, accelerated instruction, Advanced Placement courses, and more.

Having such high-class public schools so close by is a major plus for families looking to move into the area and only adds to the area's appeal.

Some of the schools in the area children may attend include:

Clovercroft Elementary School l 9336 Clovercroft Rd, Franklin, TN 37067, United States
View on Google Maps

Woodland Middle School l 1500 Volunteer Pkwy, Brentwood, TN 37027, United States
View on Google Maps

Ravenwood High School l 1724 Wilson Pike, Brentwood, TN 37027, United States
View on Google Maps

Lookaway Farms HOA
Being a part of a community governed by a Home Owners Association (HOA) can come with many benefits to residents. Lookaway Farms has its very own HOA that sets rules and regulations for the neighborhood, helps keep the area secure, and adds value to each home. The HOA has a fee which aids in maintaining the many walking trails, and common areas, as well as residential garbage removal.
The Community Atmosphere
From the moment you arrive at Lookaway Farms, you'll feel like part of a close-knit community. Residents here enjoy all the benefits of living in a high-end area without having to sacrifice the feeling of true neighborhood camaraderie. There is a real sense of connection and friendship among the residents that is evident in the way they talk and interact with one another.

Often times you will see neighborhood children playing in the common areas, people walking and jogging on the pathways, or families gathering for a picnic. This is just one of the many things that make Lookaway Farms such an attractive community to call home.
Proximity To Nashville, TN
Just 21.5 mi via I-65 N from Lookaway Farms is the home of the famous Music City, Nashville. Residents of Lookaway Farms have endless entertainment options with the city just a short drive away. Whether you're looking for amazing food, bar hopping on Broadway, or attending one of the many concerts and events throughout the year – you'll find yourself in good company here.

Some of the most popular attractions in Nashville, TN include:

Grand Ole Opry - This iconic music venue has been entertaining visitors since 1925 and is a must-visit for all first-time tourists.

Nashville Zoo - Home to over 3,000 animals from all over the world, this is one of the top attractions in Nashville.

Country Music Hall of Fame & Museum - This museum celebrates country music's legacy, while also paying tribute to its past and present stars.

Honky Tonk Central - Live music and southern-style bar food make this a must-visit destination on Broadway.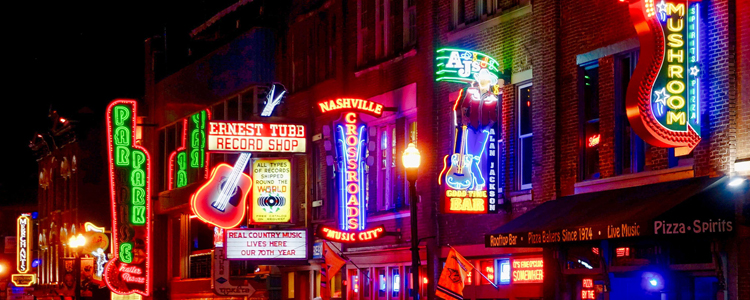 Experience the CoolSprings Galleria
Founded in 1991, the CoolSprings Galleria is a premier shopping mall located in Franklin, TN and just minutes away from Lookaway Farms. With over 165 stores and restaurants, this mall has something for everyone – from clothes and shoes to electronics and books. This is also where you will find Trader Joe's and other chain grocery stores.

Other shopping areas in Franklin include:
The Factory at Franklin
Williamson Square
Maples Shopping Center
Watson Glen Shopping Center
Eating & Drinking
The abundance of eating and drinking establishments in Franklin, TN makes it easy to take a night off from cooking. Residents of Lookaway Farms have the luxury of being close to some of the most popular restaurants and bars in Middle Tennessee. Take your pick from upscale fine dining to casual family restaurants – you're sure to find something that not only pleases your palate but also fits your budget.

Some of the best restaurants in the area include:

Wilco Fusion Grill l 9040 Carothers Pkwy B105, Franklin, TN 37067, United States
View on Google Maps

BrickTop's l 1576 W McEwen Dr, Franklin, TN 37067, United States
View on Google Maps

Corner Pub Cool Springs l 9200 Carothers Pkwy suite 100, Franklin, TN 37067, United States
View on Google Maps
Franklin Chop House l 1101 Murfreesboro Rd, Franklin, TN 37064, United States
View on Google Maps

Parks & Trails Nearby
Lookaway Farms is known for its outdoor lifestyle, as most of the homes back up to green space and trails. Within a few miles of the neighborhood are several parks and walking trails that cater to both active adults and families.

Just a short drive away from the community is Marcella Vivrette Smith Park which boasts forested wildlife habitats, walking trails, and the iconic 19th-century mansion. This is probably one of the most visited parks in Williamson County and holds a special place in the hearts of Franklin residents.

Additional outdoor destinations include:

Fly Park - This sports complex holds many softball and baseball games for local teams.

Crockett Park - Located in Brentwood, this 165-acre park features an amphitheater, sports fields, and a historic events space.

Owl Creek Park - This 21-acre neighborhood park comes complete with a picnic shelter, basketball courts, walking paths, and more.

As you can see, Lookaway Farms is the complete package – close to all necessary amenities and surrounded by nature. With so much to explore both within the neighborhood and neighboring towns, it's no wonder why Lookaway Farms has made its mark in the Franklin community.

And with the rate at which Williamson County is growing, it's only a matter of time before this neighborhood gains even more attention. If you're looking for a community that will bring out the best in you and your family, then don't miss out on Lookaway Farms.