The Number 1 Guide To Buying A Golf Course Home
Posted by Matt Ward Website on Saturday, January 22, 2022 at 6:50 PM
By Matt Ward Website / January 22, 2022
Comment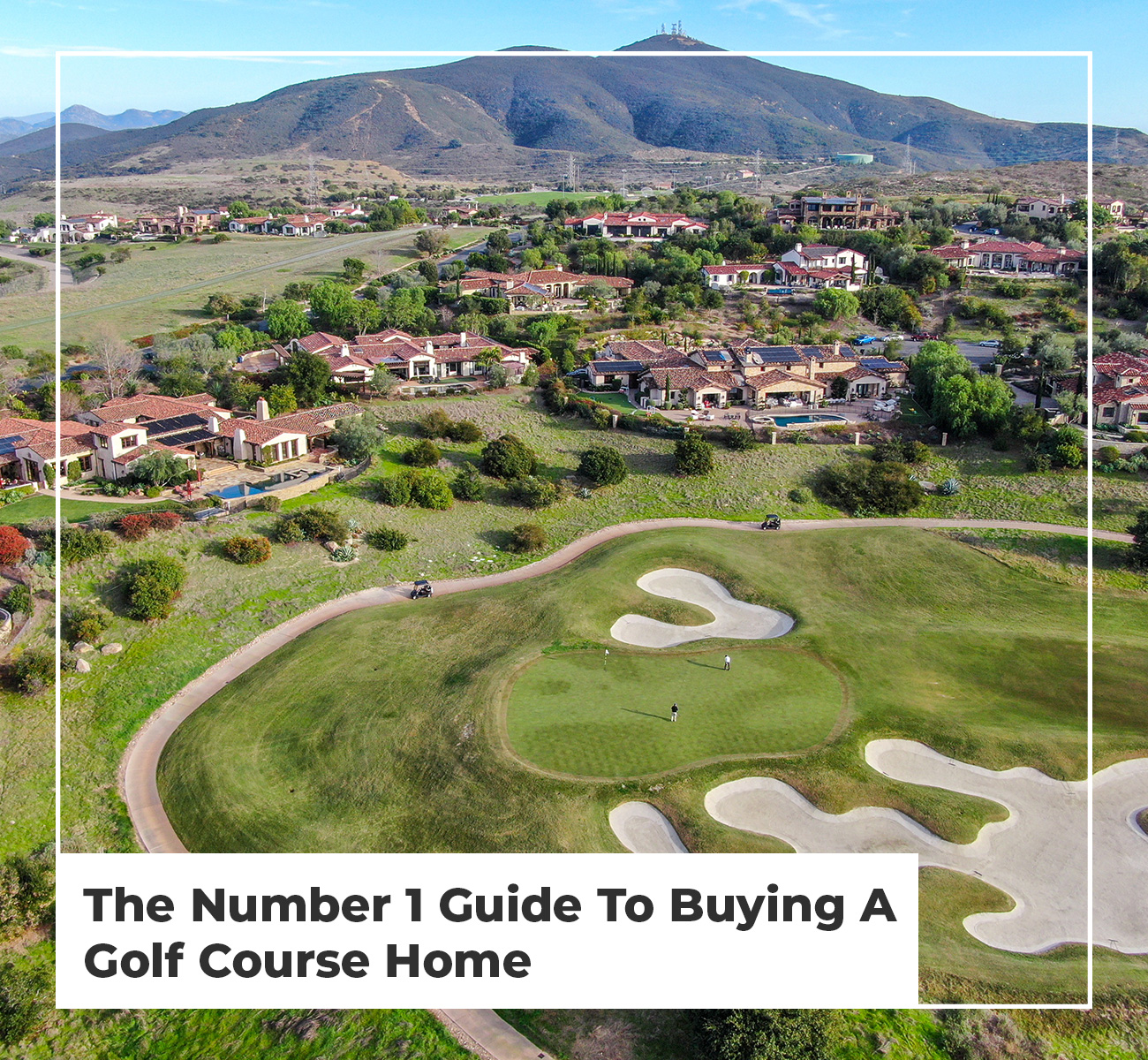 Golf course homes are a sought-after option for those who love the game as well as those wanting to live in an upscale community filled with amenities. Serious golf fans wishing to make golf a more permanent fixture in their lives are drawn to these communities. Purchasing a golf course property, like any other investment, may be stressful.
What should one look for?
Who should the buyers communicate with?
What type of research is required?
Whether you're a PGA pro who has always dreamed of living on a course or a savvy businessperson with a passion for golf, there's sure to be a course fit for you. There are many things to consider when buying a golf course home, which is why you should read the guide to buying a home on a golf course.
Things To Consider When Buying A Golf Course Home
Once you've decided to live on a golf course, there are a few points to consider to help you find the home that best suits you. Consider the location first. If you're not sure which city or state you'd like to call home, consider how often you'd like to golf. If you plan to use the house as your permanent residence or vacation home and enjoy golfing, you should consider communities with milder weather. Cities and states in the east and midwest are beautiful possibilities for those who want to get away from the colder winters and contemplate a second abode as a golf home. Prioritize your list of requirements before going out to look at houses on the market.



Begin your search by visiting communities before looking at homes to understand the community and whether it fits your lifestyle.
Is it a neighborhood filled with many families or an active adult population?
Do your neighbors socialize or stay to themselves?
Is a membership part of the deal when you buy a house?
This is an excellent approach to discover more about your possible neighborhood's atmosphere.

The course is unquestionably the heart and soul of any golf community, avid golfer or not. Whether it's a country-style ranch or a luxury estate, the overall style of the community will almost certainly dictate the style of your home. Whether you've decided that buying a property on a golf course is the best decision for you, check to see if there are any available in the neighborhood you've chosen. Choosing to live on a golf course is to choose to enjoy a magnificent lifestyle that is second to none! Imagine waking up to manicured greens and lovely lakes, as well as a wealth of facilities right at your fingertips!
The Benefits To Living in A Golf Course Home
The concept of living on a fairway has grown in popularity worldwide over the years. All you have to do is gather your belongings and go for the greens! Furthermore, most residences are located near world-class championship courses, allowing you to sharpen your skills. All of this is done with peace of mind knowing your tee time is free or limited. The options for living spaces are endless, ranging from modern condos with sun porches to bright and airy mansions with spectacular vistas.
Taking a walk to the fairway from your front door might be exhilarating. There's a lot more to enjoy when it comes to living a golfer's dream. Residents get full membership and playing privileges, as well as member-guest prices at local golf courses. The real estate alternatives are diverse; golf communities provide a comprehensive selection of property management services, whether you plan to reside in the property or rent it out. Several services, such as garden, pool, home, and landscaping maintenance, as well as housekeeping, are available.

As a result of having a gated community, many golf communities provide protection, and you can be confident that your house is always secure. The benefit is self-evident: gates, surveillance cameras, and trained guards, among other things, ensure that no unwelcome visitors approach the premises. Furthermore, gated neighborhoods encourage slower driving speeds. As a result, pedestrians and children are safer, more privacy, and ultimately, a stronger sense of community is needed.
The quality restaurants, bars, spas, retail centers, and more are all kept within manicured, friendly grounds for residents to enjoy, but those who play the game feel their best on the course. The majority of communities are designed with the golfer in mind as well as the entire family in mind. The majority of golf estates are found in warm, temperate climates. This is not only a perk for the occupant, but it also allows for the possibility year-round rental payments should you choose to rent the home.
Tips When Buying a Golf Course Home
Life on a golf course anywhere would be a dream come true for many prospective home buyers. A golf course creates a lush, picture-perfect landscape of impeccably maintained lawns. Because all views face the fairway, the homes in a golf course neighborhood are strategically located, so neighboring houses are not immediately visible. The most excellent part about owning a golf course property is that their next round of golf is only a few steps away. As with most things, there are advantages and disadvantages to living on a golf course. These simple steps will assist you in determining whether or not living on a golf course is right for you.
Keep in mind that early and often, courses are expertly maintained. This implies that lawns are cut before rounds are played in the early morning. Year-round golf necessitates year-round care. What can be done to help? If you're a light sleeper, search for a home on a fairway or in a more remote region that requires less upkeep. A house with a primary bedroom distant from the golf course will also be beneficial. Early morning cart headlights will be less bothersome if you use black-out drapes.

When looking at a golf course property, keep an eye out for cart paths. Golf carts will scoot by all day if the cart lane is directly behind the house, which may cause the tranquil atmosphere you seek to be disturbed. What can be done to help? Homes in these high-traffic locations can sometimes be found for a bargain. Consider investing in lovely landscaping to help block out noise. Pools, decks, and other outdoor elements should be placed to minimize the interruption from carts if you have a two-story property.
The greens and tee boxes are frequent stopping locations for golfers. Each golfer will be visible, and they will be able to hear each other. What can be done to help? Always take in the view from the back of the house, which faces the golf course. Sit for a while and return at various points during the day. Wait for a group to pass by and observe where they park their carts and how much noise they produce. You'll know right away if the house in the location you've chosen is right for you.
Almost all golf course properties are in deed-restricted communities. Many features of the houses outside of maintenance are managed by an HOA (homeowners' association) in these neighborhoods. For example, a swing set in the backyard facing the course will be prohibited. What can be done to help? Before placing an offer on a home, always request a copy of the HOA rules to read. If you like the way the area looks and feels, it's probably because many features of the rules appeal to you. If you're not sure you want to follow the rules, you should probably look for another community.
On the course, no non-golf activities are permitted. What can be done to help? Many golf course communities also have clubhouse activities, parks, and sidewalks so that you may enjoy your favorite hobbies in addition to golf.
Moving Into Your New Golf Course Home
It's time to move in once you've purchased your new home on your preferred golf course. Spend your years doing what you love in a beautiful setting with views of well-kept fairways on an upmarket golf course, which will serve as the perfect backdrop for your brand-new home. Spend an afternoon introducing yourself to your new neighbors. Golf communities have a strong sense of community, and joining one will make you feel right at home right away! Many homeowners go so far as to plan community events such as block parties to get their neighbors participating.

Fairways are generally located in quiet, tranquil areas, so presuming your new house is just that, get out and enjoy all the natural beauty the neighborhood has to offer. In golf communities, nature is consistently at its best. The property is well-kept throughout and features a mix of beautifully groomed yards adjacent to typical woodlands, forests, and meadows. There are often water features such as ponds or lakes and long stretches of space providing protection and lovely vistas.
Designer-styled homes with an estate atmosphere are available in golf course communities. You'll have everything you've ever desired in a dream home in a beautiful environment. Living in a golf course community provides gorgeous surroundings and all of the amenities you seek. Finally, look at all of the local amenities close to your new property. You'll find outstanding services, shopping, and dining restaurants, all within easy walking distance of your house, as well as all of the necessities.
Matt & his team have been serving Nashville and Middle Tennessee for over 10 years now. Matt and his team know what it takes to succeed in real estate! His ideas have been proven effective and have contributed to helping over 500 families in the greater Nashville area buy and sell their homes. The Matt Ward Group strives to provide you with the latest tools, knowledge, and advice about real estate in Middle Tennessee.