The 14 Best Luxury Condo Buildings To Live In Nashville, TN
Posted by Matt Ward on Tuesday, February 28, 2023 at 9:52:30 AM
By Matt Ward / February 28, 2023
Comment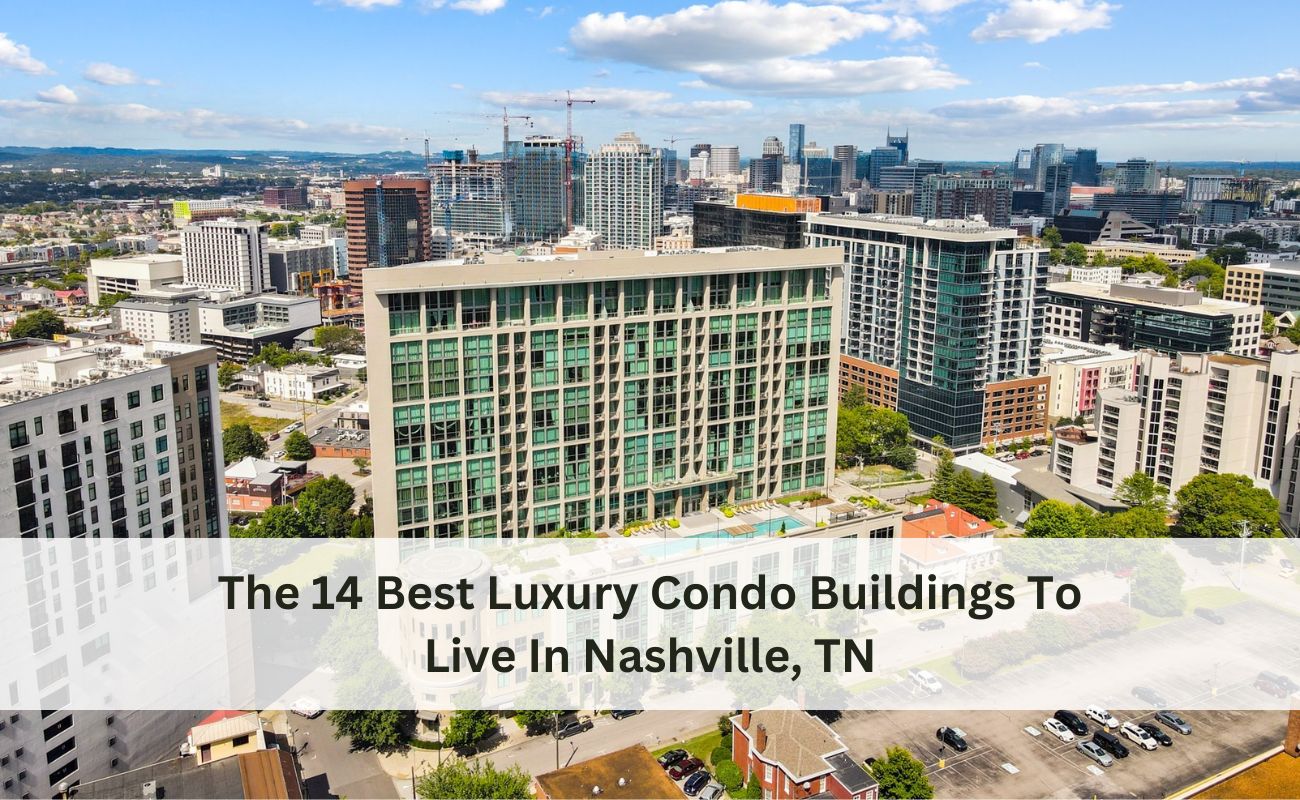 Nashville living is one of the most desirable lifestyles for those looking for a vibrant and exciting city to call home. With its booming economy and rich culture, it's no wonder why so many people flock to Music City for their next big adventure.
There's no better place to experience the luxury of downtown Nashville than in one of the many prestigious condo buildings. And with so many amazing options to choose from, it can be hard to narrow down the best buildings for your lifestyle and budget.
Top 14 Best Luxury Condo Buildings in Nashville
To help make your decision easier, we've compiled a list of the top 14 luxury condo buildings in Nashville, TN for 2023.
View

Nashville Luxury Condos

for Sale
1. Icon In the Gulch
If you're looking for a place to live like an icon in Nashville, ICON In The Gulch condo building has everything you could dream of. Nestled in the middle of one of the city's premier districts, this luxurious condominium complex offers breathtakingly stunning visuals from the comfort of your home.
Standing 22 stories high and filled with floor-to-ceiling windows, spacious balconies, and designer finishes, it is sure to please even the most discerning tastes. You'll also find that The Gulch provides plenty of options for shopping, dining, and entertainment options as part of its expansive mixed-use neighborhood.
Whether you're looking for one or two-bedroom residences or seeking out a penthouse suite - you can be assured that living in The Gulch puts you right in the heart of Nashville living.
Some of the building features here include:
Controlled access parking garage
Courtyard with pool and water features
Free wifi throughout common areas
High-speed elevators

2. The Adelicia
For those looking to reside in the hustle and bustle of Nashville, look no further than the Adelicia condo building. Built with a beautiful postmodern structure and earth-toned materials, this tower is situated perfectly between Music Row and the stunning campus of Vanderbilt.
With 186 luxury condos for residence, ranging from 670 square foot studio lofts, 800 to 1200 square feet of one-bedroom units, and upwards of 2000 square feet for two-bedroom corner units, you have plenty of options to choose from. Not to mention the breathtaking views you'll be able to enjoy from nearly any window in the building!
Equally impressive are the amenities offered here, such as an Olympic size pool, on-site personal trainers, and a 3,000-square-foot fitness center - just a few reasons why so many people find The Adelicia irresistible!
3. The Viridian Nashville's Premier Luxury Hi-Rise
As one of downtown Nashbville's first luxury high-rise condo buildings, The Viridian has long been a hub for those seeking ultra-luxury living experiences. Stretching 31 stories in the skyline of Nashville and featuring ten-foot ceilings, it is undeniable that this development makes a statement.
Inside, residents have the option of open floor plans, private outdoor terraces, granite countertops, and access to a tranquil rooftop swimming pool. As a luxurious home with all the modern amenities one could ever ask for, residents can assure they're getting true value in their investment starting from around $559 per square foot.
4. Terrazzo
The Terrazzo condominium building in Nashville is the epitome of metropolitan living. Rising 14 stories tall, the building offers expansive glass views of The Gulch, downtown, and the surrounding hills. And if that weren't enough to pique your interest, there are multiple design options available to personalize your new home and make it yours.
Enjoy brilliant sunsets from the sixth-floor pool terrace or take advantage of the convenience of underground parking spaces. Regardless of what you choose, when you call Terrazzo home you will experience comfort, security, and a luxurious lifestyle like no other in one of Music City's trendiest areas.
5. CityLights
The CityLights Nashville condominium is an exquisite high-end solution for those looking for boutique living in a luxurious setting. Overlooking the iconic SoBro district in Downtown Nashville, this gorgeous building boasts 71 units ranging from 1,200 to 3,500 square feet with modern amenities and services that make it worth every penny.
Not only does it feature extensive high-end living options with utmost privacy for its residents, but also offers room and concierge services to make every day easier. This is your chance to experience city dwellings like never before!
Local hotspots include:
6. Twelve Twelve
Introducing the Twelve Twelve Nashville, a 286-unit condo building in Nashville offering residents unparalleled modern living. With residences priced from the $300s to $2 million and up, everyone can find something to fit their budget. Quality finishes ensure every unit is sleek and sophisticated, with expansive views of the cityscape in every direction.
Inviting amenities such as an expansive green space throughout make it easy to enjoy the outdoors while at home, and a heated saline swimming pool and spa provide an ideal place for relaxation. Plus, 7,000 square feet of ground-level retail and restaurant space ensure there's plenty on hand when you need to explore outside your four walls.

7. Rokeby
Constructed in 1975, the Rokeby Nashville condo building has been a defining feature of the West End skyline. Uniquely positioned on four acres of land, this distinctive mid-century architecture showcases an unrivaled elegance and comfort that draws prospective tenants to the winding paths and lush gardens.
Onsite management and maintenance mean residents are never at a loss in terms of services and convenience.
Meanwhile, a 24/7 secured building ensures residents' safety while they enjoy easy access to all downtown amenities—dining, shopping, entertainment, and culture—all within reach at Rokeby Nashville!
Additional amenities here include:
Fully appointed guest rooms
Heated outdoor pool
Grilling facilities
24-hour doorman
8. 505 High Rise Condos
From the moment you enter the 505 High Rise Condo building in Nashville, you can feel the comfort and sophistication from the ground up. Located in the heart of the downtown urban core, this modern marvel is meticulously designed for both its interior and exterior features.
Created to be a refined living experience, you will enjoy unrivaled indoor and outdoor amenities from upscale features to exclusive 505 parking. With multiple lounge areas, showcase kitchens, dog grooming, and much more, it is just a four-minute walk from the Ryman Auditorium offering convenience at your doorstep.
But don't just take our word for it, come and experience 505 High Rise Condos yourself.

9. Bennie Dillon Original Lofts
The Bennie Dillon Original Lofts in Nashville offer heritage and modern living in one historic package. Located on the corner of Church Street and 7th Avenue, the building has stood since pre-depression days as one of Nashville's oldest skyscrapers – a remnant of Renaissance Revival architecture that's been holding proud for over a century.
Standing an impressive twelve stories high, the heritage lofts have been lovingly renovated in both 1999 and 2005 to ensure they continue to stand tall and proud while outfitting each unit with contemporary amenities. Such heritage coupled with modern luxury is sure to make these original lofts a desirable place of residence for families and young professionals alike.
10. The Lloyd
Seeking an ultra-private and luxurious living experience? The Lloyd Condo in Nashville offers just that and more. This light-filled modern masterpiece features only 8 two-story units and truly creates an instant feeling of being at home.
Boasting a private lobby, EV charging station, storage lockers, and even a fitness center on the premises, The Lloyd provides its residents with a low-maintenance lifestyle while living in the lap of luxury. Whether it's your first home or you're looking to downsize, The Lloyd guarantees you'll love the intimacy and privacy this building provides.
11. Novello West End
Another West End gem with few units, the Novello West End provides a cozy, boutique-style living experience. This high-end building offers spacious and luxurious condominiums with panoramic views of downtown Nashville and surrounding neighborhoods.
The central location of the building also makes it easy to explore nearby attractions such as Broadway or The Gulch. Plus, access to ground-level retail and restaurant space ensure there's plenty on offer when you need to explore outside your four walls. For a modern, full-service lifestyle, Novello West End is the perfect answer.
12. Brio - West End | Vanderbilt Condos
Brio - West End | Vanderbilt Condos provides the ultimate living solution for those seeking an affluent lifestyle and a residence that is in high demand. Situated in the heart of Nashville's West End, these condominiums are just a thirteen-minute walk away from The Parthenon, 1.2 miles away from Vanderbilt University, and present more space than traditional city residences.
With twelve units on offer, each with 2-3 bedrooms and a large outdoor porch area, Brio - West End | Vanderbilt Condos is the ultimate choice to fulfill any homeowner's craving for luxury living.
13. Cumberland On Church Apartments
Experience the best that Nashville has to offer when you choose to live at the Cumberland On Church Apartments. Every one and two-bedroom unit brings convenience and style, with all of the modern appliances and luxuries you could ever want. Step out onto your private balcony and take in the amazing views of the city skyline.
And for anyone looking for additional amenities, you won't be disappointed: there's a game room, a state-of-the-art fitness center, a cyber cafe, and more! Plus, if you have a four-legged friend who would love to join you in your new home, they welcome dogs too. Make every day an adventure when living at the Cumberland On Church Apartments – they present a lifestyle experience like none other.
More of the top amenities here include:
En-suite washers and dryers
Individual climate control
Valet dry cleaning
Business center and business room
14. Westview
This 8-story building is individually owned and was redeveloped to extend personal and luxurious living amidst the noise of Downtown Nashville. Westview is home to lovely loft condominiums with spacious rooms, concrete ceilings, large windows that provide amazing city views, and open floor plans designed to make the most out of every square foot.
Just because it does not stand tall does not mean it gives any less. With convenient access to fantastic shopping and dining areas, as well as the Nashville Music City Center and Ryman Auditorium, Westview radiates with a welcoming vibe making it a wonderful place to settle down, relax, and enjoy the best of what Nashville has to offer.
Well, it doesn't get much better than these 14 amazing condo buildings in Nashville. Through elegance and modern amenities, each one of these options has the potential to set you up for the lifestyle you've always wanted.
Whether it's a luxurious boutique-style residence in the center of downtown or an escape from the hustle and bustle with a cozy private lobby, these buildings provide every comfort for their residents.