Nichols Vale, Mount Juliet: 10 Reasons To Live In This Master-Planned Community
Posted by Matt Ward on Friday, September 30, 2022 at 10:49 AM
By Matt Ward / September 30, 2022
Comment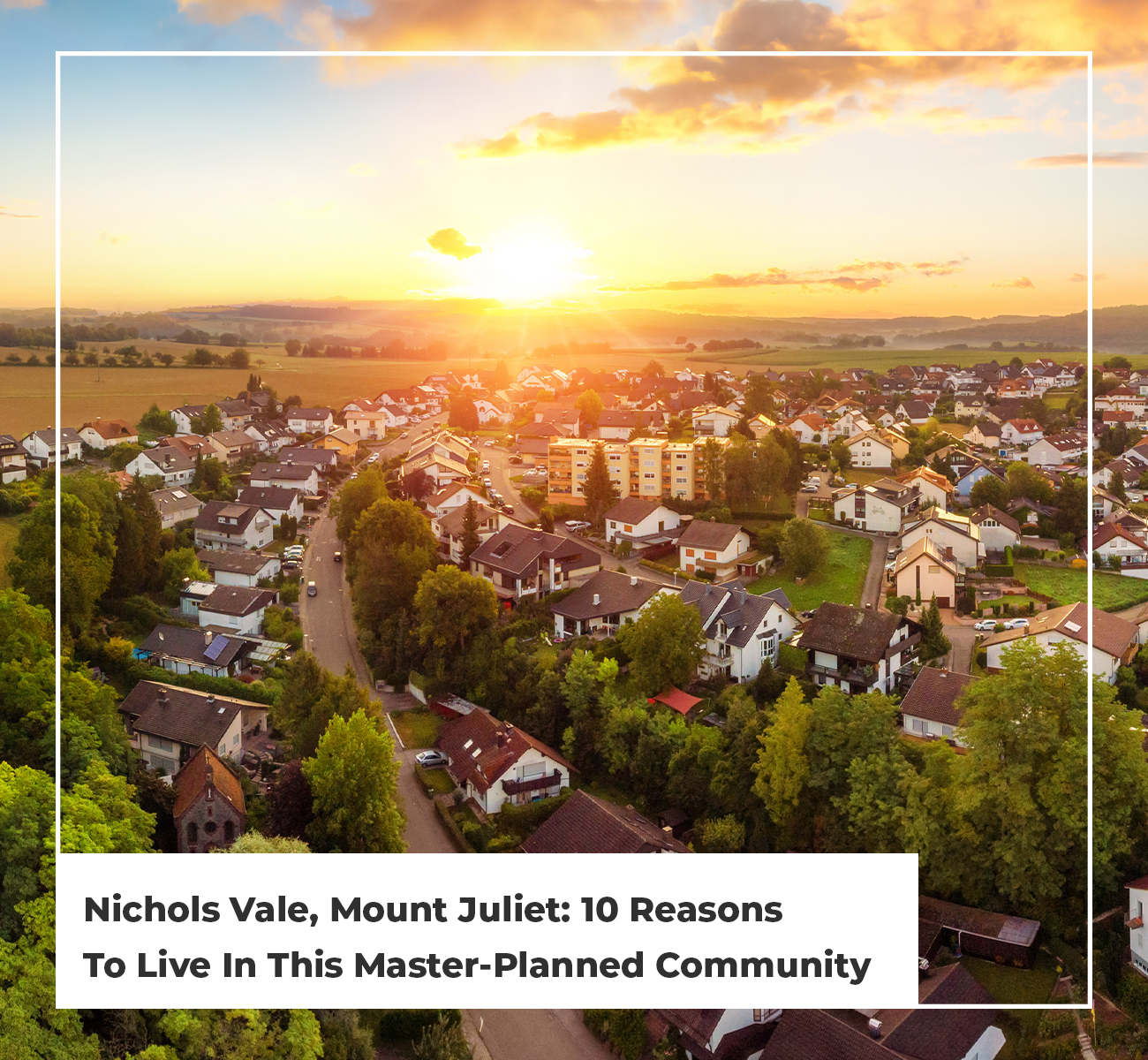 Are you looking for a new place to call home? If so, you may want to consider Nichols Vale in Mount Juliet. This master-planned community has much to offer residents, from beautiful homes and amenities to a prime location just minutes from downtown Nashville. Here are 10 reasons to make Nichols Vale your next home!
History of Nichols Vale, Mount Juliet
The history of Mount Juliet itself dates back to 1835 when the city was founded. Known initially as Riddle's Station, Mount Juliet was named after Julia Gleaves, wife of local postmaster Aaron Riddle. In 1839, the city's name was officially changed to Mount Juliet, and it has been known by that name ever since.
Today, Mount Juliet is a thriving city with a population of over 26,000 people. The city is home to various businesses and industries, as well as several schools and parks. Mount Juliet is also just a short drive from downtown Nashville, making it a great place to live for those who want to be close to the action but don't want to live in the hustle and bustle of the city.
Location
Nichols Vale is conveniently located just minutes from downtown Nashville. This makes it easy to enjoy all that Music City has to offer, from world-class dining and shopping to live entertainment and nightlife. And if you need to commute for work or travel for leisure, you'll appreciate having quick access to major highways like I-40 and I-65.

Homes and the Real Estate Market in Mount Juliet
Mount Juliet is home to a variety of housing options, from apartments and condos to single-family homes and estates. The real estate market in Mount Juliet is strong, and prices have been steadily rising in recent years.

In relation to other parts of America, homes here are less expensive, although they're considered expensive in comparison to other areas within Tennessee. The most popular type of home is a single-family detached dwelling with three or four bedrooms. Out of all residents, 77% own their homes, while the remaining 23% rent.
If you are looking to live in Mount Juliet, you can expect to find mostly newer homes. Around 40% of the homes in Mount Juliet were built between 1970 and 1999, but 60% were built after 2000. Nichols Vale, Mount Juliet is one of the best suburbs to buy a house in Tennessee, ranking at number 14 out of 101. As such, home value appreciation rates are high, at about 12% annually.
Schooling in Nichols Vale, Mount Juliet
If you have children, you'll be happy to know that Nichols Vale has options for you to consider. This district includes three elementary schools, one middle school, and one high school. In addition, there are several private schools located in Mount Juliet.
Overall, the schools in Mount Juliet are highly rated. Plus, students in the district outperform state averages on standardized tests. So if you're looking for a good place to raise your family, Nichols Vale is it!
The best public schools in Mount Juliet, TN, are:
If you are interested in private schools for your kids, then you can look at:
Mount Juliet has several higher education opportunities, including Volunteer State Community College, Vanderbilt University, Belmont University, and David Lipscomb University.
Employment Opportunities in Mount Juliet
One of the great things about living in Nichols Vale is the employment opportunities that are available in Mount Juliet. The city is home to a number of large businesses, including Nissan and Amazon. There are also many smaller businesses and startups that are located in Mount Juliet. This provides residents with a variety of employment options.
With a median household income that beats the national average at over $91,000 and low taxes, Mount Juliet is an appealing place to establish roots. Most of its citizens are employed in professional fields such as Healthcare, Retail, Education, Professional Services, Scientific research, etc., with 30% being between the ages of 35-54.
Amenities and Social Life
When it comes to amenities, Nichols Vale has everything you need and more. The community offers residents a variety of amenities, including a clubhouse, fitness center, swimming pool, and tennis courts. There's also a playground and picnic area for families with young children. Plus, the community is pet-friendly, so you can bring your furry friend along when you move here!
In addition to the amenities within Nichols Vale, Mount Juliet also has plenty to offer residents. The city is home to several parks, green spaces, a public library, and a recreation center. There are also several restaurants and shops located in downtown Mount Juliet. And for those who enjoy the outdoors, Mount Juliet is just a short drive from Nashville, where you can find plenty of hiking trails and other outdoor activities.
Mount Juliet's numerous public parks cover nearly 6,000 acres, including everything from golfing to trekking to camping. These parks are one of the reasons why living in Mount Juliet, TN, is so pleasurable!
Mount Juliet also has the Windtree Golf Club and Pine Creek Golf Club for golf enthusiasts.
Other attractions in Mount Juliet include:
Music Valley Wax Museum
Gem and Mineral Museum of Tennessee

Outdoor Life in Nichols Vale
Nichols Vale is a great place to live for those who love spending time outdoors. With miles of walking and biking trails, parks, and green spaces, there are plenty of ways to enjoy the fresh air. The community is also home to a top-rated golf course, so residents can tee off right in their own backyard.
Mount Juliet has five parks, making it the perfect place to enjoy the outdoors if you live in Nichols Vale. These include:
Charlie Daniels Park includes tennis courts, a kid's playground, splash pad (for summertime use), youth football fields, and a Community Center.
Millennium Sportsplex, formerly Sgts. Jerry Mundy Memorial Park, features softball diamonds, a soccer field, a frisbee golf course, and a smaller playground.
South Mt. Juliet City Park has a pavilion, sand volleyball court, a kid's play area, a nature trail, and a dog area.
Robinson Park is perfect for nature lovers and fitness fanatics alike. The 11-acre park boasts a hiking trail, outdoor fitness equipment, and even a Certified Wildlife Habitat.
A volleyball court, a mini ball course, picnic areas, a walking trail, and a dog park are all available at Jones Family Park.
Shopping, Dining, and Entertainment
Nichols Vale is a great place to live for many reasons, but its location is one of the best things about it. The community is situated just minutes from shopping, dining, and entertainment options, making it the perfect place to call home for those who want convenience and accessibility.
Additionally, Nichols Vale is just a short drive from Nashville, making it easy to get to the city for work or play. If you're looking for a master-planned community that offers everything you need and more, Nichols Vale should be at the top of your list!

Another great thing about living in Nichols Vale is the access to major highways. This makes commuting to work or getting around town a breeze. Plus, with Nashville just a short drive away, you can easily take advantage of all the city has to offer without having to live in the hustle and bustle. Being close to the I-40 and I-65 makes Nichols Vale the perfect place to call home for anyone who wants the best of both worlds.
The Providence Market Place is nearby and offers an array of shopping and dining experiences, from big box stores to local boutiques and everything in between. There are also a number of restaurants, both fast food, and sit-down, as well as various entertainment joints.

With such a wide range of shopping and entertainment options, including a theatre, Target, Old Navy, Best Buy, TJ Maxx, HomeGoods, Ross Dress for Less, and Books A Million, you're sure to find what you're looking for.

You'll Be Part of a Friendly, Supportive Community
One of the best things about living in a master-planned community like Nichols Vale is that you'll be part of a supportive, friendly community. Your neighbors will look out for you and your family, and you'll always have someone to rely on. Whether you need help with something around the house or just want someone to chat with, your neighbors will be more than happy to lend a hand.
One of the best things about living in Nichols Vale is the sense of tranquility that comes along with it. Whether you're taking a stroll through one of our many parks or simply sitting on your front porch, you'll feel a sense of peace and relaxation.
Conclusion
Nichols Vale is an excellent option for those looking for a well-rounded community. With plenty of activities and events and top-notch amenities, residents will never find themselves bored or without something to do. If you are looking for a place to call home that has it all, be sure to check out Nichols Vale.
Matt & his team have been serving Nashville and Middle Tennessee for over 10 years now. Matt and his team know what it takes to succeed in real estate! His ideas have been proven effective and have contributed to helping over 500 families in the greater Nashville area buy and sell their homes. The Matt Ward Group strives to provide you with the latest tools, knowledge, and advice about real estate in Middle Tennessee.
View All Homes For Sale In Nichols Vale, TN