Everything You Need To Know About The New Ritz-Carlton Residences Coming To Nashville
Posted by Matt Ward on Monday, April 17, 2023 at 4:31:39 AM
By Matt Ward / April 17, 2023
Comment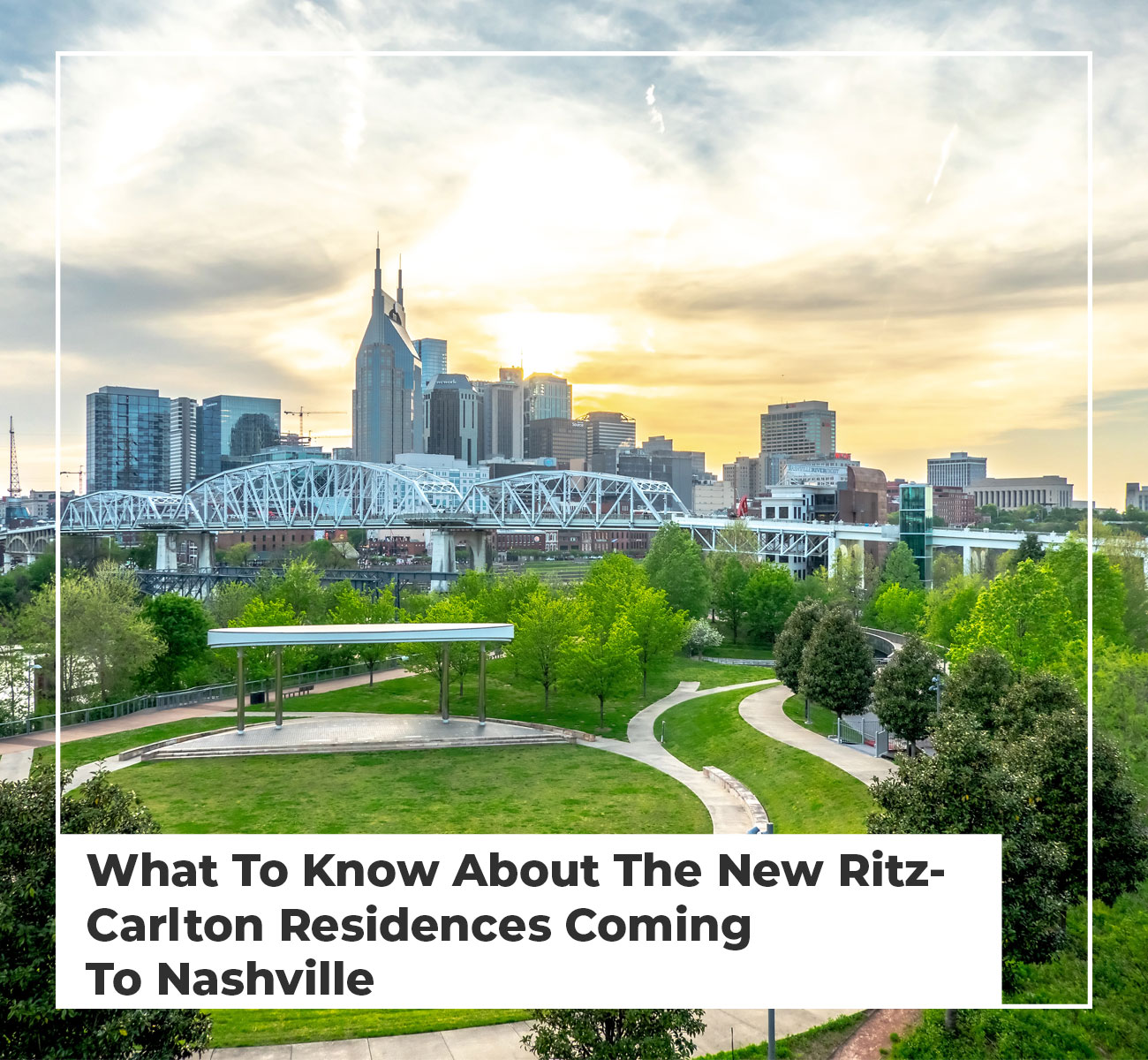 This high-end real estate development promises to bring a level of luxury and sophistication never seen before in Nashville. The residences will feature world-class amenities, stunning architecture, and unrivaled service that only The Ritz-Carlton can provide. The Ritz-Carlton team has worked diligently to ensure that the development meets their exacting standards, and Nashville is abuzz with anticipation.
Condos For Sale in the Ritz-Carlton Residences, Nashville
If you're searching for a high-end luxurious place to call home, The Ritz-Carlton Residences in Nashville is exactly what you're looking for. These luxury condos in Nashville, situated downtown, feature the high-end amenities and opulent lifestyle associated with the world-renowned Ritz-Carlton brand.
All of The Ritz-Carlton Residences offer unrivaled livability standards and can be customized to suit each individual's needs. Featuring sprawling floor plans, high ceilings, floor-to-ceiling windows for spectacular city views and top-of-the-line fixtures and finishes, high-end amenities, and top-notch security, these exquisite condo units are perfect for those who desire extravagant, yet low-maintenance living.
An onsite 24/7 concierge service is available to ensure that all of the little details of life run smoothly. These condos are perfect to accommodate all lifestyles. Experience sophistication and luxury living in Nashville at its finest in one of the most desirable locations Nashville has to offer.
Condo Building Amenities
If you're looking to indulge in a condo experience like no other, The Ritz-Carlton Residences, Nashville brings with them an abundance of five-star amenities that will leave you wondering why you would ever settle for any other lifestyle.
Each unit offers an unparalleled level of luxury combined with thoughtful modern design that sets the Ritz-Carlton Residences apart from all other luxury condos in Nashville. Not only will you own a piece of this coveted structure, but you'll also gain access to exclusive amenities such as an indoor pool and private spa facilities, a state-of-the-art gym and fitness center, sports courts, and various gourmet restaurants, rooftop lounges, and bars.
Security systems are top-notch with 24-hour surveillance for peace of mind. What truly sets these condos apart is the level of service one can expect when becoming part of the Ritz-Carlton family. The concierge team is available 24/7 to provide immediate assistance. Every need or request you have will be taken care of promptly and professionally by their highly trained staff, providing each resident with an ultimate experience in luxury living.
With the added conveniences and great amenities that living in the heart of Nashville provides, these luxurious homes make for a distinguished living experience like none other!
The Neighborhood
The Ritz-Carlton Residences, Nashville is a luxurious condo complex located in the heart of Music City. The condos are situated in a vibrant and thriving neighborhood, offering residents easy access to an eclectic assortment of restaurants, shops, and entertainment options.
The heart of Nashville is made up of a vibrant and diverse mix of neighborhoods. From family-friendly spots such as Belmont-Hillsboro and Eastwood, the buzzing nightlife with live music venues located in Downtown and the Gulch, to hipster haunts like Germantown and the 12 South area, there's something for everyone in this ever-evolving city.
The locals are proud of their heritage and strive to protect traditions such as building iconic wraparound porches and trying delicious Southern cuisine at one of the many charming eateries sprinkled throughout these areas. The neighborhoods at the heart of Nashville provide an exciting mix of energy, culture, and history that can't be found anywhere else.

You'll find an impressive mix of old and new architecture, along with a wide variety of restaurants, pubs, music venues, parks, and cultural destinations. Nestled along the picturesque Cumberland River in downtown Nashville, one can get mesmerized by the iconic skyline that frames a historic bridge across the river. Whether you want to explore the rich history or experience the vibrant culture from around blocks away at The Gulch; there is plenty to see and do in this unique part of town.
Not only is this location ideal for discovering all the culture that downtown Nashville has to offer, but it also comes with a myriad of amenities that are sure to make living here enjoyable and convenient. Enjoy being in close proximity to spectacular shops and restaurants as well as some of Nashville's best museums, parks, and galleries.
Residents of these neighborhoods benefit from world-class restaurants within walking distance and have direct access to all of the city's top shopping destinations. Living in the heart of Music City comes with some great perks; consider VIP tickets for shows at Ascend Flatiron Park as well as special offers from several businesses downtown. The attractions made available by this amazing location are certainly one of its greatest benefits!
The two-tower development of the Ritz-Carlton Hotel and Ritz-Carlton Residences Condo is just the beginning of incredible things to come to this location known as Korean Veterans Blvd. (KVB) Circle on 727 KVB Blvd. As a result of this addition to Downtown Nashville, many can expect an increase in tourism, economic growth in the area, and an even higher standard for what it means to live in the heart of one of America's most vibrant cities.
Surrounding Condo Buildings
The Carlton-Ritz Hotel and Ritz-Carlton Residences Condo development completely transform the landscape on Korean Veterans Blvd. As the two towers rise up, they symbolize an exciting new wave that vibrantly radiates throughout the area.
In addition to the Ritz-Carlton Residences, there are several other high-end condo buildings located in Downtown Nashville. These surrounding condo buildings also have their own unique style and ambiance that only help to make this area stand out even more. These include Adelicia Condos, The Cumberland, and Icon in the Gulch.
All three properties boast breathtaking skyline views right in the heart of Music City—picturesque vistas that will knock your socks off! Enjoy world-class restaurants and onsite amenities, as well as easy access to all parts of the city, all within steps of your front door. These premier living options provide convenience and style that you simply can't find anywhere else.
Adelicia Condos offer large living spaces with modern features and amenities including poolside cabanas, a fitness center with showers, and a private lounge. Residents enjoy living in the heart of Nashville within walking distance to some of the city's best restaurants, shops, and entertainment venues, making it easy to soak up all the culture Nashville has to offer.
View All Condos For Sale in The Adelicia >>>
The Cumberland is located next door to Adelicia Condos and provides access to the same amenities. It also offers high-end condos with modern features, spectacular views of downtown Nashville, two swimming pools, and a rooftop terrace. It offers contemporary units with modern amenities.
View All Condos For Sale in The Cumberland >>>
Icon in the Gulch is a newer development that features modern architecture and luxurious amenities such as a state-of-the-art fitness center, media room, valet, and concierge service. Offering amenities that are fit for royalty, living at Icon in the Gulch takes the city lifestyle to completely new heights. From hardwood floors to granite countertops, take advantage of all that downtown living has to offer right within your own home. Here, you'll also enjoy stunning views of Downtown Nashville.
View All Condos For Sale in Icon In The Gulch >>>
The Ritz-Carlton Residences, Nashville, along with the surrounding condo buildings, offers a unique living experience that is sure to please even the most demanding connoisseur of luxury. With world-class amenities and services, residents can live in comfort and convenience in the core of Downtown Nashville. Living in these luxurious condos in the central hub of Downtown Nashville offers a lifestyle unparalleled by other options. With easy access to all that Music City has to offer and convenient amenities, living in one of these buildings is the perfect way to embrace Nashville to its fullest!
From designer furnishings and spacious layouts to advanced smart technologies and an array of first-class amenities, these beautiful residences ensure top-of-the-line, luxurious living. With its stunning skyline views and unbeatable services, there is no doubt that the new Ritz-Carlton Residences will soon become one of Nashville's hottest addresses, and calling it home would most definitely be a privilege. So, what are you waiting for? You don't want to miss out on the chance to be part of this incredible community—The Ritz-Carlton Residences. Come experience Music City living at its finest!
Matt & his team have been serving Nashville and Middle Tennessee for over 10 years now. Matt and his team know what it takes to succeed in real estate! His ideas have been proven effective and have contributed to helping over 500 families in the greater Nashville area buy and sell their homes. The Matt Ward Group strives to provide you with the latest tools, knowledge, and advice about real estate in Middle Tennessee.