The #1 Neighborhood Guide For Nashville in 2021
Posted by Matt Ward on Friday, July 2, 2021 at 11:23 PM
By Matt Ward / July 2, 2021
Comment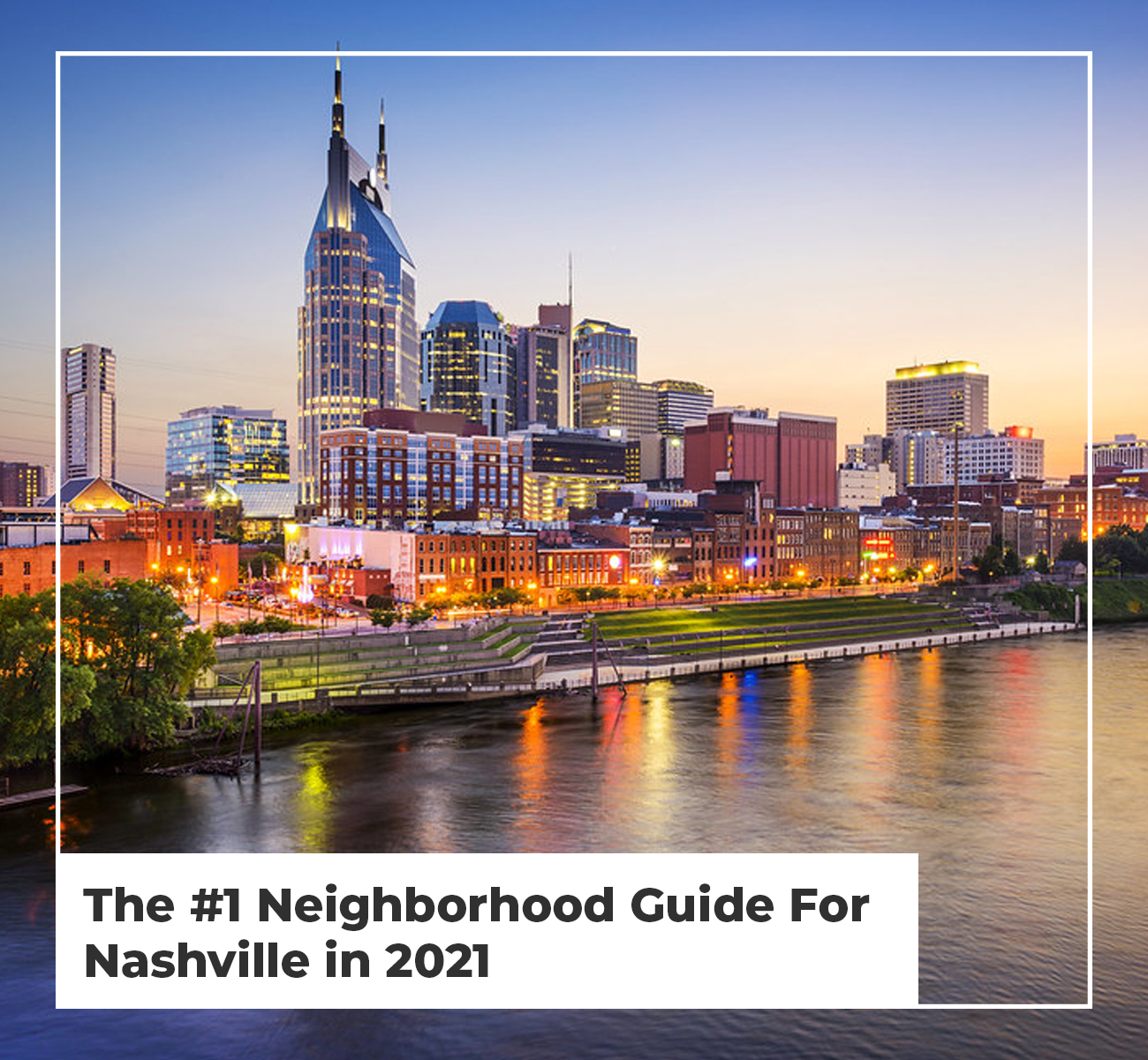 Nashville is one of the fastest-growing cities in the country and has become a popular tourist destination for many people from across the world. It comes alive all year round, not just in the concert season.
Nashville is the capital city of the U.S. state of Tennessee. This city has all the charm and history of the south paired with all the modern amenities you could want. Plus, Nashville has its style which has been described as spicy and easygoing.
Nashville used to be a small city until it annexed its suburbs in the 1940s. It is now a much larger city that stretches across six counties. There are so many districts within Nashville, and there is something for almost everyone.
Lower Broadway, The Gulch, and Germantown are famous neighborhoods. Belle Meade and West End are quaint villages. There is fast-paced downtown Nashville which is full of bars and nightlife. And there are quiet residential neighborhoods which give this city its character.
Nashville has an international airport that's always packed with happy people coming in to visit from around the world. The food scene here is excellent and eclectic, and it's worth taking some time to check out all the different restaurants. Music lovers will revel in visiting this place because musicians come from all over for its best-in-the-nation soundscapes. It is also well-known for the nightlife with excellent concerts and clubs around every corner.
Nashville is a wonderful city to visit when you're in the South because it has that Southern charm and hospitality that is so familiar from movies or books. It is a large city with a lot of neighborhoods. Let's delve into a comprehensive guide to the following neighborhoods in this vibrant city:
12 South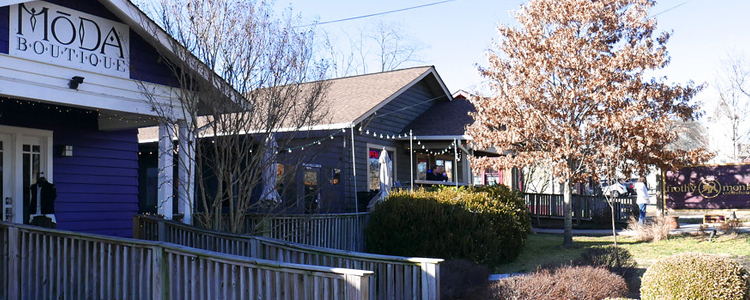 You'll find this area in the heart of the city with plenty of local shops and eateries to visit.
The 12 South neighborhood has incredible restaurants and nightlife venues in a good location. This neighborhood has a deep musical history as many famous musicians like Jerry Reed, Wayne Taylor, Tim Moore, and Dave Stamey grew up in 12 South. It's where they learned their trade, playing at clubs like The Bulldog and Juke Joint Lounge or at other great hangouts they frequented like Annie Mae's. Some famous country artists such as Ricky Skaggs, Dolly Parton, Zoe Milian, and Johnny Bush recorded their music in 12 South.
12 South is a happy blend of musicians and young families. Here you will find some delicious restaurants and late-night options. Shopping in 12 South is diverse in its offering, from modern to vintage.
Education
Both public and private schools are abundant in 12 South. Schools in the neighborhood are:
Carter-Lawrence Elementary
Rose Park Middle School
What's nearby
Belmont Blvd. is within walking distance from 12 South. However, to get to other areas of Nashville, a car is needed. Tucked away in a quiet neighborhood on the eastern edge of 12 South, and close to downtown, lies Sevier Park.
Real Estate in 12 South
The 12 South area is a convenient section of Nashville to live in because it's right in the center with easy access to everywhere you want to go. The average person who lives here has a household income of around $50,000, and there are homes for sale on the market with prices around $400,000. It may seem like a lot, but it's worth your money!
This neighborhood has been named one of the best places to live in America because it truly represents a good quality of life. The majority of the residents of 12 South live in houses on 12 Avenue. You will also find high-rise condos, renovated warehouses and older family homes.
Downtown
Downtown Nashville is the central business district of Nashville, Tennessee. Its borders are I-40 on the west, Shelby Street to the north and south, and Rosa Parks Boulevard to the east and west. Its boundaries have changed considerably over time as the city has grown. Downtown Nashville includes the following neighborhoods: SoBro, MetroCenter, The Gulch, Sylvan Heights, and The Nations, among others.
Downtown Nashville is a very walkable city center with lots of shops, galleries, bars, and restaurants to visit. There's always an interesting festival or concert happening here.
There are also many bicycle paths, trails, and green spaces for people who want to get out and exercise or take a quick trek through nature. Plus, you'll find that the people here are friendly, they're just glad you came to visit from around the world!
Education
The schools near downtown Nashville are part of Davidson County Schools. Schools in the neighborhood:
Hume-Fogg Magnet
Metropolitan Nashville Schools
Martin Luther King Jr. Magnet High School
What's nearby
Downtown Nashville is walkable and offers easy pedestrian access to the nearby neighborhoods of The Gulch, SoBro, Demonbreun Hill, and Midtown.
Real estate in Downtown Nashville
You can find everything from an apartment to a condo, with apartment buildings and high-rises making up the majority portion of real estate property.
East Nashville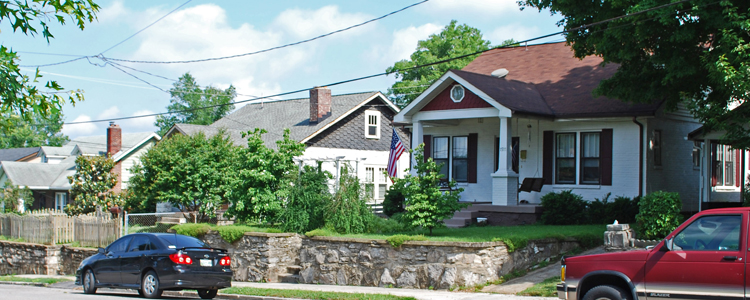 East Nashville is located on the east side of the Cumberland River, just south of downtown Nashville and north of Cool Springs. The area is home to many popular attractions, including the Tennessee State Capitol, The Parthenon, Old City Cemetery, and Jester Park.
With renovations changing this neighborhood over the last few years, East Nashville has everything to offer, from great arts to shopping. It's home to artists, musicians and great food. You'll enjoy dining in some outstanding restaurants found throughout this charming community, as well as bars such as The Five Spot Café, Tootsies Orchid Lounge, and Jackson Avenue Tavern, to name a few.
Education
Schools in East Nashville fall under the Metropolitan Nashville Public School District. Schools in this neighborhood are:
East Nashville Magnet School
Meigs Middle Magnet School
Warner Arts Magnet Elementary
What's nearby
The neighborhood is home to many great attractions, such as The Parthenon and the Tennessee State Capitol. It also has a beautiful lake for fishing that separates the neighborhood from West Nashville and East Nashville. It does require a little bit of a drive to get to other parts of the city, so be aware before settling in this beautiful neighborhood!
Real estate in East Nashville
The homes here that make up Five Points, Lockeland Springs, McFerrin Park, and Inglewood, the smaller communities of East Nashville, are known to date back to the early 1900s. Given East Nashville's proximity to downtown and the relatively low cost of living, it is an attractive option for many young professionals and musicians who have flocked there in recent years, thus contributing to the growing cultural diversity.
Germantown
Germantown is a historic neighborhood in the northeast section of Nashville, Tennessee. It is bounded by Centennial Park and Edgehill Road to the north, Fifth Avenue North and Martin Luther King Boulevard to the east, Interstate 24 to the south, and Interstate 65 to the west.
Over time, Germantown has become one of Nashville's more diverse areas, with many businesses and corporations located in this area.
Germantown is populated with lots of young people and professionals because it has an eclectic music scene. The city has some wonderful parks like Shelby Bottoms Park where you can play volleyball or go for a walk. You'll have the time of your life if you decide to move here.
Germantown is one of the oldest neighborhoods in Nashville, but it is going through a major re-development. As the name might suggest, one of Germantown's most well-known festivals is Oktoberfest. Here everyone gathers for all things German - beer, traditions, and music.
Germantown has some of the city's best restaurants, including some local favorites like City House, Rolf & Daughters, and Germantown Cafe. The night scene in Germantown is mild, with most restaurants closing by 10 pm. There are a few boutiques, including a local favorite- a women's clothing store named ABEDNEGO.
Education
Schools in Germantown are under the Germantown Municipal School District. Schools in the neighborhood:
Chesterbrook Academy Preschool
Seneca Valley High School
Kingsview Middle School
What's nearby
People who live in Germantown also love being near attractions such as the Nashville Farmers' Market, the Tennessee State Museum, and the local state park Bicentennial Capitol Mall State Park. Here you can hike, bike, and learn from the historic monuments. Alongside Germantown, you have Jefferson Street and Fisk University area, home to the Tennessee State University.
Real estate in Germantown
Germantown's historic districts offer many beautiful homes. The Germantown neighborhood has a wide variety of housing options for all lifestyles. These include upscale historic homes to smaller occupied single-family homes, townhouses, duplexes, and low-rises.
Hillsboro Village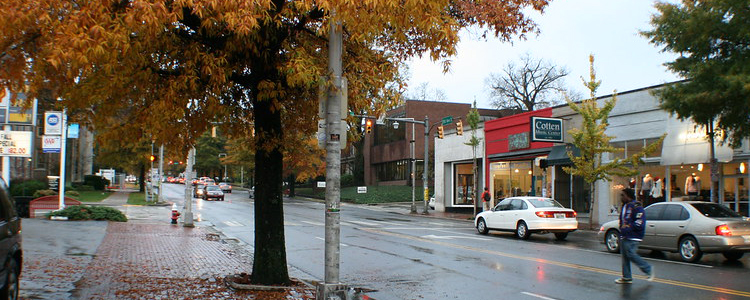 The Hillsboro area has become a popular location to live in and is now one of the fastest-growing residential areas. As well as being so close to Downtown Nashville and Vanderbilt University & Medical Center, this area is home to many businesses as well, which contributes greatly to its quality of life.
The city of Hillsboro has a population of 19,305. Hillsboro is a great place to live and raise a family. You'll love all the eateries and shopping venues on Hillsboro Pike and the surrounding areas. It's also easy to get around, so you can go shopping, see a show, or dine out pretty much anywhere in Nashville without too much hassle.
Hillsboro Village is a family-friendly neighborhood with young families and college students. Possibilities are endless with bars, restaurants, and shops.
Education
Schools in Hillsboro fall under the Hillsboro School District. Schools in the neighborhood:
The Goddard School of Hillsboro
Eastwood Elementary School
Brookwood Elementary School
Poynter Middle School
City View Charter School
Glencoe High School
What's nearby
Within Hillsboro, you will find ample food places to enjoy, with over 20 restaurants and bars. Belmont University and Vanderbilt University surround Hillsboro.
Real estate in Hillsboro
Hillsboro Village has many property options to choose from: apartments (no high-rises), townhomes, houses, and duplexes.
Madison
Madison is a neighborhood in The Gulch area of Nashville, Tennessee. It is located south of the Central Business District and north of Highway 100, where it borders Hillsboro Road, between Belle Meade and Green Hills.
Education
Madison schools fall under the Metropolitan Nashville Public School District. Some schools in this neighborhood:
Hunters Lane High School
Madison Middle Prep
Goodpasture Christian School
Madison Academy
Saint Joseph School.
What's nearby
There are three parks in the vicinity, Madison Park, Peeler Park, and Cedar Hill Park. Another great source of recreation for the community is Rivergate Mall, with over 200 stores. Two attractions not to be missed are the Country Music Hall of Fame and Music City Walk of Fame Park. Madison is home to the Nashville National Cemetery, where soldiers from the Civil War period have found their resting place.
Real estate in Madison
Madison has affordable housing in the form of single-family homes. Many of these homes were built in the late twentieth century, but you will now also find newer developments with stylish modern features that are moderately priced.
Green Hills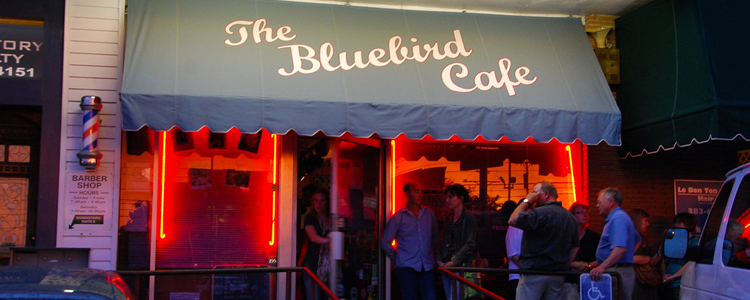 At the beginning of the 20th century, Green Hills was farmland. Over time, this area turned into an upper-middle-class neighborhood. The Green Hills Historic District was designated in 1979 and with more than 50 homes from the mid-19th century that have been refurbished into architecturally distinctive residences.
Green Hills makes up a large area of Nashville. Here you will find affluent boutiques, stores, and restaurants. One such shopping mall is The Mall at Green Hills housing over 100 upscale brand-name shops, including Louis Vuitton, Burberry, Jimmy Choo, Tiffany & Co., and many more. The majority portion of the population of Green Hills is wealthy, however, you will still see many families and posh young singles around.
Education
Green hill has some private schools in town and superb public schools. Some schools in the neighborhood:
Lakeview Elementary School
Hutchison School
Mt. Juliet High School
W.A. Wright Elementary School
East End Preparatory School
What's nearby
Green Hills is ideally located from Downtown, only 6-miles away. Green Hills has many popular attractions. One is the Bluebird Cafe. It has seating for 100 people and has some big names attached. Believe it or not, artists such as LeAnn Rimes and Taylor Swift have both performed there. Woodmont Park is another gem of this neighborhood. It features playgrounds, walking paths, and a tennis court.
Real estate in Green Hills
Living options include high-income single-family homes, condos, and apartment complexes. Home prices start in the $300,000s.
The Gulch
The Gulch is a neighborhood found in downtown Nashville. Located between 5th Avenue and Church Street, the area is home to many bars and restaurants, such as the Hard Rock Cafe, Tootsies Orchid Lounge, and the Tin Roof bar. Broadway runs through this area and is lined with restaurants and bars alike.
The Gulch went from industrial to urban. The neighborhood originates from the construction of two railroad tracks in 1869 that ran from Union Station to St. Elmo along 10th Avenue South called "The Gulch" which was a commercial railroad that served as Nashville's main freight transport until they removed the tracks in 1965.
Located south of downtown, many people don't see it as separate from the downtown action. The neighborhood is trendy, boasting attractions such as Mercy Lounge, Station Inn, and top restaurants. Frist Art Museum is another attraction worth seeing, established in 1904 as the private art collection of Allison Francis and Anna Claypoole Vanderbilt.
The Gulch is also a haven for outdoor enthusiasts who prefer to walk to nearby restaurants, bars, shops, and concerts. There are new paths for biking and walking which encourages active outdoor lifestyles.
Education
Schools in Gulch:
Hume-Fogg Academic Magnet School
Martin Luther King Jr. Magnet High School
Meigs Academic Magnet Sponsored
St. Francis of Assisi Catholic School
What's nearby
The Gulch is even closer to downtown-two miles north. It is also a stone's throw away from Music Row. Music Row is a small section of downtown Nashville, where you will find music businesses. The name came to be used in the 1960s to describe the country music industry based along 16th Avenue South. The use of the term "music row" has evolved to include other businesses involved in the country and gospel music industry in Nashville.
Real estate in Gulch
The Gulch is a LEED-certified community. Property here is predominately high-rise apartments and luxury condos. The location makes this prime property with shopping and dining at your feet.
West End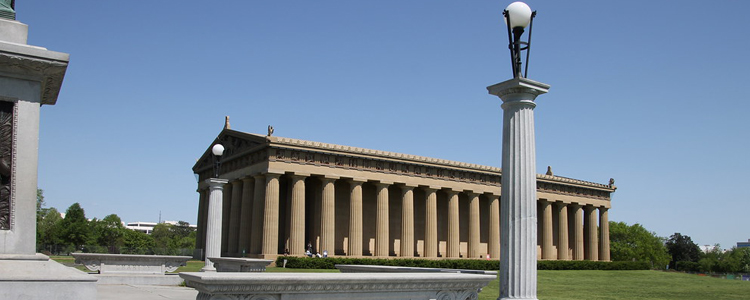 Nashville's West End is a historic neighborhood located in north Nashville. If you want to experience some of the best original Southern cultures, the West End is the place to be. With Civil War sites and places of interest, you are sure to find something that excites you here. Hiking mountains and peaceful rivers make this area some of the most peaceful in all of Nashville. There are so many things to do that it's hard to choose just one.
Elliston Place is a part of West End and is a street right next to Five Points. It spans from Porter Road to Gallatin Pike. The Elliston Place Artists Cooperative, or EPAC, is a shopping center located within the Elliston Place neighborhood Elliston Place.
The neighborhood of Elliston Place has many great shops and restaurants that all have their unique flare. There is even a museum in the area that many visit just for the artwork. It's one of those areas where you're always sure to find something new and exciting no matter how often you come back.
Education
West End schools are part of the Davidson County School District. Schools in the West End include:
Eakin Elementary School
West End Middle School
University School of Nashville
What's nearby
A few attractions are branching off the west end, and the most noteworthy are the Parthenon and Centennial Park. Surrounding neighborhoods are Midtown and Sylvan Park. Vanderbilt University, several hospitals, major medical centers, and corporate offices are all found within the West End neighborhood, motivating several hotels and chain restaurants to establish themselves there.
Real estate in West End
Living options on West End are primarily apartments and condos perfect for singles looking for a shorter commute and less maintenance. Residents here are mainly well off.
Belle Meade
Belle Meade is one of the most sought-after neighborhoods in Nashville. This neighborhood boasts a rural setting, home to Nashville's finest residences and its neighborhood park with walking trails around a lake.
The former Belle Meade Plantation (Blevins House), a Greek Revival home built by James Blevins, is located in the neighborhood. It was built for his daughter Mary and her husband William Giles Harding (1825-1876), who served as Governor of Tennessee from 1868 to 1871 and later ran Vanderbilt University for 17 years from 1872 to 1885.
Historic Belle Meade is home to the Civil War Museum and Vanderbilt University's Brooks Museum of Art.
Education
Belle Meade schools are part of the Metropolitan Nashville Public Schools District. Schools in Belle Meade include:
Harpeth Hall School
Covenant School
Green Julia Elementary School
What's near
Its boundaries are Elliston Place to the north, Harding Road to the west, Briley Parkway to the east, and Hillsboro Pike to the south. It includes Turner Field Park as well as banks of the Cumberland River and many shops and restaurants. The Belle Meade Country Club is one of Nashville's most exclusive clubs.
Real estate in Belle Meade
Belle Meade is a community of historic houses built in what is now considered a traditional or classical style and located on large lots among trees of varying species. This neighborhood contains many homes built during the 1920s-1950s with historic architecture that appeals to buyers of all ages.
This incredibly well-looked-after community offers elegant townhomes, spacious single-family homes, and luxury condominiums to the affluent that are unique in their ambiance as well as their setting. Home prices here can reach upwards of $1 million. Belle Meade Plantation and Cheekwood are historic mansions still there today.
Matt & his team have been serving Nashville and Middle Tennessee for over 10 years now. Matt and his team know what it takes to succeed in real estate! His ideas have been proven effective and have contributed to helping over 500 families in the greater Nashville area buy and sell their homes. The Matt Ward Group strives to provide you with the latest tools, knowledge, and advice about real estate in Middle Tennessee.
Homes For Sale in Nashville, Tenessee