Moving To Nashville Guide: 25 Things You Need To Know
Posted by Matt Ward on Monday, July 5, 2021 at 10:26 PM
By Matt Ward / July 5, 2021
Comment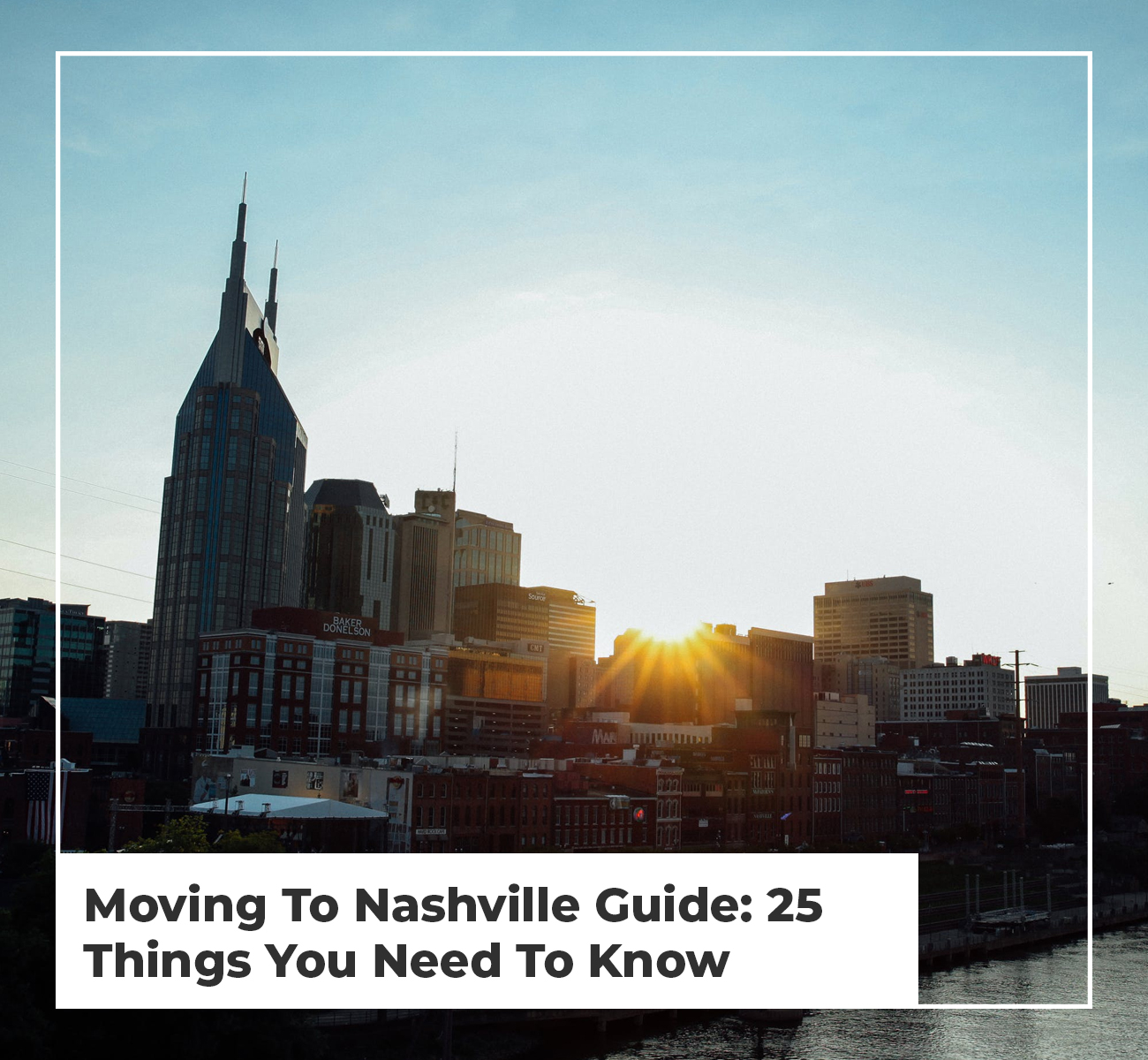 Nashville has become the fastest-growing city in all of Tennessee. With a population of approximately 694,145, the city has grown by more than 12% since 2010. People have begun to flock to the area to take full advantage of the abundant job market, affordable housing, and exceptional quality of life!
Moving to any new city is a major decision that requires much consideration and preparation. It's always best to do your research first, get familiar with the area, look into all of your options, and understand what is drawing you to the area. If you're thinking of joining the droves headed to this exciting city and moving to Nashville yourself, there are a few things you'll want to keep in mind before you pack your bags.
1. Nashville Lives Up to its Nickname

Nashville is famously known as the Music City and has definitely earned this title. Not only is this colorful city the place to go to enjoy live performances (at every corner!), but it's also famous for producing some of the top artists in the music industry.
Although the most popular genre in Nashville is country music, a wide variety of tunes have come from this vibrant location! Everything from rock to jazz to classical can be found among the aspiring artists in the city. Big events, such as Bonnaroo or the Country Music Awards, as well as smaller venues, such as bars and cafes, provide ample opportunity for residents and visitors alike to take in a live performance by top names in the industry as well as local talent.
2. So Much More Than Just Music
While the city is definitely most recognized as being a musical hot spot, the artistic culture is incredibly diverse. The First Center for the Visual Arts hosts a multitude of films and art classes. The Cheekwood Art & Gardens is a combination museum, sculpture, and botanical garden showcasing some beautiful natural scenery. Nashville's First Saturday Art Crawl offers the opportunity to venture through a variety of eclectic galleries featuring all styles of amazing artwork!
Along with visual artwork, locals can also enjoy vast amounts of performance art. Whether it's live theatre, indie films, or poetry readings that piques your interest, you're guaranteed to find something to suit your preferences in this artistic and cultural city!
3. It's a Hot and Competitive Market
Nashville is one of the top locations right now, and plenty of people are deciding to pack up and head to the vibrant city. On the one hand, this will provide you with ample opportunity to meet new and interesting people, but it also means that the demand for apartments and houses are skyrocketing, driving up the price to live in the area.
The growing culture and job market has caught the eye of a diverse group of people looking for new opportunities. Nashville is no longer just for those hoping to make it big in the music industry. In recent years, major tech companies have taken up residence in the city, as well as college students and young families alike. There is a true mix of demographics found within this incredible area.
4. A Diverse City Welcoming All From Near and Far
Nashville has been extremely welcoming to refugees from around the world and has a long history of welcoming newcomers from all backgrounds. The good people of Tennessee have made it clear that there is a place for everyone in this diverse and cultural city.
The foreign-born population of Nashville nearly tripled between 1990 and 2000. Over the last decade, that number has doubled and immigrants and refugees make up approximately 12% of the city's population. People will come from all over to take advantage of the healthy job market, the relatively low cost of living, and the friendly atmosphere.
5. Excellent Schools In Both City And Suburb

Families who reside in Nashville can't stop singing the praises of the local school district. Nashville Public Schools provides education to students in kindergarten through 12th grade who reside within the city as well as the surrounding rural area.
The schools found within the Nashville Public School Board include:
Nashville Primary School—prekindergarten through 3
Nashville Primary School—4 through 6
Nashville Junior High School—7 through 9
Nashville High School—10 through 12
6. As Well As Post-Secondary Options
While Nashville isn't defined as a college town, there are definitely plenty of options for post-secondary education within the city. Local universities include:
Vanderbilt University
Tennessee State University
Lipscomb University
Belmont University
Fisk University
These institutions provide ample opportunity for both education and employment. Students can find an abundance of student housing along with a plethora of amenities within walking distance, and the number of schools offers a multitude of employment options for teaching professionals and copious other working professionals.
7. Where Else Will You Find an Exact Replica of the Parthenon?
It may come as a surprise, but Nashville is home to a full-scale replica of the Parthenon found in Greece, the only exact replica found in the world. Located in Centennial Park, this grand attraction is a major draw for locals and visitors alike to marvel over and is also complete with a replica of the 42-foot Athena statue found in the original structure.
While Greece's version has been around since 432 BC, Nashville's version was constructed much later on, in 1897. The building is home to sixty paintings by American artists and features rotating exhibits. Guided tours are available to enjoy the beauty of these unique artworks.
8. A Budding Technical Hub
There are constantly new and exciting enterprises popping up within Nashville, most common in recent years are tech companies. The city's tech scene is established enough to provide stability within the industry, but isn't quite as intimidating and competitive as areas such as Silicon Valley.
The Nashville Technology Council is dedicated to promoting tech in the city. There are also plenty of educational opportunities in the tech industry including the Nashville Software School, where students can train in software development.
9. We Take Our Whiskey Seriously
Everybody has heard of Jack Daniels Tennessee Whiskey. This popular beverage is aged and distilled in the heart of Tennessee and travels all over the world.
Among that most famous name are plenty of other exceptional whiskey brands and locals can get a taste for all of them through distillery tours, walking tours, and sitting down for a drink at the local bars.
Some of the top Nashville distilleries include:
Corsair Distillery
Nelson's Green Brier Distillery
Nashville Craft Distillery
Prichard's Distillery at Fontanel
Pennington Distilling Company
With so many fabulous establishments, it's plain to see that whiskey is something that Nashville is definitely dedicated to!
10. As Well as Our Beer

If hard liquor isn't your game, the city is also home to plenty of lighter brewing companies. Craft beer has become a big deal in Nashville and plenty of the local restaurants stock their bars with unique drafts found only within the boundaries of the city.
Here is just a sample of some of the breweries found in Nashville:
Bearded Iris Brewing
Diskin Cider
East Nashville Beer Works
Fat Bottom Brewing
Honky Tonk Brewing Company
New Heights Brewing
Southern Grist Brewing Company
Tennessee Brew Works
Yee-Haw Brewing Company
11. History All Around
History buffs will take great delight in the sites in and around Nashville as the area is completely steeped in history. Everything from civil rights walking tours to following the footsteps of some of the greats such as John Lewis, highlighting the sites of famous sit-ins and historical milestones can be enjoyed in this fantastic city.
Other popular historical landmarks include the Belle Mead Plantation, which is just a short drive from the downtown core of Nashville, as well as tour The Hermitage, the residence of Andrew Jackson.
12. A Love of Parks and the Great Outdoors
Nashville is a great place to get out in the fresh air and commune with nature! There are opportunities all over the city to enjoy the beautiful Tennessee sunshine at numerous parks, hiking trails, and recreation areas. From urban parks to spacious trails winding throughout the forest, city-dwellers can enjoy all the perks of the great outdoors within the heart of the city.
If you're seeking out a peaceful and scenic hiking path, try out Radnor Lake State Park, Shelby Bottom, or the Warner Parks. These beautiful destinations are all chock full of towering trees and a variety of native flora and fauna and collectively make up more than 4,000 acres of parkland.
Centennial Park is the city's Central Park, found just west of Downtown Nashville. With 132 acres of land, this smaller park offers walking trails, historical monuments, a dog park, volleyball fields, and so much more!
13. Google Fiber Speed
Google Fiber has arrived in Nashville! Locals can enjoy incredibly fast internet speeds and smooth connections. This is particularly helpful to those who work remotely and rely on a reliable internet connection.
Nashville's growing tech scene has definitely benefited from this new and improved internet option. Areas surrounding Nashville are also able to take full advantage of Google Fiber including Forest Hills, Oak Hill, Berry Hill, Belle Meade, and every city within the greater Nashville area.
14. Relaxing and Stunning Riverfront Views
Waterfront properties may be more associated with cities along the East or West Coast, but landlocked Nashville is home to some stunning views along the river. West Riverfront Park is an excellent example of this. The eleven-acre public park is complete with an incredible outdoor amphitheater, a popular spot for exciting live performances, as well as a dog park, play area, and walking trails. All of this along a scenic and tranquil river.
15. Late Night Amenities Abound

As Nashville is home to a large college-age population, it's the perfect spot for a collection of bustling bars and nightclubs. The lively nightlife scene is a huge draw to Nashville residents and is, of course, largely driven by music.
Many of the bars in the area feature live music regularly, performed by local and up-and-coming talent. It's a great way to hear the latest in the music industry and socialize with a vibrant community. There's also a wide variety of options to suit all preferences including rooftop bars, wineries, karaoke bars, and hopping dance clubs.
16. The Surrounding Area is Not to be Overlooked
The outskirts of Nashville is just as exciting and impressive as the heart of the city. The beautiful countryside offers plenty of space for large homes situated on spacious plots of land, active locals can explore the forests and vast landscapes, and the peace and quiet found outside of the city is perfect for those looking to get away from the hustle and bustle of the thriving city nearby.
Just because the area is found along the borders of the city, doesn't mean there aren't fantastic amenities found in the surrounding area. There are plenty of vast wineries that hold tours and tastings and historic towns full of a small-town charm that just isn't the same in the larger cities. Anyone who resides in Nashville will benefit from venturing out into the surrounding area!
17. Expect to do Plenty of Driving
The city has definitely strived to improve the quality of public transportation, but they're not quite at the standards of other major cities. To make things easier, most locals choose to simply drive here and there to get where they need to be. On the plus side, Nashville has some of the smoothest traffic when it comes to major roadways and highways.
Approximately 91% of Nashville residents reportedly rely on their own vehicles to get around, not only within the city, but to venture out into the surrounding cities as well! Interstates 65 and 24 will take locals south to explore places such as Birmingham or Atlanta, which are both within hours of the city. To the north, those highways will bring you to Louisville or St. Louis, offering plenty of variety and options for day-trips.
18. Ample Job Opportunities for All Career Paths
Not only does Nashville offer seemingly endless possibilities for those relocating, but the foreseeable future predicts continued growth when it comes to the job market. There are dozens of career paths to choose from, including, of course, opportunities in the music industry, the tourism sector, growing tech industry, and countless service jobs.
Some of the largest employers in the city include Bridgestone Americas, Asurion, Dollar General, and Vanguard Industries. All of these major companies are headquartered within Nashville. Anyone looking to move to this booming city will likely have no problem finding work.
19. The Biggest Industry is the Best
Of the many thriving industries located in Nashville, one of the biggest is healthcare. Many healthcare professionals have recently relocated to the city due to the abundance of available jobs and to take advantage of the exceptional facilities located there. More than ten percent of the entire population works in a field that is somehow connected to healthcare.
20. Beautiful Weather All Year Round

Locals are able to enjoy the many parks and outdoor amenities all year long! The average year-round temperature in Nashville is about 60°F. The winters are kept short and quite tolerable and spring and fall in the city are long and beautiful seasons. When it comes to summer, Nashville isn't quite as unbearable as other southern cities. Whether you're looking to sit out on a patio to enjoy a few drinks with friends or visit the outdoor amphitheater for a concert, you'll be able to do so any time of the year!
21. Though You'll Need to Learn to Embrace the Humidity
While the average temperature sits around 60°F and most of the year boasts pleasant weather, you will need to brace yourself for a humid summer. While it's not quite to the heights of tropical, you will definitely notice a change when it gets really hot in the city. With the humidity factored into the climate, summer temperatures can reach the low eighties and low nineties.
22. You'll Have Your Choice of Exceptional Neighborhoods
One of the hardest decisions to make when you move to Nashville is where exactly you'll choose to create your new home. The city boasts a collection of phenomenal neighborhoods made up of a mix of unique architecture and housing varieties.
Whether you're considering renting or owning, you'll have a fantastic selection of neighborhoods to choose from. Some of the most popular and top-ranking communities in Nashville include:
West End Park
Vanderbilt-Midtown
23. Never-ending Fun and Excitement to be Had
No matter the age, Nashville residents of all ages can find a number of fun and exciting activities all throughout the city. Whatever hobby piques your interest, whether it be books, movies, music or something a little more active such as fishing, jogging or dancing, you can bet that you'll be able to find a group or program that caters to your specific hobby of choice.
The Downtown core is lined with eclectic shops and boutiques to browse as well as a plethora of restaurants, bars, and nightclubs to keep the fun going all night long. If an escape to the great outdoors is what you look forward to on the weekends, Nashville has that covered, too! Many parks, hiking trails, and campgrounds can be accessed within the city and close by. There truly is something for everyone in Music City!
24. For the Love of Chicken
Nashville is known for several things; if it's not the exceptional music and beautiful art, it's the chicken! Hot chicken is a staple in the city, a delicious dish of fried chicken complete with a spicy paste, often made from lard and plenty of cayenne peppers.
If you're not used to such a heated palette, you'll need to work up to the popular dish because once you've tried it, there's really no other way to do fried chicken! You can find this spicy delight on just about every menu throughout the city and you'll be able to quickly make up your mind about the place that does it best.
25. Nashville Sports

Sports lovers will rejoice in the multitude of professional and college-level teams that play in Nashville. There are two professional teams, the Tennessee Titans (NFL) and the Nashville Predators (NHL) that hail from the city.
Vanderbilt is a D1 university with the Commodores competing all across the country. No matter what sport you fancy, baseball, football, basketball, there's no shortage of exciting opportunities to get involved in and cheer on throughout the year.
Whether you want to go watch the pros or check in on the local aspiring talent, Nashville has plenty of sports options to enjoy!
Moving to a new city is a major decision, one that takes plenty of research and consideration. Moving to Nashville, Tennessee, is no exception. However, the decision to move to Nashville is made easier by the amount of incredible amenities, diverse housing options, and welcoming communities found all throughout the city! From the thriving job market to educational possibilities, it's not hard to understand why so many people have chosen to settle down in the phenomenal Music City!
Matt & his team have been serving Nashville and Middle Tennessee for over 10 years now. Matt and his team know what it takes to succeed in real estate! His ideas have been proven effective and have contributed to helping over 500 families in the greater Nashville area buy and sell their homes. The Matt Ward Group strives to provide you with the latest tools, knowledge, and advice about real estate in Middle Tennessee.
Homes For Sale in Nashville, Tenessee