Moving To And Living In Spring Hill, TN: The Definitive Guide
Posted by Matt Ward Website on Monday, May 23, 2022 at 9:33 AM
By Matt Ward Website / May 23, 2022
Comment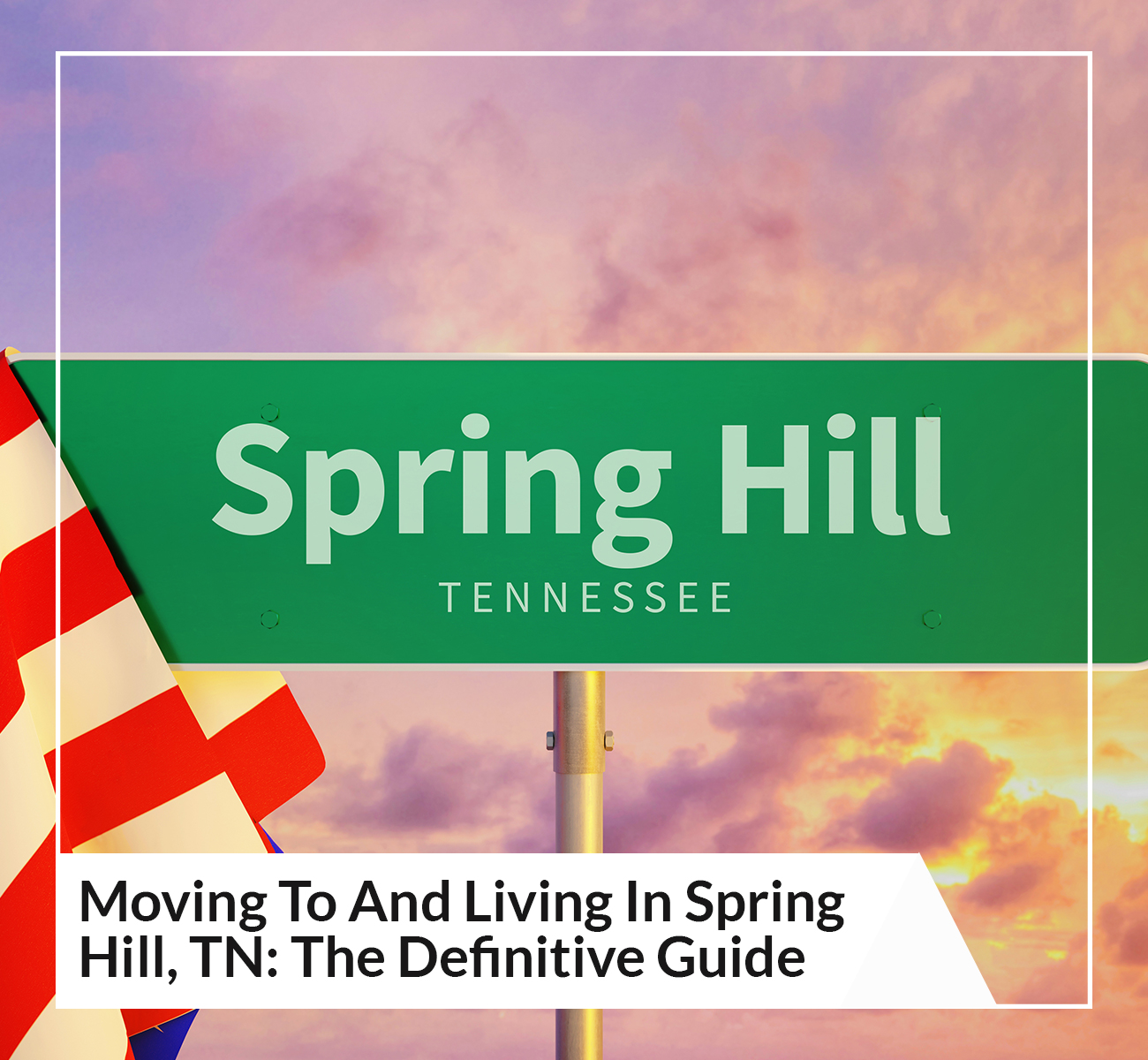 More and more people are considering moving to and living in Spring Hill, TN. If you find yourself being one of them, and are looking at what is drawing buyers to the community, you are in the right place! Spring Hill, TN is a dynamic and growing city that ideally balances the excitement of nearby Nashville with the calm and quiet that many buyers are pursuing.
In this guide, we will look at all the great features and amenities offered to those who are toying with the idea of moving to and living in Spring Hill, TN. Regardless of if you've been considering it for a while, or just starting your search, this guide will give you the inside scoop of everything that makes Spring Hill, TN a fantastic place to live!
A Rich History
From rural nothingness to one of the state's fastest-growing cities, Spring Hill has a rich history. While first stumbled upon in 1808, and established a year later, the city didn't take off until much later.
During the Civil War era, Spring Hill struggled with occupations from both Union and Confederate armies. A prelude to the famous Battle of Franklin, which took place in Franklin, TN, Spring Hill was the site of the battle of Spring Hill which took place on November 29, 1986.
Post Civil War, Spring Hill had much rebuilding to do as much of the city was destroyed by either fire or tornado. However, proving as resilient as ever, the community grew despite the difficulties and became known nationally for rolling pastures, strong agricultural industry, and its commitment to an exceptional education.
Fast forward to the 1980s and Spring Hill, TN transformed itself from a town known for agriculture to a manufacturing hub. Anchoring the growth of its economy to the General Motors Saturn plant, Spring Hill's population rapidly expanded. Though met with some hesitation from residents, newcomers also brought with them a vibrant and revitalized attitude that propelled the town forward.
Today, Spring Hill eagerly embraces advancement, as well as anyone who chooses to call their community home. With a staggering 278% growth rate from the years 2000 to 2010, Spring Hill continues to be a highly sought-after city.
Living in Spring Hill
If you have been wondering what it looks like to live in Spring Hill, TN, then you are in the right place. At the heart of Spring Hill is its friendly and welcoming community. Although still very much a small town, Spring Hill offers an array of exceptional amenities including top-notch schools, an active community, and a variety of outdoor activities.
A Snapshot Of The Population:
As of the 2020 United States Census, there are approximately 50,000 people who are lucky enough to call Spring Hill home. Of them, roughly 1/3 are residents under the age of 18, with the bulk of the population falling between 18 and 64 years old.
Boasting high livability, reasonable real estate prices, an affordable cost of living, and low crime rates, it is easy to understand the community's recent growth rates.
Despite its rapid growth, Spring Hill manages to keep true to its small-town roots and maintains a thriving community that is welcoming of newcomers. As Nashville continues to expand, so does Spring Hill's role as an ideal companion city.
Real Estate in Spring Hill
When considering moving to and living in Spring Hill, TN, or any area for that matter, one important aspect to research is housing. How much will it cost? Is there a healthy market? Are there enough options to choose from?

Prices and Availability
Prices have seen a slight uptick in recent months and are expected to continue to grow as the city's popularity does.
Much of the real estate for sale in Spring Hill is made up of beautifully crafted single-family detached homes, however, there are options for space-saving townhomes, low-maintenance condominiums, and more.
Spring Hill, TN offers a wide assortment of styles and sizes in terms of real estate options. From stately historic homes to newly constructed modern abodes, there is something for every buyer.
In a competitive market, homes for sale in Spring Hill, TN don't last long. And, if you haven't already learned why by the end you will know exactly why!
Best Neighborhoods in Spring Hill
The city of Spring Hill, TN is made up of a collection of unique and diverse neighborhoods. Whether you are looking for a quiet suburban area, a walkable downtown district, or a friendly community with loads of amenities and activities, there is surely a neighborhood that fits your needs.
Dakota Point
This neighborhood is surrounded by award-winning schools. The homes in the southeast region of Spring Hills were built around 2000 and consist mostly of single families, condominiums, or lofts with some townhouses mixed into this popular area.
Arbors at Autumn Ridge
A custom, single-family home development, Arbors at Autumn Ridge is nestled off of Wilkes Lane. Popular area builders who contributed to the development of the community include Clark Custom Homes and Landmark Homes. Offering expansive properties and well-crafted estate-style homes, Arbors at Autumn Ridge continues to be one of the city's most sought-after neighborhoods.

Winstead Manor
A Grandview Custom Homes development found near Harvey Park, Winstead Manor features beautifully cared for single-family homes. Located in an excellent school district, families with students are attracted to the neighborhood.
Brixworth
Brixworth is one of Spring Hill's finest neighborhoods and can be located off Buckner Road. Comprising single-family detached homes, Brixworth residences enjoy spacious lots. Constructed by Pulte Homes, Celebration Homes, and Goodall Homes, Brixworth is encompassed in the highly-ranked Williamson County School District.
Whispering Woods
Found near Kings Creek Golf Club, Whispering Woods is a quiet residential subdivision made up of modestly sized single-family homes. Offering affordable real estate in an excellent neighborhood, Whispering Woods is a popular choice for many buyers.
Things To Do
There are plenty of things to keep one busy throughout Spring Hill and surrounding areas. With a healthy mix of outdoor recreation, dining, and shopping experiences, there is something for everyone in the city.
Outdoor Recreation
Spring Hill is filled with and surrounded by many beautiful parks, open green spaces, and recreation opportunities. The city is home to five parks which are expertly cared for by the Parks and Recreation Department.
Harvey Park
Centrally located in the city, on Miles Johnson Parkways, Harvey Park offers recreational facilities such as a well-equipped playground, picnic pavilion, walking trails, and restrooms. The park also hosts the Spring Hill Farmers' Market which runs between May and September annually.
Evans Park
Evans Park is found off of Maury Hill Street and features a playground, picnic pavilions, restrooms, and baseball diamonds. Furry friends can also enjoy Evans Park which offers an off-leash dog area.
McLemore Park
Though a small, pocket park, McLemore Park has a lot to offer. The neighborhood park features playground equipment, a picnic area, benches, grills, and basketball courts. McLemore Park is found at the corner of McLemore Avenue and Old Kedron Road.
Fischer at Port Royal
Spanning 30 acres, Fischer at Port Royal is the city's largest park. Residents can enjoy many features which include an ADA-compliant playground with padded artificial turf, an interactive splash pad, bike trails, a basketball court, walking trails, a concession stand, and much more.

Walnut Street Skate Park
Situated on Walnut Street, as the name suggests, Walnut Street Skate Park is the city's first skate park. The skate park is open to both BMX riders and skateboarders and has various concrete ramps, half pipes, quarter pipes, and grind rails.
Shopping in Spring Hill
Shopping in Spring Hill is plentiful and convenient. The city's main shopping district can be found on Main Street which is lined with many local businesses.
The Crossings of Spring Hill
For those looking for more traditional retail experiences, The Crossings of Spring Hill is the city's go-to shopping mall. The Crossings features over 85 retailers which is a healthy mix of popular stores and unique boutiques.
Spring Hill Antiques Mall
There are scores of stalls at Spring Hill Antiques Mall, each one specializing in a different type or style. You'll find everything from antique furniture and collectibles to unique gifts for that special someone!
Downtown Spring Hill
Downtown Spring Hill is the perfect place to find one-of-a-kind experiences. The downtown area is filled with local businesses such as cafes, restaurants, bars, shops, and more.

Dining in Spring Hill
The city of Spring Hill boasts many excellent dining experiences. From family restaurants to upscale eateries, there is something to suit every taste. Whether you are looking to catch up with friends in a lively atmosphere or enjoy a quiet, intimate occasion, Spring Hill's dining scene offers plenty of choices. Some of the best options found in Spring Hill are:
Tito's Mexican Restaurant
Tito's is the go-to spot if you are craving fresh and delicious Mexican eats. Part of an award-winning locally-owned group of restaurants, Tito's prides itself on using only the freshest ingredients in all of its dishes.
BoomBozz Craft Pizza & Taphouse
As the name suggests, BoomBozz is all about great craft beer and pizzas. The restaurant has an extensive menu of both wood-fired and traditional pizzas as well as a rotating selection of over 50 different beers on tap.
Martin's Bar-B-Que Joint
Beginning their days at 5 AM to get meat on the smokers, the team at Martin's knows a thing or two about quality food! The menu features all of the classic barbecue staples as well as some unique offerings.

Excellent Educational Opportunities
Spring Hill technically falls within two different counties - Maury County and Williamson County. As such, the student population is served by both school districts. Regardless of which county you live in, there are many excellent educational opportunities available to residents of Spring Hill.
Maury County Public Schools
The Maury County school district serves the majority of Spring Hill students. The district operates 11 elementary schools, 5 middle schools, and 3 high schools.
Williamson County Schools
A small portion of Spring Hill students are served by Williamson County Schools. The district has a total of 51 schools which include 28 elementary schools, 10 middle schools, 11 high schools, and 2 K-8 schools.
The city of Spring Hill has a variety of schools to choose from. There are 14 public schools in the city, including some high-ranking ones in Tennessee; however, three privately run options exist as well with one being an academy that offers religious-based education.

Art and Culture
For those who crave art and culture, Spring Hill delivers with its myriad of museums, nearby art galleries, and historical landmarks. What can't be found in Spring Hill, which is not much, can be located in nearby Nashville, which is known for its extensive music and cultural scene.
Rippavilla Plantation
Preserved from its times in use during the Civil War, the Rippavilla mansion and surrounding 98-acre plot of land is now a museum and event venue that is open to the public.
Fort Nashborough and Fort Negley
Falling just thirty minutes north of Spring Hill, both Fort Nashborough and Fort Negley transport visitors back in time. Open to the public, Fort Nashborough is a reconstruction of an original settlement, while Fort Negley is a semi-restored Civil War battle fort.
The Hermitage
Former home of the 7th President of the United States, Andrew Jackson, the Hermitage is one of the largest Presidential homes in history. This plantation-turned-museum offers tours and public viewing.
Tennessee State Museum
Located in nearby Nashville, the Tennessee State Museum is an educational institute boasting extensive exhibits and artifacts. Learn all about the great state's history, from prehistoric to the modern-day.
If you are considering moving to or living in Spring Hill, TN, this guide provides an overview of some of the things you can expect. From great educational opportunities to a variety of dining options and art and culture, Spring Hill has something for everyone. If you have any questions about specific aspects of life in Spring Hill, please don't hesitate to reach out to us for more information. We're here to help you make the most of your move!
Matt & his team have been serving Nashville and Middle Tennessee for over 10 years now. Matt and his team know what it takes to succeed in real estate! His ideas have been proven effective and have contributed to helping over 500 families in the greater Nashville area buy and sell their homes. The Matt Ward Group strives to provide you with the latest tools, knowledge, and advice about real estate in Middle Tennessee.
View All Homes For Sale In Spring Hill, TN