Living In & Moving To Williamson County, Tennessee
Posted by Matt Ward Website on Monday, August 29, 2022 at 4:34 PM
By Matt Ward Website / August 29, 2022
Comment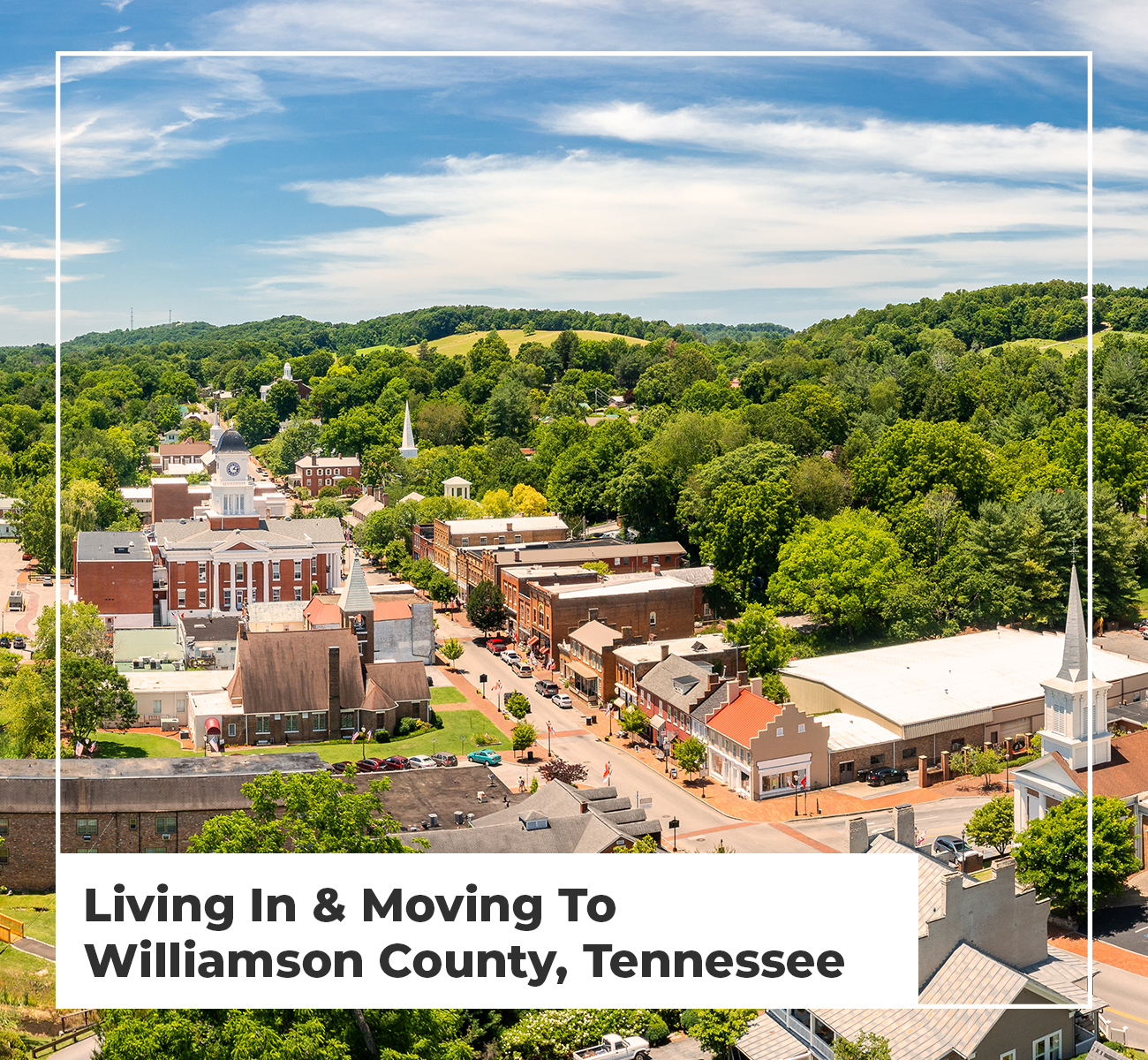 Williamson County is located in central Tennessee and is known for its rolling hills, quaint historic towns, and picture-perfect farmland. The county seat is Franklin, and other notable towns include Brentwood, Fairview, and Nolensville, as well as smaller towns each one with its own unique characteristics.
This charming area is one of the fastest-growing counties in the United States, and its convenient location (just south of Nashville) makes it a popular choice for those who want to live in a quiet, small-town setting but still have access to all the amenities of a big city.
Moving To Williamson County, Tennessee
Moving to Williamson County, TN? You're in for a treat! This vibrant community is the beating heart of Tennessee. Just over 240,000 people call Williamson County home, and the population is only growing. This is an excellent location with an affluent job market and highly rated school systems which can be hard to find in other areas.
Plus, there are amenities galore! When you move to Williamson County, you'll be in the perfect spot to enjoy all that Tennessee is made of. From world-class dining and shopping to outdoor adventures and cultural attractions, there's something for everyone in this desirable location. In this blog, we'll explore what life is like in Williamson County why it has become such a sought-after destination and some of the best things to do once you've settled in.
Rich History
Situated in the heart of Tennessee, Williamson County has a rich history that stretches back centuries. The county was named after Hugh Williamson, a prominent politician from North Carolina who served in the Continental Congress and helped ratify the Constitution.
Williamson County was officially established on October 26, 1799, and originally included parts of what is now Davidson County. The county was then inhabited by several Native American cultures, including the Cherokee, Shawnee, and Chickasaw tribes. And in 1798, European-American settlers began migrating to the area followed by more settlers in the early 1800s.
The Civil War had a major impact on Williamson County, in fact, three battles were fought directly within the county lines: the Battle of Brentwood, the Battle of Thompson's Station, and the Battle of Franklin. These battles had a large number of fatalities that left a deep mark on the county.
After the Civil War ended, the county began its agricultural reconstruction and economic rebuild. Today, Williamson County is home to a thriving economy and a wealth of historical landmarks that can be explored.

Real Estate in Williamson County, TN
When it comes to the Williamson County, Tennessee real estate market, potential homebuyers will find a competitive market with a wide range of prices. Housing costs can be on the higher end due to the proximity to Nashville.
The housing styles in the area can range from large single-family homes with multiple bedrooms, to modern condos, and established ranch-style homes on larger lots. However, even though the housing costs may be higher than the national average, the overall cost of living is fairly equal.
At the end of the day, it all comes down to what you're looking for and what your budget allows. Once you have decided on those factors, you'll be well on your way to finding your dream home in Williamson County!
Best Places To Live in Williamson County, TN
Knowing about the real estate market is a great start but considering Williamson County has several cities and towns, you may be wondering which one is the best place for you. To help you out, we've put together a list of some of the top relocation destinations in the county.
Franklin
Brentwood
Spring Hill
Nolensville
Fairview
1. Franklin, TN
As mentioned earlier Franklin is the county seat of Williamson County and is one of the most popular places to live in America. It's not hard to see why – this quaint city has a little bit of everything. The historic downtown area is full of shopping and dining options, while the outlying areas feature beautiful nature trails and parks. And, with a population of just over 70,000 people, it's an ideal size – not too big and not too small.
2. Brentwood, TN
Brentwood, TN is a thriving community with a strong business presence and plenty of recreational amenities for residents to enjoy. The town is home to roughly 43,000 people which is smaller than Franklin but still features access to everything you could want or need. Locals in the area often spend their free time at Crockett Park or Marcella Vivrette Smith Park which are both amazing spots to get active and take in some fresh air.

3. Spring Hill, TN
Nestled in the rolling hills of Williamson County, the Spring Hill community is a vibrant and welcoming place to call home. Covering approximately 29 square miles, the area is growing rapidly, with a current population of around 40,000 people.
Despite this growth, Spring Hill has managed to retain its small-town feel, thanks to its mix of countryside and historic homes. Residents enjoy spending time outdoors, whether hiking through the scenic woods or walking downtown to browse the shops and restaurants. And when it comes to shopping, the Crossings of Spring Hill Mall is a must-visit.
4. Nolensville, TN
From the moment you enter the town of Nolensville, you can tell that it's a close-knit community. The smaller community of about 11,000 residents is centered around agriculture, and you can see that in the weekly farmers market and the many green spaces.
But there's more to this town than just agriculture. There are several amenities including the beautiful Mill Creek, a prestigious recreation facility, restaurants, antique shops, and more.
5. Fairview, TN
The Fairview community is even smaller than Nolensville with a grand total of about 8,000 residents. But don't let the size fool you – this town has a lot to offer. Set against a backdrop of scenic rolling hills, Fairview is known for its quaint downtown area with local shops and restaurants.
When it comes to finding the right place to settle down in Williamson County, you really can't go wrong. Whether you're looking for a bustling city or a smaller community, there's sure to be something for you in this amazing county!
The Amazing Education in Williamson County, TN
Students who live in Williamson County, TN have the opportunity to attend a school in the Williamson County School District or the Franklin Special School District.
The Williamson County School District is one of the best in the state, Pre K- 12. There are 27 elementary schools, 11 middle schools, and 11 high schools. The district has a long history of academic achievement. In recent years, the district has been recognized for its high graduation rate and its commitment to preparing students for college and careers.
The district also features a variety of extracurricular activities, including athletics, arts, and clubs. As a result, Williamson County students have the opportunity to develop their talents and interests outside of the classroom.
Some of the best schools in the Williamson County School District include:
The Franklin Special School District is a smaller district that is known for its creative approach to education. The district serves grades K-9, with five elementary schools and three middle schools. One of the things that makes the district unique is its focus on individualized instruction.
This means that each student has the opportunity to learn at his or her own pace and in a way that best suits his or her learning style. The staff and teachers in the district are dedicated to helping each student reach his or her potential in a supportive and nurturing environment.
Some of the best schools in the Franklin Special School District include:
In addition to the amazing public school options in Williamson County, there are also several private schools to choose from. Some of the best private schools in the county include:
The Year-Round Weather in Williamson County, TN
Williamson County, TN experiences a wide range of weather conditions throughout the year. In the colder months, the temperatures often dip below freezing, while in the summer the temperatures can climb into the high 90s. December and January are known to be rainy months but over the year the county experiences an average of 50 inches of rain but only about 3 inches of snow.
However, Williamson County does see about 208 glorious days of sunshine over the course of the year which means that there is plenty of opportunities to enjoy the great outdoors! Fall is probably one of the best seasons to experience here as the trees change color and the temperatures are fantastic for hiking, biking, and picnicking.
Getting Around Williamson County, TN
With over 55,000 commuters traveling to and from Williamson County and Nashville every day, there is no shortage of transportation options. Many major highways and freeways run through the county, making it easy to get around. The I-65 is the main route for getting from Franklin to downtown Nashville but several other routes can be taken.
Public transportation options in the area include the TMA Group and the Franklin Transit Authority, which are both reliable and affordable ways to get around the county. For those traveling a little further in and out of town, the Amtrak trains and Greyhound buses are certainly a great choice. Rideshare programs are also readily available and can be a great option for those who want to avoid traffic and save on gas.
And to top it all off the closest major airport to Williamson County is the Nashville International Airport, which is located just 20 minutes outside of Franklin. With so many options available, getting around in this area has never been easier.
The Job Market in Williamson County, TN
There's no doubt about it, Williamson County is a great place to find a job. Not only is there an abundance of employment opportunities, but the unemployment rate is also lower than the national average. And with so many popular industries represented in the area, there's sure to be something for everyone.
Automotive is a huge industry in Williamson County, although the county's largest employers are in the health and education field. But that's not all! Popular industries in the area also include retail, hospitality, professional and business services, and government.
And for those looking for something different, smaller industries like real estate, marketing, construction, and more are also well-represented in Williamson County. So whether you're looking for your dream job or just trying to get your foot in the door, Williamson County is the place to be!
Some of the top employers in Williamson County include:
Williamson County Schools
UnitedHealthcare
Williamson County Government
Nissan North America

Things To Do in Williamson County, TN
Now that you know some more about Williamson County as a whole, it's time to start exploring all the things to see and do. With the stunning downtown Franklin and the close proximity to Nashville, there's no shortage of things to experience and ways to get involved.
For outdoor enthusiasts, there are plenty of hiking trails, parks, and lakes to explore. And for those who enjoy a challenge, the golf courses in Williamson County are some of the best around!
History buffs will be amazed at the number of sites and attractions dedicated to telling the stories of this area. And of course, for the food and music lovers, Williamson County has plenty to offer in the way of restaurants and live music venues.
Here are some of the best things to do while living in Williamson County, TN:
Lotz House Museum - The Lotz House Museum is a two-story home built in 1858 that served as the epicenter of the Battle of Franklin during the Civil War. Today, the Lotz House features a variety of guided tours that provide an enlightening experience for all ages. The Lotz House is a crucial part of Franklin's history and is one of the most popular attractions in Williamson County.
Gallery 202 - Gallery 202 is a premier art gallery located in Franklin, TN. The gallery specializes in a range of artistic styles from paintings and pottery to sculptures and more. Gallery 202 prides itself on supporting local artists and promoting the arts in the community.
In addition to featuring rotating exhibitions of local artists, the gallery also offers classes and workshops for all ages. Whether you're a seasoned artist or simply looking to try something new, Gallery 202 is the ultimate place to explore your inner creativity.
Mockingbird Theater & Bar - The Mockingbird Theater & Bar in Franklin, TN is an unbeatable live music venue. It's state of the art, with a full band schedule of all genres and a full bar service.
The theater has unbeatable acoustics, making it the perfect place to see your favorite band or discover new ones. There's nothing quite like experiencing live music, and the Mockingbird Theater & Bar is the best place to do it.
Hill Center Brentwood - Calling all shopping lovers! The Hill Center Brentwood is a remarkable destination for those seeking trendy shops, high-end stores, delicious food, and more. Located at 230 Franklin Rd. in Brentwood, TN this shopping center attracts people from all over the county daily. And with the designated outdoor areas you can work, shop, and eat all in one trip!
Franklin Bridge Golf Club - The Franklin Bridge Golf Club in Franklin, TN is an 18-hole championship golf course that provides its members with unparalleled amenities and amazing facilities. The course was designed by renowned golf course architect Gary Roger Baird, and it features a beautiful clubhouse, pro shop, and practice range. The club also offers carts and caddies for its members' convenience and comfort.
Some additional must-visit golf courses in Williamson County include:

Natchez Trace Parkway - Scenic destinations, like the Natchez Trace Parkway, are also a popular activity for Williamson County residents. The parkway runs for approximately 444 miles from Nashville to Natchez, Mississippi, and is a beautiful way to see the countryside.
Other highly recommended parks & trails in the area include:
Bowie Nature Park (Fairview, TN)
Concord Park (Brentwood, TN)
Peter Jenkins Walking Trail (Spring Hill, TN)
And last but certainly not least the restaurants and nightlife scene in Williamson County is booming!
Notable eating & drinking establishments in the area include:
Williamson County is a wonderful place to live for so many reasons! The historic downtowns, the rolling hills, the inviting atmosphere, and the rising job market are just a few of the things that make it so special.
And when you put all of these things together, there is really only one word to describe it…home. All that is left to do is start packing your bags and get ready to experience all that Williamson County has to offer
Matt & his team have been serving Nashville and Middle Tennessee for over 10 years now. Matt and his team know what it takes to succeed in real estate! His ideas have been proven effective and have contributed to helping over 500 families in the greater Nashville area buy and sell their homes. The Matt Ward Group strives to provide you with the latest tools, knowledge, and advice about real estate in Middle Tennessee.
View All Homes For Sale In Williamson County, TN