12 Reasons to Move to Franklin, TN Today!
Posted by Matt Ward Website on Thursday, July 15, 2021 at 10:58 AM
By Matt Ward Website / July 15, 2021
Comment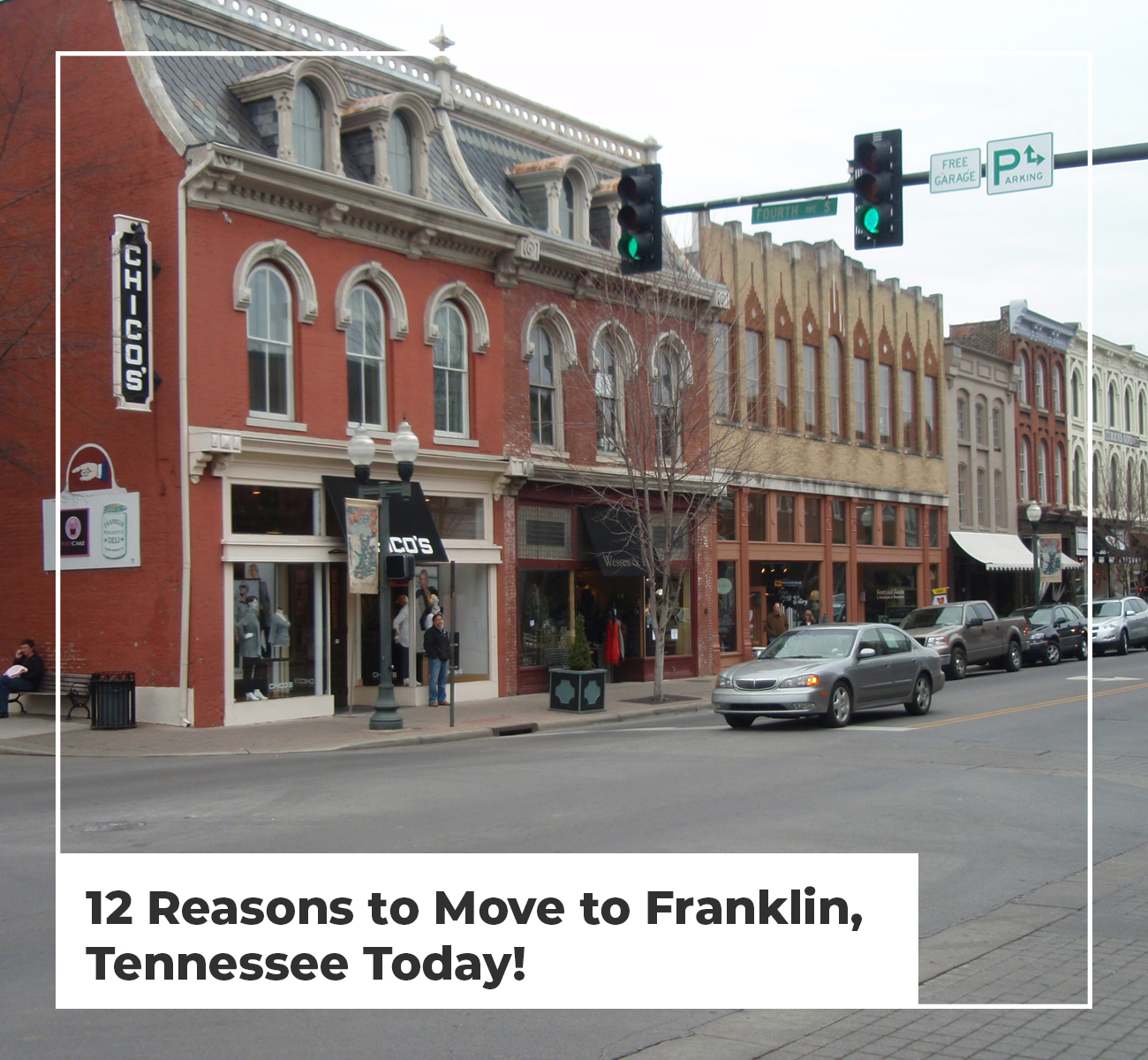 Franklin is a city that's bursting with southern charm and hospitality. The city has so much, going for it already and it just keeps getting better. They have a rich history, a great location and a wide variety of entertainment so if you're thinking about moving soon, have a look at a few reasons why Franklin could be your next home.
1) It's the Perfect Location
The city is located just 21 miles from nearby Nashville and has a population of around 78,000. Living just outside of the hustle and bustle of the big city is perfect for anyone who wants to stay connected without the high living cost of the urban areas. Franklin has many gorgeous neighborhoods including the family-friendly Westhaven, Tollgate Village, and Berry farms. These neighborhoods offer walkability and close amenities along with a strong sense of community.
2) The Incredible Growth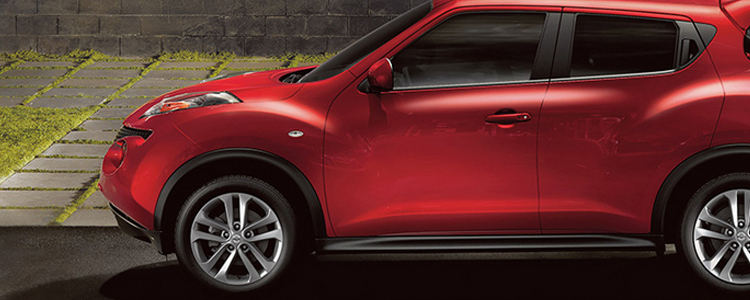 Franklin has had a great history of economic growth and the city is always expanding with new housing. They are home to many healthcare-related businesses including the city's biggest employers Community Health Systems and Fresenius Medical Care. Many major companies also have corporate headquarters in Franklin such as Mitsubishi Motors, Nissan, and Atmos Energy. The city has seen a 2.4% job market increase over the last year with a 53.4% predicted to increase over the next 10 years.
3) The Warm Climate
If you're coming from the north, you'll enjoy the climate Franklin has to offer. With low precipitation and slightly above-average temperatures, it's a great place for anyone who prefers warmer weather. With an average annual snowfall of 1.7 inches and an average number of 1.3 snowy days, you won't need your snow shovel. It's a great place for gardeners and outdoor enthusiasts, as it's mostly sunny without too much humidity with an average summer temperature of 90°F.
4) The Entertainment
Located just outside of one of the biggest music cities in the world, Franklin gives you all the access to big bands, great shows, and new talent without the hassle of big city living. Here are just a few of the town's greatest entertainment features.
The Factory was a former stove factory, but now this historic property is a top destination for shopping artisan goods, tasting new culinary delights, and watching great live entertainment at their musical venue, the Mockingbird Theater. Opening in 2007, it offers a full-service bar along with great food that will make you want to stay until the final encore.
The Franklin Family Entertainment Center is a bowling alley with open play tournaments, pool tables, and good old American food. The large arcade and full-service snack bar are great for the kids while J's Sports Grill serves adults as they watch one of the 3 large screens showing major sporting events.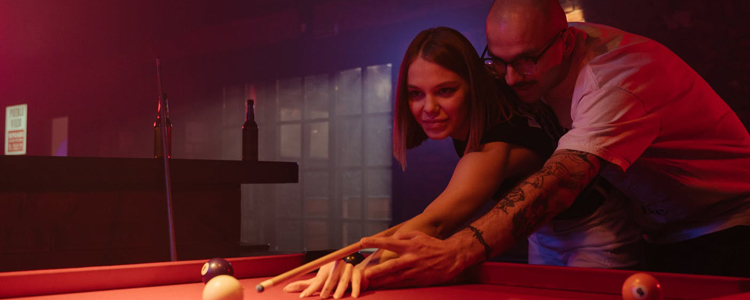 Extreme Escape Games is a new feature to the town that gives the chance for you and your family or friends to play an immersive escape room game. Choose from themes like The Mad Scientist, The Grand Illusion, or The United Escapes of America and follow the clues together to get your group out of the room. This location has received amazing reviews and it's a unique experience that's fun for any age group.
5) The Local Activities and Festivals
Every season has another exciting town-wide even in Franklin. The community does a great job of organizing and hosting gatherings for the town for every season that attract visitors from all over.
The Pilgrimage Music and Cultural Festival occurs in late September and has a wide lineup of big-name musicians along with local talent. The family-friendly event has the Lil Pilgrims family stage for kid-friendly shows. Food trucks and local artisans round out the event.
Main Street Festival runs annually in mid-July and features 200+ local artists and vendors, musical talent, and great food for the whole family. The festival is in its 37th year and expects around 85,000 visitors so if you're thinking about applying to be a vendor, this sounds like a great opportunity.
Pumpkinfest is one of the biggest events for the city. The festival takes place along the main street and along the side street and it's one of three yearly events that are hosted by the Downtown Franklin Association. The festival is all about fall and has kid-friendly activities along with vendors selling seasonal goods.
The holidays are the perfect time for the community to come together for the annual Dickens of a Christmas event. There are 4 areas for entertainment and activities such as keg tapping, performances from various musical acts, and A Dickens of a Christmas theatrical experience at the Franklin Theater.
6) To Get Educated
Franklin is exploding with arts and culture at every turn. The town has many different museums dedicated to specific topics but most of them focus on the town's prominent civil war history.
The Lotz House Museum is dedicated to the civil war and still maintains all of the damage that is retained during the Battle of Franklin in 1864. Browse the halls and see holes from cannonballs and learn about the Lotz family and how they survived during the war. The museum also offers ghost tours for the paranormally inclined and walking battlefield tours for anyone looking to learn more about the local history.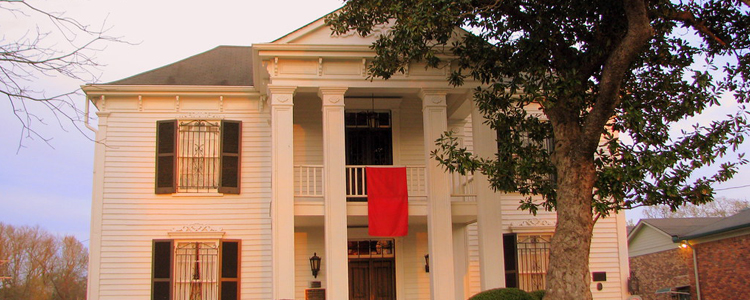 Carnton is a historic home and former plantation that played an important role in the Battle of Franklin. Originally serving as a mansion for the local mayor, it eventually became an internationally known thoroughbred farm before finding its final purpose as a temporary field hospital. Visitors can tour the rooms and see the gorgeous architecture paired with the stained floors from the surgeries to wounded soldiers performed or visit the largest privately owned military cemetery on the grounds.
Another historical house you'll want to tour is the Carter house at 1140 Columbia Ave which offers 60-minute tours along with slavery education, battlefield, and extended tours. The house's history is intertwined with the Battle of Franklin and it's evident by the thousands of bullet holes still visible on the three remaining buildings that are still intact. Learn about the Carter family that took refuge in the basement during the battle and ended up losing a few of their own to battle.
If you're looking for somewhere a little more artistic, try spending the afternoon at Gallery 202. The gallery is home to art in many different forms created by local artisans including painting, sculptures, glass, jewelry, antiques, and pottery. Situated in the historic Clouston Hall, the gallery is an eclectic mix of art pieces that each tell their own unique story.
7) To See The History
The town offers many different tours and historical sites to educate locals and visitors on the town's history. Named after Founding Father Benjamin Franklin, the town is most famous for the Battle of Franklin in 1864 which was considered one of the biggest disasters of war for the confederate states army. Civil war buffs will enjoy being surrounded by a piece of American History whether it's touring one of the historical areas or visiting one of the educational museums, there's history everywhere you look in Franklin.
8) To Admire the Beautiful Architecture
The city has 4 designated historic districts that are listed in the National Register of Historic Places. Each one has its unique aspect and history along with amazing architecture that tells the story of the neighborhood's growth. If you have an appreciation for older buildings then walking through these neighborhoods will be a treat.
Adams street Historic District has houses built primarily between 1890 and 1940. Located between Cleburne and Gist street, the area contains many older one-story frame houses built in Folk Victorian style with ornate detailing on the interiors.
Downtown Franklin is the oldest part of the city and contains sixteen blocks of commercial and residential properties. The area which contains the public square and courthouse has a wide variety of architectural styles that show off the history of the town and its evolution into a modern city.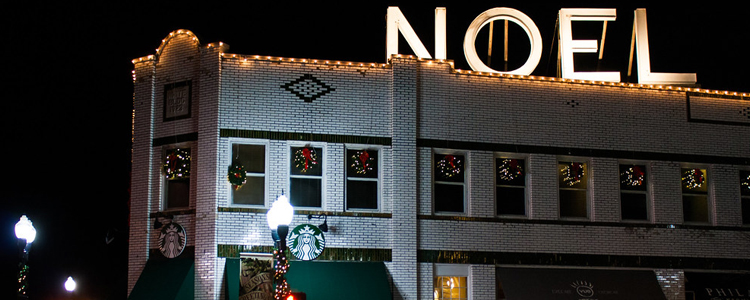 Hincheyville was one of Franklin's first residential additions. The oldest buildings were built between 1828 and the 1930s and run the gamut in styles including Federal, Greek Revival, Victorian, Italianate, Queen Anne, Eastlake, Four Square, Bungalow, Tudor Revival, and Suburban residential. The district is a great representation of the housing trends that have passed through history
Lewisburg Avenue is a beautiful part of the city that has maintained its, original appearance and charm by having limited construction since 1935. The area has homes as old as the 1880's and it's been able to keep an outstanding collection of dwellings that keep the area's history alive.
9) The Shopping
Shopping in this beautiful city is easy with everything you need ready for you in downtown Franklin. From clothing to records to artisanal goods, Franklin has everything you need. The town has many different gift shops that sell local goods along with stores located in beautiful historical buildings.
Landmark booksellers have been established since 2005 and it's owned and operated by a lovely couple of native Tennesseans. The store boasts over 35,000 new, old and hard-to-find books along with 2000 signed first editions, maps, prints, postcards, and ephemera. They also support local authors and even became the inspiration for the book "The Bridge", by Karen Kingsbury.
Shuff's Music is a music shop that's been open since 1978 and has two locations to serve every musician's need. The piano showroom stocks every different style of piano and even offers piano rentals. The original store is located in the historical Gaut House and offers a wide variety of instruments for sale and provides music lessons.
Imago Dei is a small but mighty local shop selling high-quality clothing, home goods, and jewelry for women and children. They pride themselves in their in-house designs which incorporate positive messages into classic looks. While you're there, pick up one of their signature scent Imago Dei candles or browse their selection of gorgeous spiritual-themed jewelry to find a piece that speaks to you.
10) The Food
You can find every type of food in Frankin from upscale dining to home-style cooking. The town has several restaurants with great locations all over the city so you're never far from a good bite to eat.
Chow down and drink up at 55 South located at 403 Main street. Chef Jason Mcconnel serves up southern comfort foods with a modern twist including po'boys, fried green tomatoes, and pimento cheese BLT. The service is warm and friendly and makes you feel like you're getting a hefty dose of Southern Hospitality.
Open since 1997, Barbaras Home Cookin is situated at 1232 Old Hillsboro Road and dishes out meals that make you feel right at home. Classic southern dishes such as fried okra, country fried steak, and sweet potato casserole are served in a quaint and cozy restaurant full of wonderful staff. If you want a down-home food experience then Barbaras is the right place.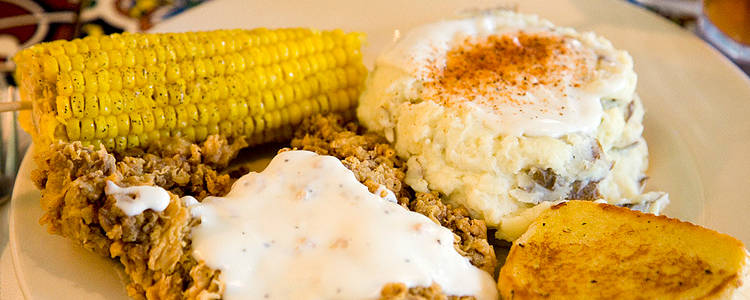 If you want a different type of southern fare, try the Cajun flavors over at Yats. The restaurant has sophisticated look but serves up fast-casual food inspired by the owner's New Orleans roots. Devour delicious etouffee, jambalaya, red beans, smoked sausage, creoles, and gumbos while you enjoy Saturday's open mic night offering.
Merridees Breadbasket Bakery & Restaurant is the locals' favorite for fresh loaves of bread and baked goods. Open since 1984 by Meridee McCray, a baker who came from nearby Fairview. Everything they serve is made from scratch including delicious soups, quiches, and fresh salads. Meridees is a great place to grab a quick lunch with friends or grab a tray of cookies for your next gathering.
11) The Natural Beauty
With 14 parks to visit across the city, the natural beauty is everywhere for you to explore. Many parks in the city double as historic places so you can learn about the cities rich history while you enjoy what nature has to offer.
Pinkerton park is the most widely used park in Franklin. It features a mile-long paved pedestrian track, with exercise equipment located at various points on the trail. A total of fourteen picnic tables are available, as well as grills, located in different areas of the park. Two playgrounds are available including one that is self-contained, along with a "Storybook Trail" which is comprised of a series of panels that allow parents to read aloud a story to their children as they walk.
Liberty Park is located at 2080 Turning Wheel lane and houses 3 baseball diamonds within the 85-acre park. The park is used for baseball tournaments but it also contains a small playground, restrooms, and a 10 hole disc golf course along with a gorgeous shaded walking trail. A nearby dog park is also available for anyone who wants to let their four-legged friends enjoy a taste of nature.
Fort Granger is a combination of park and historical sites that allows you to walk freely through an area once used as a civil war battleground. Educational panels provide you with the story of its rich history and a boardwalk allows you to enjoy the beautiful view. Put yourself in a pair of soldiers' boots by standing in the same trenches that were built to withstand incoming enemies or enjoy a leisurely walk with your family through the trails.
Winstead Hill Park is located near downtown Franklin and contains a 61-acre historical battle site along with a walking trail. A civil war monument stands in the area where General Hood watched the advancing Confederate troops and strategized his next move. The area features educational map panels, memorials, and monuments that tell the story of the importance of the hill in the Battle of Frankin, against the backdrop of a well-maintained park.
12) The Community
With a population of 73,000, Frankin is large enough to feel like a city but it's still cozy enough to feel like a small town. Most residents own their own homes and the median age is 37. Residents in town lean conservative and the schools are highly rated. Locals enjoy living in a town with such a large amount of historical significance and they enjoy the sense of community that the town has to offer.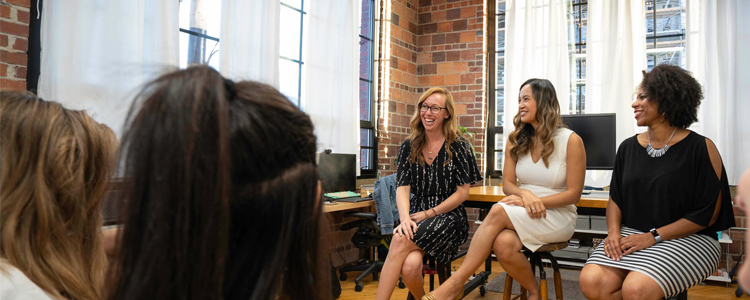 Frankin is a town that is always improving while keeping the past in its focus. The housing market is always on the rise and capital appreciation for homeowners has been great. It has received the Money magazines award as the 4th Best Place to Live in America due to many factors including low unemployment, expanding job growth, and highly ranked schools. If you're looking for a big town with a small-town attitude, a hefty helping of southern charm, and an appreciation for its past, Franklin, Tennessee is a great choice.
Matt & his team have been serving Nashville and Middle Tennessee for over 10 years now. Matt and his team know what it takes to succeed in real estate! His ideas have been proven effective and have contributed to helping over 500 families in the greater Nashville area buy and sell their homes. The Matt Ward Group strives to provide you with the latest tools, knowledge, and advice about real estate in Middle Tennessee.
Homes For Sale in Franklin, TN